China Tells U.S. It Will Never Be Stopped After Being Excluded From Largest Navy War Games
China has criticized the U.S. for disinviting it from a major multinational naval exercise in the Pacific, saying that Washington would never be able to stop it from protecting its interests in the disputed South China Sea.
The Pentagon announced Wednesday that China would no longer be invited to the upcoming Rim of the Pacific (RIMPAC) biennial exercise, considered the world's largest international naval training and cited China's "continued militarization" of contested islands in the South China Sea. Chinese Foreign Ministry spokesman Lu Kang responded Thursday by asserting his country's "indisputable sovereignty over the islands and reefs in the South China Sea and the adjacent waters."
"I also want to stress that it is the U.S. who proposed to enhance mil-to-mil exchanges between the two countries in the first place. If it thinks that it can blackmail China into giving up its inherent rights by manipulating one or two exchange programs, it is indulging in unrealistic thinking to no avail," Lu told a regular press briefing.
"No matter if China is invited or disinvited, or whether there is this military drill or not, nothing will change China's resolve to play a positive role in upholding peace and stability in the South China Sea region or sway its firm determination to safeguard its security and sovereign rights and interests," he added.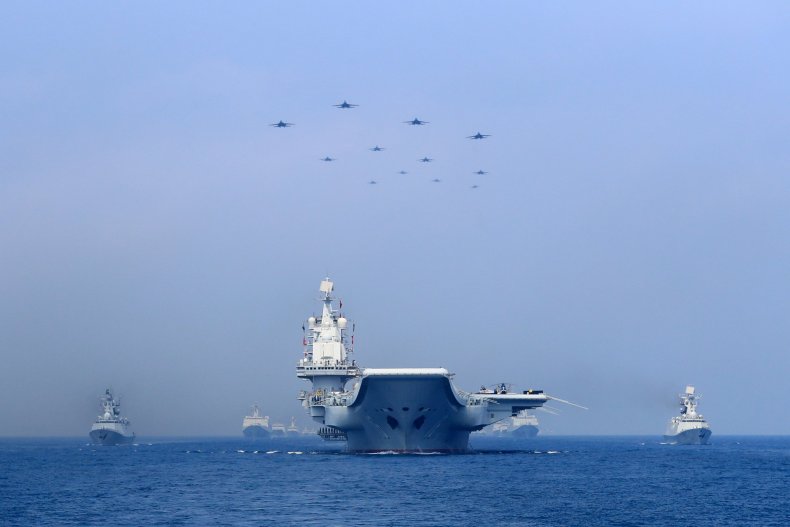 China has intensified its military activity in the South China Sea, performing more frequent and larger-scale drills. Chinese officials have said these activities were a message to separatists in Taiwan, a self-ruling island nation that China claims as part of its own. The U.S. recognizes China as the sole legitimate government, but has sold arms to Taiwan and, under the recently-passed Taiwan Travel Act, expanded diplomatic contacts in defiance of Chinese warnings.
Nevertheless, the U.S. does not recognize Chinese claims to the nearby Spratly Islands. The formation of islands, islets and reefs are also partially claimed by Brunei, Malaysia, the Philippines, Taiwan and Vietnam. Beijing has denied Washington's longstanding accusations that China was militarizing the area, but the Chinese military announced last week that it landed nuclear-capable H-6K bombers on several of the islands, a move that may have led to the U.S. decision to exclude China from RIMPAC.
Related: U.S. Is Asia's Strongest Power, but China Is Catching Up and Russia Is Helping
China's Defense Ministry also spoke out against the U.S. reversal on China's participation in RIMPAC. Echoing Lu, ministry spokesman Senior Colonel Ren Guoqiang said in a statement that, "No matter whether China is invited to participate in the RIMPAC-2018 exercise or not, it is impossible to shake China's determination to safeguard its sovereignty and security interests."
Ren criticized the U.S. decision as "not constructive" and called on Washington to "focus on the overall situation, abandon the zero-sum mentality, properly handle differences, and try to make the mil-to-mil relationship a stable factor for China-U.S. relations."
While the U.S. remains militarily far superior to China, Chinese President Xi Jinping has stressed a greater emphasis on advancing his country's military capabilities, especially at sea. Last month, China's first homemade aircraft carrier conducted its maiden voyage last week and country's only in-service aircraft carrier participated last month in military exercises that were unprecedented in scale for the Chinese navy.
China has also sought a closer military relationship with neighboring Russia, a fellow U.S. rival that shares Chinese anxiety about the U.S. boosting the presence of its own armed forces in the Pacific region. The U.S. claims some 250 military bases surrounding China and, after meeting Secretary of State Mike Pompeo in Washington, D.C. on Thursday, Chinese Foreign Minister Wang Yi highlighted well-established U.S. military installations in areas such as Guam and Hawaii.
Wang called the U.S. decision "imprudent and unconstructive" and said it "will not help to enhance mutual understanding and trust between the U.S. and China, which are both world powers. The two nations can definitely cooperate regarding maritime security."