U.S. Military Kicks China Out of World's Largest Navy War Games
The U.S. has disinvited China from upcoming pan-Pacific naval exercises, citing its growing military presence in disputed waters of the South China Sea.
Pentagon spokesman Marine Lieutenant Colonel Christopher Logan accused China Wednesday of deploying "anti-ship missiles, surface-to-air missile (SAM) systems, and electronic jammers" in a contested set of islands and islets known as the Spratly Islands in the South China Sea. As a result, Logan said that China was no longer welcome to attend the 2018 Rim of the Pacific (RIMPAC) multinational naval drills.
"The United States is committed to a free and open Indo-Pacific. China's continued militarization of disputed features in the South China Sea only serve to raise tensions and destabilize the region," Logan said, according to the U.S. Naval Institute.
"As an initial response to China's continued militarization of the South China Sea we have disinvited the PLA Navy from the 2018 Rim of the Pacific (RIMPAC) Exercise. China's behavior is inconsistent with the principles and purposes of the RIMPAC exercise," he added.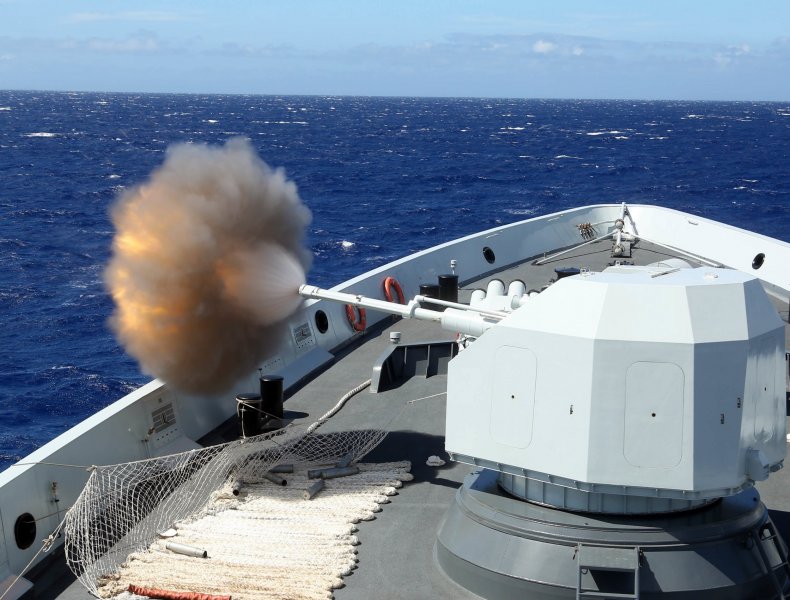 RIMPAC was first held in 1971 and has been described as "the world's largest international maritime exercise" by the U.S. Navy. It was held annually until 1974, when it became a biennial drill. Plans for this year's 26th RIMPAC were finalized last month with over 1,000 personnel from 27 nations set to participate, including debut appearances from Brazil, Israel, Sri Lanka and Vietnam.
Under President Donald Trump, the U.S. has adopted a tougher stance against Chinese interests in the South China Sea, where Beijing has made vast territorial claims opposed by neighboring countries. The U.S. has also accused China of establishing secret military bases on the islands, where China publicly announced for the first time last week it landed its nuclear-capable H-6K bombers.
Related: U.S. Is Asia's Strongest Power, but China Is Catching Up and Russia Is Helping
China has adopted an unprecedented maritime military posture as a warning to its rival government in Taiwan. China claims the self-ruling island nation as one of its own provinces and has repeatedly threatened to take it by force. Since 1972, the U.S. has recognized China as the sole legitimate government, but has offered arms to Taiwan. Diplomatic relations between the U.S. and Taiwan were expanded with the passing of the Taiwan Travel Act in March, a move that infuriated Chinese officials.
An Fengshan, a spokesman for China's Taiwan Affairs Office of the State Council, said last week that China's intensified military mobilization was intended to show that "there is no way out for 'Taiwan independence.'"
A comprehensive Asia Power Index released earlier this month by the Lowy Insitute ranked China second only to the U.S. in terms of strength. In some categories, China beat the U.S., where Navy Admiral Philip S. Davidson told Congress last month that "China is now capable of controlling the South China Sea in all scenarios short of war with the United States."
China has accused the U.S. of interfering in Asian affairs and attempting to expand its own military prowess abroad. The U.S., which maintains some 250 military bases surrounding China, has installed advanced missile defense systems in allied Pacific nations such as Japan and South Korea. China and Russia have boosted bilateral political and military ties in response to a growing U.S. presence in the region. The two top U.S. military rivals are set to hold their own annual joint war games in the Yellow Sea later this year.