China Is Building Towns in the South China Sea That Could House Thousands of Marines
Subi, one of China's seven man-made islands in the South China Sea, now hosts 400 individual buildings that could house a regiment of the People's Liberation Army, images show.
The high-resolution pictures obtained by DigitalGlobe satellite and data analysis from Earthrise Media were published by Reuters on Thursday.
The other two "Big Three" islands, Mischief and Fiery Cross, could also house around 2,000 marines, Reuters reported, citing security analysts. Each island counts as many as 190 military buildings and structures similar to those that can be found on Subi, which houses emplacements for missiles, storage facilities and runways—and even basketball courts.
China's recent building efforts have allowed the country to begin deploying military assets in the South China Sea, a territory over which Beijing asserts sovereignty despite claims by other Southeast Asian nation.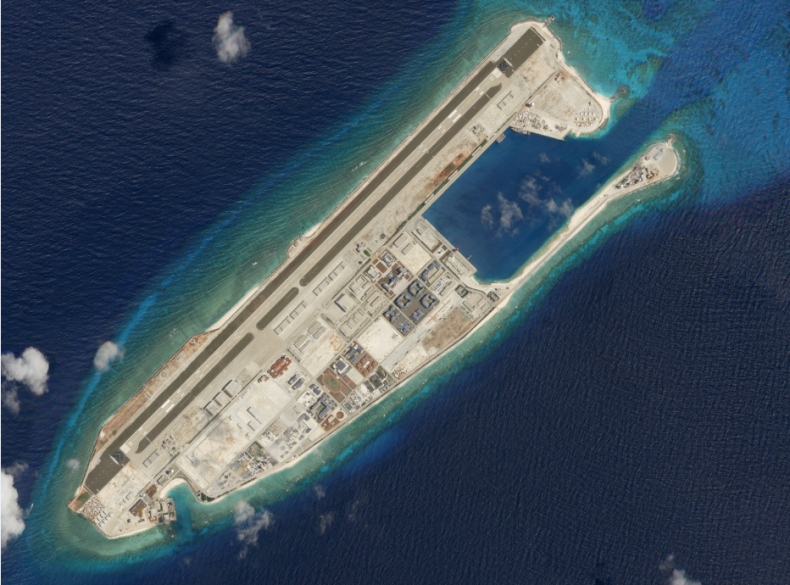 China announced last week it landed H-6K nuclear-capable bombers to its artificial islands and part of a military drill to train for a "battle for the South China Sea" that drew protests from Vietnam.
China is not the only country with a military presence in the Spratly Islands, an archipelago consisting of more than 100 small islands or reefs around 500 miles from China's coast, in waters that offer rich fishing grounds and, possibly, lucrative gas and oil deposits. Taiwan, Vietnam, Malaysia, the Philippines also have a small military contingent in the area, while Brunei claims it as part of its exclusive economic zone.
Beijing's claims to the territory have however become increasingly aggressive under President Xi Jinping's leadership, beginning a program of construction of artificial islands to strengthen the country's sovereignty claims.
China's posturing in the South China Sea has, at times, given rise to tensions with the other Southeast Asian nations as well as countries such as the U.S. and the U.K., who exert freedom of navigation rights in what they consider international waters.
In a more recent spat, the Pentagon uninvited China from taking part in a pan-Pacific naval exercise known as Rim of the Pacific (RIMPAC) because of Beijing's "continued militarization" of the disputed waters.
Beijing has repeatedly claimed its actions in the South China Sea are motivated by self-defense. The defense ministry on Thursday called the Pentagon's remarks "irresponsible" in a statement quoted in Reuters.
See the satellite images that suggest China's South China Sea Islands military complex is now ready
"This decision by the United States is not constructive. Closing the door to communication at any time is not conducive toward promoting mutual trust and communication between the Chinese and U.S. militaries," it read.