Philippines President Duterte's Drug War One Year on: At Least 7,000 Are Dead, But It's Been 'Successful'
On June 30 2016, the world held its breath as Rodrigo Duterte was elected president of the Philippines with nearly two fifths of the vote. Here was a man who had joked openly about rape, called Pope Francis a "son of a whore," and has casually mentioned how much he likes taking Viagra.
One of Duterte's most extreme election campaign promises was to rid the Philippines of drug users and dealers.
"If I make it to the presidential palace, I will do just what I did as mayor. All of you who are into drugs, you sons of bitches, I will really kill you. I have no patience, I have no middle ground, either you kill me or I will kill you idiots," Duterte said at a campaign rally.
One year on, how has Duterte's war on drugs panned out?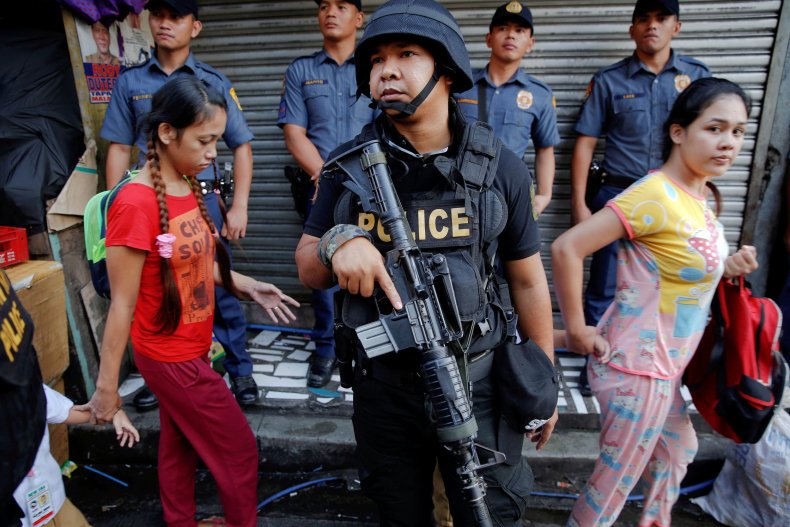 The death toll
According to Human Rights Watch, security forces and "unidentified gunmen" have killed at least 7,000 suspected drug users and dealers since July 1, 2016. Of those killings, 3,116 have been carried out by police. The death toll in one year under Duterte's leadership is higher than all of those killed while dictator Ferdinand Marcos was in power between 1972 and 1981.
How are people being killed?
Men and women have been summarily executed while carrying out drug deals, and others have been dragged from their homes and shot in the street. All were allegedly involved in the drugs trade, although some relatives and friends maintain the victims' innocence, saying police were mistaken.
Human rights groups have alleged that police are behind the vigilantes killing the majority of drug users and abusers. The president has publicly supported citizens killing drug addicts, saying "If you know of any addicts, go ahead and kill them yourself as getting their parents to do it would be too painful." In March, Duterte even suggested that unemployed people should be recruited as vigilantes.
How has the world reacted?
Duterte's war on drugs has been widely condemned by the West. The European Parliament issued a resolution in March denouncing the "high number of extrajudicial killings" that have taken place under Duterte's leadership.
The United Nations' special rapporteur on extrajudicial killings, Agnes Callamard, has said she is eager to carry out an investigation into human rights violations in the Philippines but Duterte will not allow her to do so until she agrees to a public debate with him, Reuters reports.
While Duterte has dismissed his critics in the international community as "crazies," he claims to have received praise from U.S. President Donald Trump. After the Philippine president called the latter to wish him luck after his inauguration, Duterte said in a statement: "He [Trump] was quite sensitive also to our worry about drugs. And he wishes me well ... in my campaign and he said that ... we are doing it as a sovereign nation, the right way."
When will the violence end?
The war on drugs is ongoing, although it has been recently eclipsed by the ISIS insurgency in the south of the country in Marawi.
Duterte has said: "My campaign on drugs will not end, until the end of my term six years from now when every drug pusher is [killed]," Duterte told a crowd in December 2016, making a throat-slitting gesture, The Guardian reported.
On Friday, Philippine drug enforcement agency chief Isidro Lapeña claimed the drugs war has been "successful." He said that 1,308,078 drug suspects had surrendered and 2.246 tons of illegal drugs had been seized by authorities since Duterte took office.
Rights groups have condemned the killings, and Amnesty International has said the war on drugs is actually a war on the poor.