Washington Football Team Releases Quarterback Dwayne Haskins Following Loss to Panthers
After a tumultuous week, the Washington Football Team released quarterback Dwayne Haskins on Monday.
The announcement came from head coach Ron Rivera, who shared the following statement over the team's official social media channels: "This afternoon I met with Dwayne and informed him that we would be releasing him. I told him that I believe it benefits both parties that we go our separate ways. We want to thank Dwayne for his contributions these last two seasons and we wish him well moving forward."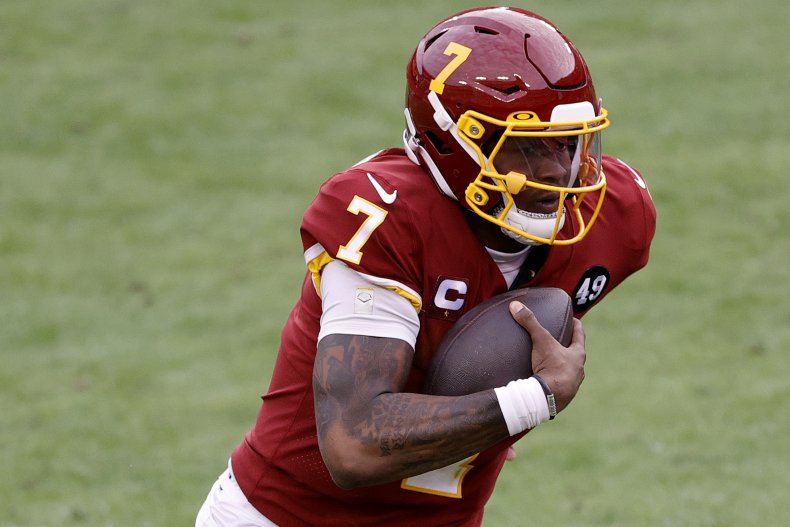 Haskins has released his own statement regarding his release, on his now-private Twitter account.
"My time with the WFT has unfortunately come to an end. I thank the team and fans for the opportunity to play for the team I grew up rooting for," Haskins' statement reads. "I take full responsibility for not meeting the standards of a NFL QB and will become a better man and player because of this experience."
Haskins' release comes less than 24 hours after the Washington Football Team suffered a devastating 20-13 loss to the Carolina Panthers. The 2019 first round draft pick out of Ohio State started the game and was 14 for 28 for 154 yards, but threw two interceptions and lost a fumble before being benched for Taylor Heinicke.
Haskins' release is just the latest bit of trouble he's had in D.C. A week ago, Haskins was videotaped at a strip club following the team's Week 15 loss to the Seattle Seahawks. Haskins was caught not wearing a mask, which goes against the NFL's COVID-19 rules of not wearing a mask while indoors at a public space.
"I want to publicly apologize for my actions this past Sunday," Haskins wrote in a statement at the time. "I spoke with Coach [Ron] Rivera yesterday and took full accountability for putting the team at risk. It was irresponsible and immature of me and I accept responsibility for my action."
If the Washington Football Team had defeated the Panthers on Sunday, they would have won the NFC East and made the playoffs, but the loss puts the team in a must-win situation as they take on the Philadelphia Eagles next Sunday.
If the Washington Football Team loses that game, then the winner of the Dallas Cowboys and New York Giants game will win the division. Before Haskins' release, coach Rivera told the media on Monday that Heinicke will start the season finale against the Eagles if Alex Smith is not cleared from injury.