Dwayne Johnson has thrown his support behind Joe Rogan, as the latter continues to weather a storm of controversy over his Spotify podcasts about COVID-19.
Neil Young, Joni Mitchell and Bruce Springsteen guitarist Nils Lofgren have withdrawn their music from Spotify in recent days, in protest of what has been widely criticized as COVID misinformation being expressed by guests on Rogan's podcast, The Joe Rogan Experience, on the platform.
Joining the chorus of detractors, Prince Harry and Meghan Markle—who signed a multi-year deal with the streaming giant—on Sunday released a statement in which they expressed "concerns" to Spotify over the spread of "COVID misinformation."
Rogan addressed the controversy in a video shared on his Instagram account on Sunday evening, stating that he supported Spotify's move to add disclaimers on controversial episodes, and would make an effort to book guests with diverse opinions.
After defending "very highly credentialed, highly intelligent, very accomplished" previous podcast guests Dr. Peter McCullough and Dr. Robert Malone—whose takes on the pandemic have proved to be controversial, Rogan said that his show had become an "out of control juggernaut that I barely have control of."
"I'm just a person who sits down with people and has conversations with them," he said. "Have I got things wrong before? Absolutely. But I try to correct things if I have done, because I am interested in telling the truth and finding out what the truth is.
"I am interested in having interesting conversations with people that have differing opinions. I am not interested in only talking to people that have one perspective.
"That's one of the reasons I had Sanjay Gupta on, who I respect very much and I really enjoyed our conversation together. He has a different opinion to those two people.
"I had Michael Osterholm on at the beginning of the pandemic. He's on President Biden's COVID-19 Advisory Board. I had Dr. Peter Hotez who is a vaccine expert.
"I am interested in finding out what's correct and how people come to those conclusions and what the facts are."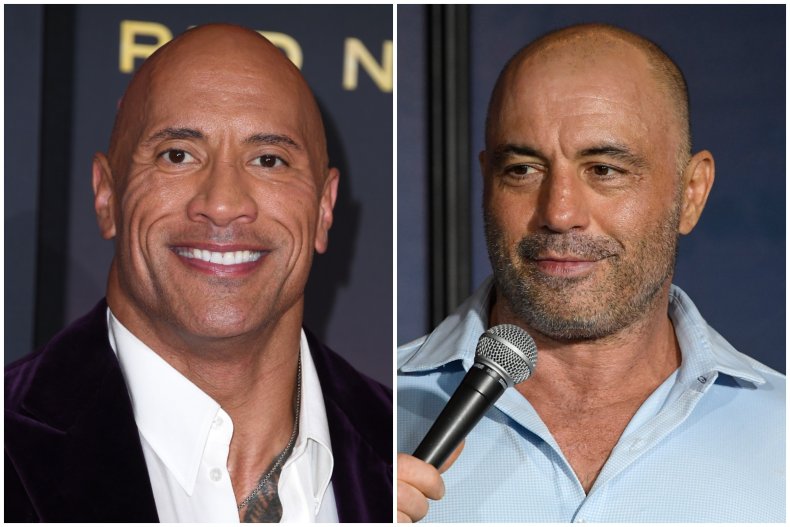 Commenting on Rogan's post, wrestler-turned-actor Johnson wrote: "Great stuff here brother. Perfectly articulated. Look forward to coming on one day and breaking out the tequila with you."
Johnson and Rogan have long had a friendly relationship. Back in March 2020, amid rife speculation that Johnson was planning to run for office, Rogan said he would back the screen star if he ever made a bid for the White House.
"I'd vote for him," said Rogan during a conversation on his podcast, per Men's Health. "I'd get behind him 100 percent. I'm all in for The Rock."
Elsewhere in his video on Sunday, Rogan addressed the changes Spotify is planning to make in light of the fallout from controversial guests.
He said: "One of things Spotify wants to do, that I agree with, is that at the beginning of these controversial podcasts—specifically the ones about COVID—is to put a disclaimer and say that you should speak with your physician and that these people and the opinions that they express are contrary to the opinions of the consensus of experts, which I think is very important. Sure. Have that on there. I'm very happy with that."
"Also I think, if there's anything I've done that I could do better, that is to have more experts with differing opinions right after I have the controversial ones," he went on. "I would most certainly be open to doing that.
"I would like to talk to some people that have differing opinions on those podcasts in the future. We'll see. I do all the scheduling myself. I don't always get it right."
The former Fear Factor host also said that he is "not mad" at Young for speaking out against him, sharing that he is a "huge fan" of the legendary musician. He also said that he has and "no hard feelings" toward Mitchell and enjoys her work.
"These podcasts are very strange because they're just conversations," said Rogan. "Oftentimes I have no idea what I'm going to talk about until I sit down and talk to people and that why some of my ideas are not that prepared or fleshed out because I'm literally having them in real time. But I do my best.
"They're just conversations and I think that's also the appeal of the show—it's one of things that makes it interesting."
Toward the end of the almost 10-minute clip, Rogan made a vow to his audience, saying: "My pledge to you is that I will do my best to try to balance out these more controversial viewpoints with other people's perspectives so we can maybe find a better point of view.
"I don't want to just show the contrary opinion to what the narrative is. I want to show all kinds of opinions, so that we can all figure out what's going on—and not just about COVID, about everything. About health, about fitness wellness, the state of the world itself."
Thanking Spotify for supporting him, he added that he was "very sorry" that the streaming giant was "taking so much heat" over the controversy.
"And even thank you to the haters because it's good to have some haters. It makes you reassess what you're doing and put things into perspective. I think that's good, too," said Rogan as the clip concluded.