Neil Young 'Felt Better' After Leaving Spotify, Slams Platform's Sound Quality
Days after pulling his music from Spotify, rock icon Neil Young took a parting shot at the streaming service Friday, saying he wouldn't miss what he called its "degraded and neutered" sound quality.
The popular streaming service said Wednesday it removed Young's music after the singer demanded it choose between him or controversial podcast host Joe Rogan, who has been accused of spreading COVID-19 misinformation.
Despite taking a hit from leaving the platform (which he later said accounted for around 60 percent of all his streamed music), Young said in a post on his website that he "felt better" about the decision.
In the post, titled "More Songs and Less Sound," Young singled out Spotify for streaming digital versions of songs at 5 percent of the music's content.
"It's just math," wrote Young. "It's easy to do that with digital, thus allowing more songs and less music to stream faster. That's because 95% is missing. Thats what SPOTIFY the Tech company does. SPOTIFY then sell you the downgraded music."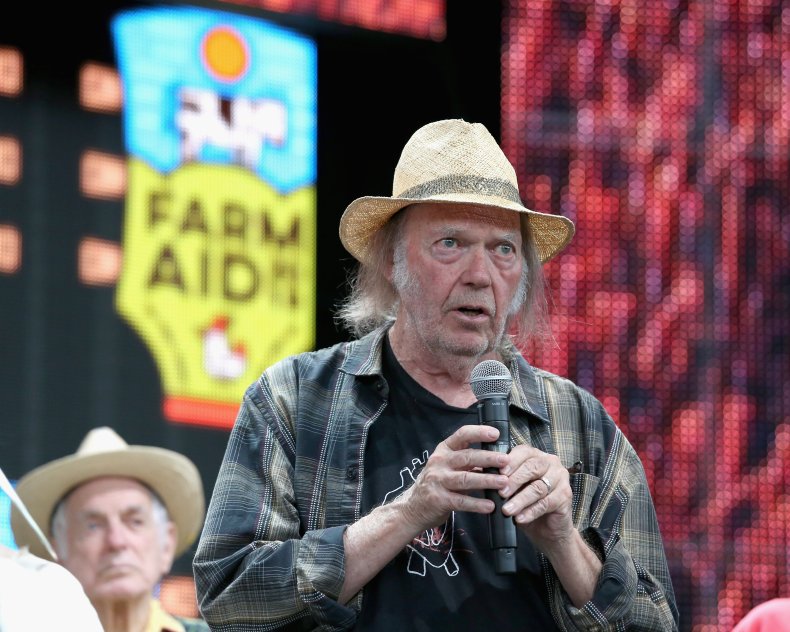 Newsweek has reached out to Spotify for a response.
Young encouraged consumers to switch to streaming services offered by Amazon, Apple or Qobuz, which he said now "deliver the real thing."
"If you support SPOTIFY, you are destroying an art form," he said. "Business over art."
This isn't the first time Young has pulled his decades-spanning catalog of music from online streaming services over sound quality issues. In 2015, the "Harvest Moon" and "Heart of Gold" singer said he was pulling his music from streaming services because he didn't need his "music to be devalued by the worst quality in the history of broadcasting or any other form of distribution."
Young in 2015 launched his high-fidelity PonoPlayer music player and online store that promised to let audiophiles "hear music the way its creators intended, with the emotion, detail, and power intact." But he pulled the plug on Pono two years later.
The dust-up between Young and Rogan fed into ongoing debates about free speech and so-called "cancel culture," with conservative commentators and political figures praising Spotify's decision.
Young also said in the post that he supports free speech and has "never been in favor of censorship."
"Private companies have the right to choose what they profit from, just as I can choose not to have my music support a platform that disseminates harmful information," he said. "I am happy and proud to stand in solidarity with the front line health care workers who risk their lives every day to help others."