Many conservatives are celebrating today as Spotify has chosen to side with Joe Rogan after an ultimatum from singer Neil Young.
The streaming giant has said it "regrets" removing the "Harvest Moon" singer's music after he demanded they choose between him or popular podcast The Joe Rogan Experience.
Rogan has been accused of spreading misinformation surrounding the pandemic on his show, which boasts an estimated 11 million listeners per episode and is the biggest podcast in the world.
Rogan is now one of Spotify's marquee acts. In 2020, he signed a $100 million deal that gave Spotify exclusive rights to his show—which always meant it was unlikely that they would not side with him.
Now the company has confirmed that they will be removing Young's music from the platform.
"We want all the world's music and audio content to be available to Spotify users. With that comes great responsibility in balancing both safety for listeners and freedom for creators. We have detailed content policies in place and we've removed over 20,000 podcast episodes related to COVID since the start of the pandemic," a Spotify spokesperson told The Hollywood Reporter on Wednesday.
"We regret Neil's decision to remove his music from Spotify, but hope to welcome him back soon."
In his initial open letter this week, Young said he was taking action "because Spotify is spreading fake information about vaccines—potentially causing death to those who believe the disinformation being spread by them. Please act on this immediately today and keep me informed of the time schedule.
"I want you to let Spotify know immediately TODAY that I want all my music off its platform," he continued. "They can have [Joe] Rogan or Young. Not both."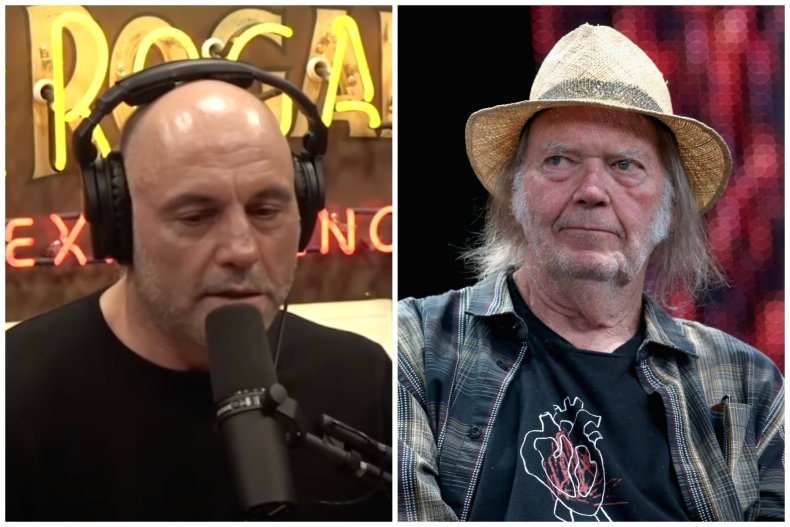 In a second statement posted to his website on Wednesday, Young called Spotify "the home of life-threatening COVID misinformation," saying: "Lies being sold for money."
He also thanked his record label, Warner Brothers-owned Reprise Records, for supporting his decision, and said that around 60 percent of all of his streamed music comes from Spotify listeners.
"Thank you Warner Brothers for standing with me and taking the hit—losing 60 percent of my worldwide streaming income in the name of Truth," he wrote.
Rogan's victory over Young is being celebrated by many of his conservative supporters today.
"Neil Young is 76 years old and hasn't been relevant in 40 years, but somehow he thinks he can demand Spotify choose between him and the most popular podcast in the world," tweeted conservative commentator Nick Adams. "Joe Rogan is going to win this battle every time."
Columnist Mark Towhey wrote: "NEIL YOUNG: I want all my music off the Spotify until they fire Joe Rogan. Spotify: OK. The World: Neil Who? Oh, him. Is he still alive?"
Political comedian Tim Young tweeted: "Joe Rogan 1 - Neil Young 0."
Republican candidate Lavern Spicer said: "Neil Young got himself cancelled trying to cancel Joe Rogan."
"I bet Neil is super happy now that he will be 'rocking in the censored world' he dreamed of!" said YouTuber Jimmy Dore.
Author Douglas Murray tweeted: "Seems like Neil Young challenged @joerogan to a fight, entered the ring and then knocked himself out. Strange."
"Lots of people do this with Joe @joerogan and soon he'll have all the viewers and listeners," said author and psychologist Jordan Peterson.