Dylann Roof Massacred Her Family—Here's Why She Wants Him Off Death Row
The Reverend Sharon Risher had never dwelled much on the death penalty.
That changed when her mother Ethel Lee Lance, two cousins and a childhood friend, along with six others, were shot dead at the Emanuel African Methodist Episcopal Church in Charleston, South Carolina on June 17, 2015.
Almost six years on, their killer—white supremacist Dylann Roof—is languishing on federal death row.
But Reverend Risher doesn't want him executed.
"I was just like everybody else [who] believed in the death penalty," she told Newsweek. "It wasn't so much about supporting the death penalty... it was never something that you had to really think about.
"And then when I had to think about it, and be a part of something, that's when I realized, after praying and thinking and doing some research, I realized the death penalty doesn't really do any good for anybody.
"My mother and my family members are already gone. What is the death penalty gonna do for us? If the death penalty was going to bring my mother back, then I would be all for that."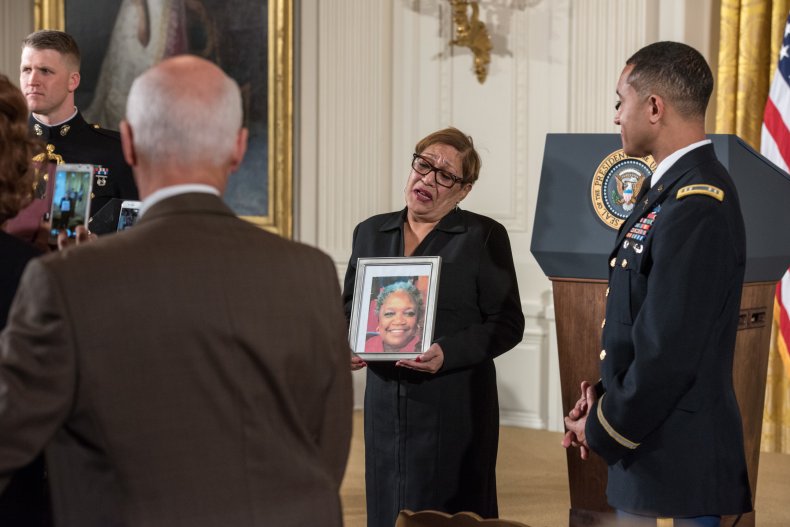 Since the Charleston church massacre, Risher joined the Everytown Survivor Network and Moms Demand Action to campaign for an end to gun violence. She also authored For Such a Time as This: Hope and Forgiveness after the Charleston Massacre, recalling her struggle to forgive her mother's killer.
Now, she is campaigning with Death Penalty Action, calling for an end to the federal death penalty.
The group on Monday will unveil a new campaign video narrated by Rep. Ayanna Pressley, the lead sponsor in the House for the Federal Death Penalty Prohibition Act of 2021.
Risher is also hoping President Joe Biden's administration takes action to stop federal executions.
"I hope to see they do away with the death penalty," Risher said. "For a person to be killed is wrong. State-sanctioned killing is wrong."
Abraham Bonowitz, the director of Death Penalty Action, told Newsweek that the "onus is on Congress."
"That is where Death Penalty Action is focused," he said, adding that the group is working every day to build support for the legislation. "Just like most of the rest of the world, this country can be safe from dangerous individuals and hold them accountable to their crimes without executions," he said.
The push to end the federal death penalty in the first 100 days of the Biden administration comes after 13 inmates were executed in the waning months of former president Donald Trump's presidency, including three just days before Joe Biden, a death penalty opponent, was inaugurated.
Announcing the end of a 17-year pause on federal executions, Trump's then Attorney General Bill Barr said: "The Justice Department upholds the rule of law—and we owe it to the victims and their families to carry forward the sentence imposed by our justice system."
But Risher pointed to the racial disparities in the application of the death penalty—almost half of the inmates executed last year were people of color. She also raised concerns that innocent people could be put to death.
Even for those guilty of the most heinous crimes, Risher doesn't believe capital punishment is the answer.
"Killing these people, in my mind, is not gonna do anything positive," she said. "As a person of faith, we know that God can forgive anybody, no matter what they do, and so that doesn't exclude them."
For her, life imprisonment without the possibility of parole is the punishment she wants for her mother's killer.
"If a person is going to spend the rest of their lives for a crime they did commit," she said. "To me, that's just like death. Who would want to be in the in the prison system for all of their lives?"
She wants Roof to "live with the memory" of what he did to her family and the relatives of his other victims.
"Executing him, in my mind, gives him a path of not being accountable anymore," Risher said.
"I want him to be accountable for the rest of his life and I understand that he will never ever get out of jail so killing him... what will it accomplish? Is death the kind of punishment we, as a nation that calls itself a nation of Christians, is this what we want?
"Regardless if Black or white, the death penalty does not give anybody any comfort. I really don't believe that it does. It might take the person away physically, but the damage has already been done."
Risher explained that her thoughts went straight to Roof when she became aware of the campaign to end the federal death penalty.
"When all of this thing came out about, the first thing I thought about was Dylann Roof... because he's in a federal jail.
"And it still doesn't take away the fact that killing him will give me no closure, it won't make me feel better.
"I've made my peace with Dylann Roof. I made up my mind that he does not hold any power over my life anymore."