EA Will Still Make 'Star Wars' Games, Just Not Exclusively
The biggest gaming news Wednesday morning was the reveal that Ubisoft will be releasing a new open-world Star Wars game.
This as-yet-untitled Star Wars game is set to be developed by Massive Entertainment, the studio behind The Division, and seemingly marks the end of EA's exclusivity with the franchise.
Massive's Star Wars game will be the first title in the famed franchise to be made outside of EA since 2012, which opens the gaming world to new possibilities for the beloved series. But that doesn't mean that Electronic Arts is done with adventures in that galaxy far, far away.
Following the news of the upcoming Ubisoft and Massive title, the official EA Twitter account tweeted to its six million followers that it "looks forward to continuing our partnership with Lucasfilm Games," and that the company is still going to be releasing more Star Wars games.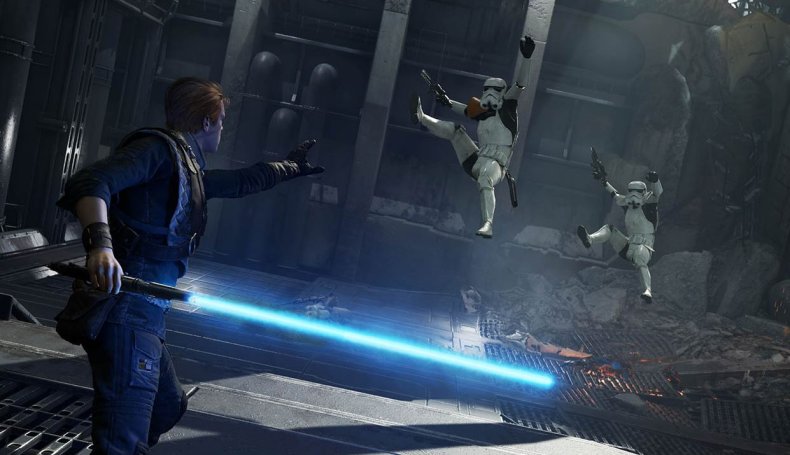 EA and Lucasfilm's exclusivity began in 2013 on a multi-year agreement. The length of the deal was unknown, but EA CFO and executive vice president Blake Jorgensen told investors at the time that the company's deal with Star Wars would last "over 10 years."
"[Disney] came to us because of our [previous] partnership and they knew that we could help them develop really great games, and we struck what we believe is a fantastic deal, which allows us to be able to build games in many different genres across multiple types of platforms over 10 years, and we'll leverage the strength of the Disney marketing associated with the Star Wars properties, both in movies and other things that they may do over the timeframe," Jorgensen said at the time.
However, Ubisoft's Star Wars announcement seems to confirm that the franchise's exclusivity with EA won't last beyond 2023. With Massive and Ubisoft's open-world Star Wars game just being announced—and there are no real details to speak of—the finished product is likely years away.
"EA has been and will continue to be a very strategic and important partner for us now and going forward," Sean Shoptaw, senior vice president of Global Games and Interactive Experiences at Disney, told Wired. "But we did feel like there's room for others."
Star Wars games under EA have been a mixed bag. The first Battlefront game, released in 2015, was a solid, fun first-person shooter set in the Star Wars universe.
The 2017 follow-up, Battlefront II did not go over well with fans, as the game's use of microtransactions rewarded those who spent real money to purchase upgrades for their characters. EA's latest games under the Lucas banner, 2019's Jedi: Fallen Order and 2020's Star Wars Squadrons, were both received well by critics and gamers.
In the end, more studios working on Star Wars means more games and new ideas, which fans should be excited for, even if lackluster games from the past have made them a bit jaded.
What do you think of Ubisoft announcing a new Star Wars game? Are you happy to see EA lose their exclusivity? Let us know in the comments section.