Earthquake Pictures and Videos Show Devastation Caused By Albania's Massive 6.4 Quake in Tirana
Devastation caused by the 6.4 magnitude earthquake that struck the area around Tirana, capital of the southeastern European country of Albania, was captured in photographs and videos shared online.
The quake began around 4 a.m. local time, according to Newsweek, and had an epicenter around the city of Durres, which is 19 miles west of Tirana.
Endri Fuga, the Albanian government's director of communications, tweeted around 11:30 a.m. local time that rescue workers from the neighboring nations of Greece, Italy and Kosovo had arrived to assist in life-saving efforts. Twenty-eight people had been rescued from collapsed buildings, and more than 600 were transported to hospitals in Tirana and Durres for treatment.
By 9 a.m. EST, the earthquake had resulted in the deaths of at least 16 people, according to NPR.
Photos and videos taken in Durres showed that the city, the one nearest the quake's epicenter, may have suffered the brunt of the damage.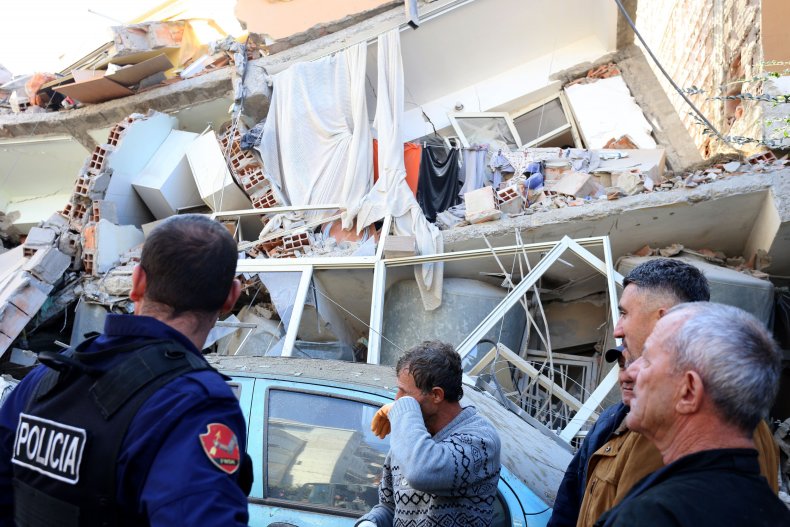 On Twitter, Reuters shared footage of the rubble and rescue workers in the hours after the quake struck.
Also on Twitter, user @Ardit_Toca shared a video, taken from a car, that surveyed the damage done to Durres. "Stay safe Albania!" @Ardit_Toca wrote.
The city of Thumanë, which is northwest of the capital, was also affected by the tremors. Photos showed that structures there had been devastated.
Photographer Gent Shkullaku captured the varied facial expressions of a group of people whose relatives lived in a residential building that had been reduced to rubble by the disaster.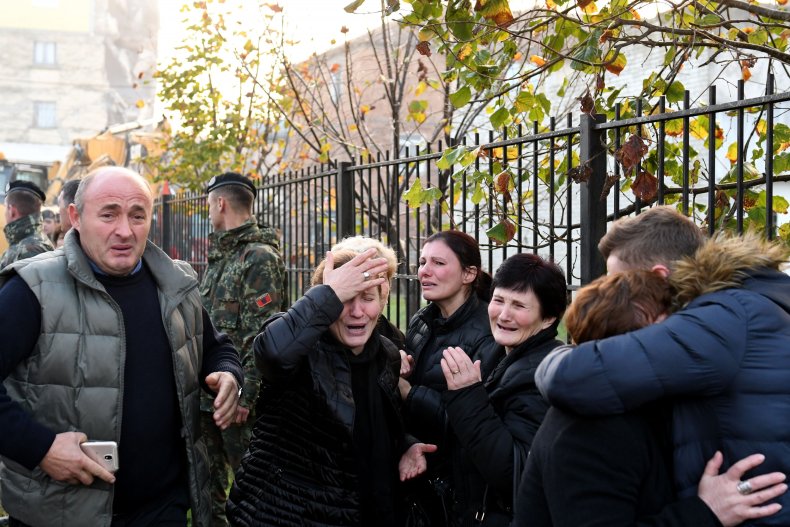 Shkullaku took another photo of relatives of people who had lived in a destroyed building. In it, a distressed woman with bloodied clothes is being escorted away by two other people.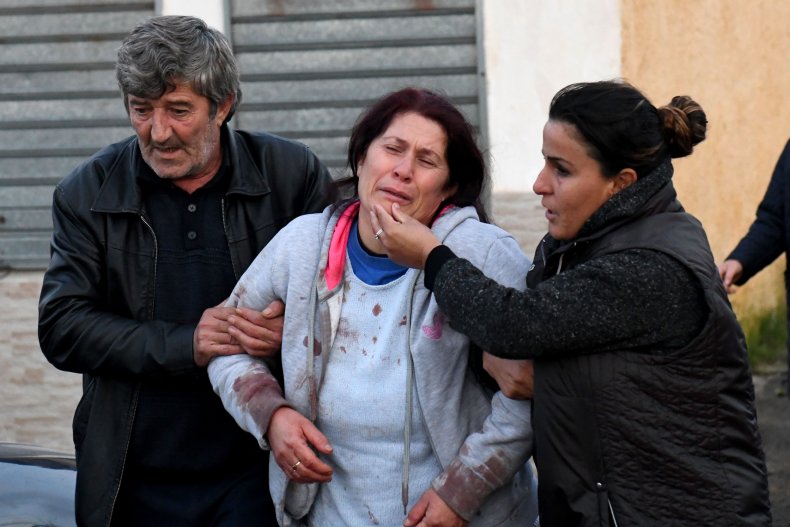 One photo from Getty Images showed rescue workers in Thumanë attempting to remove debris from a building that appeared to be destroyed beyond recognition by the earthquake.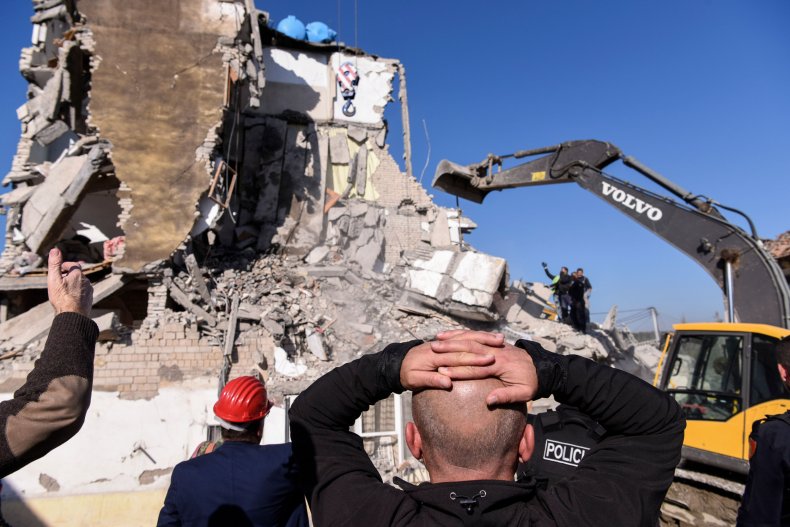 Another photo of the same building showed a group of men surveying the damage, while another steps cautiously down a steep pile of rubble.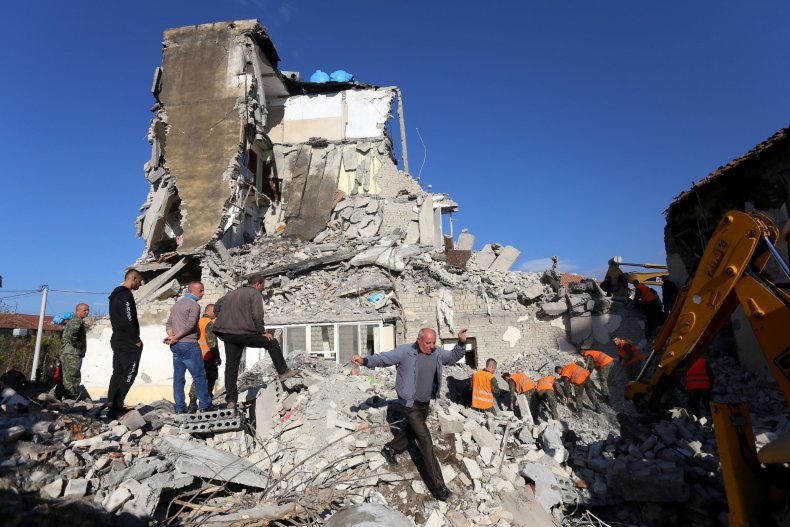 Rescue workers from the area quickly set to work to retrieve people who had been trapped in collapsed buildings.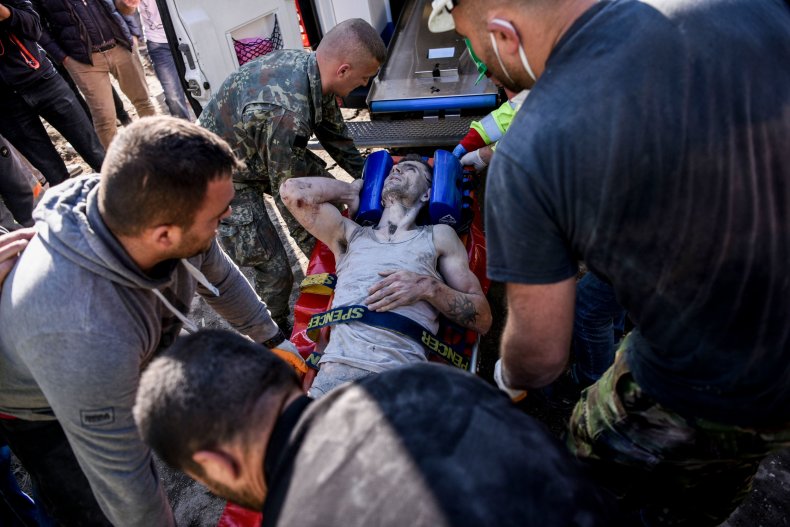 Another photo taken in Thumanë showed a dozen men, most of whom appeared to be in military uniforms, preparing to lift a huge piece of debris.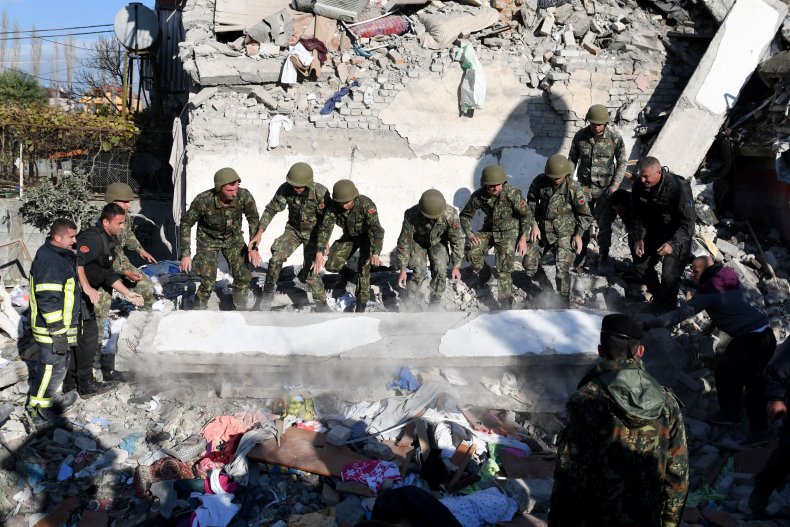 The earthquake is reportedly the worst to hit Albania in decades and follows another in September that damaged an estimated 500 buildings.