East Coast Snowstorm Path, Forecast: Winter Weather to Hit Mass., New York, Pennsylvania
Heavy snow is expected to make its way across the country and into the Northeast this week, blanketing areas throughout Massachusetts, New York and Pennsylvania.
The storm system first hit the West Coast over the weekend and is now expected to move east, bringing some of the most intense snow and rainfall the region has seen in years. According to NBC News, more than 47 million Americans are under some sort of winter storm watch this week.
On Tuesday, a second storm moving through the Rockies and the central Plains will make its way toward the Gulf Coast states in the evening before joining forces with the larger storm moving from the West, according to AccuWeather.
"As upper-level energy moves from the Rockies into the East Monday and Tuesday, an area of low pressure will begin to take shape across the southern Plains and Southeast," AccuWeather Senior Meteorologist Tyler Roys said. "This storm system will then turn northeastward and track somewhere near the East Coast, tapping into the cold air that will be available to create a winter wonderland for some."
By Wednesday, the winter storm is expected to strengthen as moisture from the Gulf of Mexico and the Atlantic clashes with cold air in the north.
"All the ingredients now are coming together for our snowstorm, and I really don't see a way out of this for many cities across the Northeast. The No. 1 ingredient: the injection of cold air," said AccuWeather forecaster Bernie Rayno in a Twitter video. "Once that Atlantic moisture meets that cold air, it's going to be forced upward in the atmosphere, producing precipitation."
On Wednesday morning, snow and ice are expected across North Carolina and Virginia. By the afternoon and evening, a mix of rain and snow is predicted to hit Philadelphia and Washington, D.C., while New York and Boston are expected to receive mostly snow.
The heaviest snowfall rates will begin late on Wednesday and into Thursday morning, with 2 inches per hour piling up in areas, CBS News said.
"It's going to be snowing hard. Keep in mind, it comes right in and it comes down heavy," Rayno said.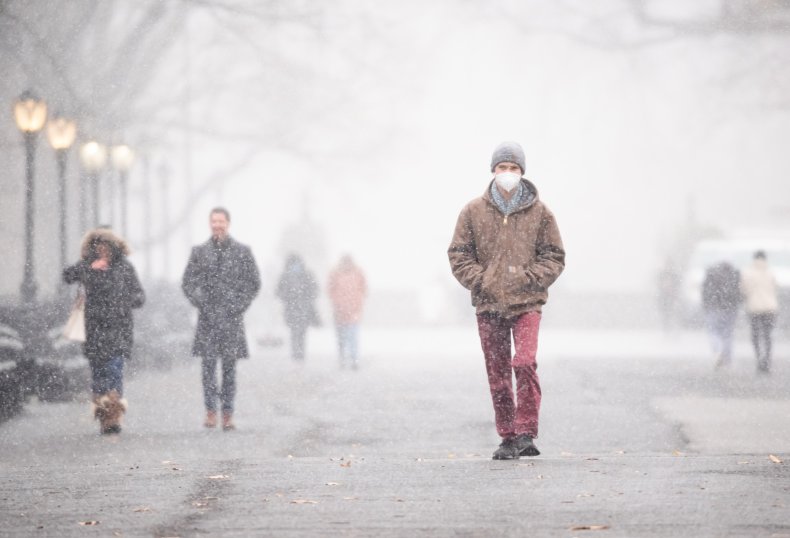 Throughout Wednesday, snowfall accumulations are expected to reach 4 to 8 inches in Philadelphia, while New York City and Boston are expected to receive anywhere from 6 to 12 inches.
According to AccuWeather, the bulk of the snow will hit areas in Pennsylvania, including Harrisburg, Allentown and Scranton, where accumulation could reach between 12 and 18 inches.
In Poughkeepsie, New York, snowfall could reach between 10 and 15 inches, while in Worcester, Massachusetts, up to a foot could accumulate.
The snow is expected to continue for a few hours in areas of the Northeast and New England on Thursday but will slow down that afternoon.
If snow accumulations reach 12 inches in New York City, this will be the largest storm the Big Apple has seen in five years. Additionally, if predicted accumulations are correct, Washington, D.C., Philadelphia and New York could receive more snow this week than they did over the entire winter last year.
"The start of astronomical winter is under a week away, but Mother Nature is getting off to a fast start with multiple areas of winter weather forecast to impact parts of the United States through Thursday," the National Weather Service (NWS) said on Tuesday.
The NWS warned that the heavy snowfall could lead to whiteout conditions, power outages and dangerous travel conditions across the region.