East Palestine Mayor Slams Biden for Kyiv Visit as 'Slap in the Face'
Trent Conaway, mayor of East Palestine, Ohio, ripped President Joe Biden for visiting Kyiv, Ukraine, as his village faces the fallout of a train derailment triggering a toxic chemical spill.
Conaway was asked Monday during a TV appearance on Fox News' Jesse Watters Primetime whether he was surprised to hear that the president was in Kyiv on Monday morning.
"Absolutely. That was the biggest slap in the face," Conaway said. "That tells you right now he doesn't care about us."
This month, a 150-car train derailed and caused a toxic spill, which prompted local authorities to evacuate nearly 5,000 residents as officials disposed of vinyl chloride and other chemicals that were onboard the railcars through controlled burning. Holes were blown into five cars before the potentially explosive gas was burned in a ditch.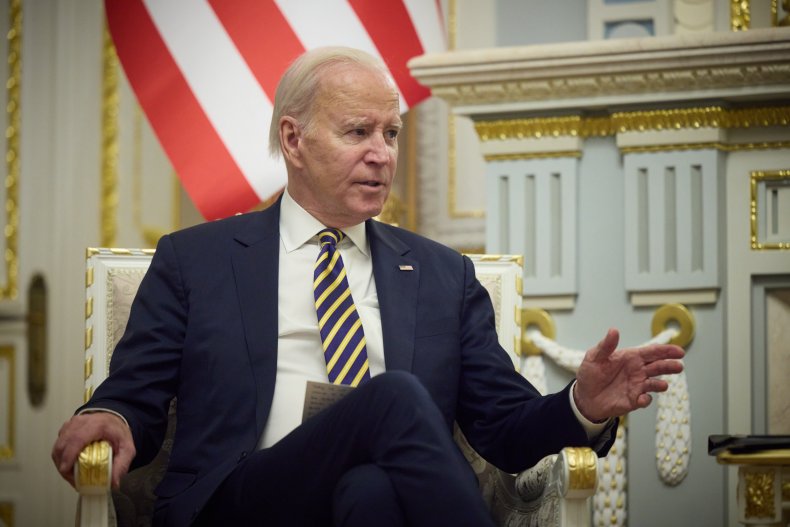 Federal agencies responded to the disaster, sending teams from the Environmental Protection Agency (EPA), Department of Health and Human Services (HHS) and Centers for Disease Control and Prevention (CDC) to assist with testing and cleanup.
Medical personnel and toxicologists from the HHS and CDC will carry out public health testing and assessments, the White House said in a statement on Friday. The Biden administration also mobilized a "robust" multi-agency effort to support the people of East Palestine, according to the statement.
The White House added that the team from the HHS and CDC will "support federal, state, and local officials already on the ground to evaluate individuals who were exposed or potentially exposed to chemicals and help ensure timely communications to the public."
Still, Conaway on Monday expressed his dissatisfaction with the Biden administration's response to the East Palestine train derailment, as he criticized the U.S. for giving funds to Ukraine to bolster its war against Russia.
"He can send every agency he wants to, but I found out this morning that he was in Ukraine giving millions of dollars away to people over there and not to us ... on Presidents Day in our country, so I'm furious," he said.
Biden met Ukrainian President Volodymyr Zelensky on Monday after months of planning. National Security Adviser Jake Sullivan called the visit "historic" and "unprecedented in modern times," given the security risks of Biden visiting a war-torn country where the United States does not have an active military presence.
The continuous aid sent by the U.S. to Ukraine has outraged some Republicans, including Representative Marjorie Taylor Greene of Georgia, who recently called for impeaching Biden for supporting the war-ravaged nation.
Newsweek has reached out to the White House and Conaway's office for comment.