Ginni Thomas and the Jan. 6 Committee Are on a Collision Course
The January 6 committee has asked Virginia "Ginni" Thomas to speak with it about her alleged role in the effort to overturn the 2020 election result.
The request to the wife of Supreme Court Justice Clarence Thomas comes after the committee reportedly obtained emails between Thomas and John Eastman, the lawyer who played a key role in pressuring Vice President Mike Pence to block the election's certification.
The letter sent to Thomas on Thursday said that the congressional committee investigating the U.S. Capitol insurrection had "recently obtained additional information regarding the activities of John Eastman."
The letter said that the committee believed Thomas had information "relevant to our investigation" and sought an interview to discuss her knowledge "of certain events and activities following the November 2020 election."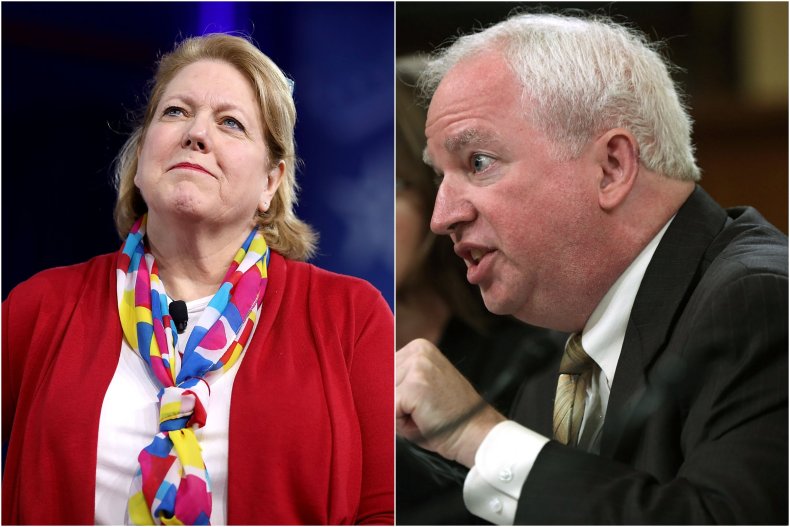 In proposing to meet with her on July 6, 7, or 8, the letter from committee Chair Bennie Thompson, a Mississippi Democrat, said that questions she would face would be "limited to issues relating to January 6th, the activities that contributed to or influenced events on January 6th, and the transfer of power after the presidential election."
Thomas said in a statement to the Daily Caller she would be happy to speak with the committee and that she "can't wait to clear up misconceptions."
Thomas, who has said she attended the rally that preceded the U.S. Capitol attack but left early, has been criticized for her efforts in pushing claims of voter fraud. Some progressives say her activism is a conflict of interest for her husband who sits on the country's highest court.
The panel's request follows a report in The Washington Post that email correspondence between Thomas and Eastman was among documents obtained by the committee.
Last week, a federal judge ordered Eastman to hand over around 100 documents, whose release Eastman had tried to block, as he argued that they were privileged communications.
Although the Post's sources did not give details about the contents of the emails between Thomas and Eastman, they allegedly show that her efforts to overturn the election were more extensive than previously known.
Eastman confirmed that Thomas had invited him on December 4, 2020, one month after the election, to speak at a meeting she was helping to organize.
Thomas posted online what he said was a copy of the email inviting him to speak on December 8 to Frontliners, which she called a "group of grassroots state leaders."
But in a substack article, Eastman played down the invitation and the email communications, saying he had been asked to give an "update about election litigation to a group she met with periodically."
He also dismissed the significance of any reported communication he had with Thomas, saying that "those from the January 6 committee who leaked a false impression about that email should be ashamed of themselves."
Newsweek has contacted Eastman and the January 6 committee for comment.