Ebay Is Removing Listings for Discontinued Dr Seuss Books, Citing 'Offensive Materials Policy'
Following Dr. Seuss Enterprises' recent decision to discontinue publishing and licensing on six of the famous children's author's books because of problematic content, demand for the titles in question spiked. But even though the resale market for the controversial Seuss books has been strong, eBay has started to remove listings for the titles, citing its policy on offensive material.
This writer actually has access to a worn copy of one of the out-of-print books, And to Think That I Saw It on Mulberry Street, and listed it on eBay late Tuesday afternoon. On Thursday morning, though, this writer received an email from eBay saying that the listing was removed for violating an "Offensive material policy."
"Listings that promote or glorify hatred, violence, or discrimination aren't allowed," the automated email says. "Dr. Seuss Enterprises has stopped publication of this book due to its negative portrayal of some ethnicities. As a courtesy, we have ended your item and refunded your selling fees, and as long as you do not relist the item, there will be no negative impact to your account."
In addition to Mulberry Street, Dr. Seuss Enterprises announced on Tuesday that it was ceasing publication of the author's If I Ran the Zoo, McElligot's Pool, On Beyond Zebra!, Scrambled Eggs Super! and The Cat's Quizzer. "These books portray people in ways that are hurtful and wrong," the company said in its statement. "Ceasing sales of these books is only part of our commitment and our broader plan to ensure Dr. Seuss Enterprises's catalog represents and supports all communities and families."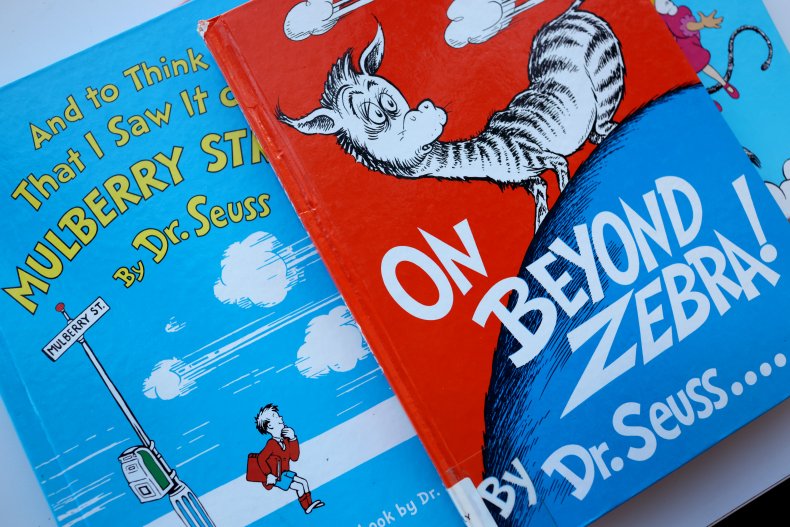 In its email on Thursday, eBay included the fine print of its policy. One portion of the message, which gives an overview of the policy, reads, "Items, including figurines, cartoons, housewares, historical advertisements, and golliwogs with racist, anti-Semitic, or otherwise demeaning portrayals, for example through caricatures or other exaggerated features." Mulberry Street contains a drawing of a Chinese boy that has been criticized as racist.
In an email to Newsweek, an eBay spokesperson clarified the company's position further. "At eBay, we have a strict policy against hate and discrimination to ensure our platform remains a safe, trusted and inclusive environment for our global community of buyers and sellers," the spokesperson wrote. "Please see our Offensive Materials Policy. We're currently sweeping our marketplace to remove these items. It can take some time to review all existing listings and provide education to impacted users. We're also monitoring the newly published list to be reviewed. Thanks for your patience."
Other eBay users have apparently had their recent listings of the discontinued Seuss books taken down as well, and have criticized the company on social media. One Twitter user tweeted out eBay's message about the "Offensive material policy," and told Newsweek in a direct message that he listed the book on Tuesday and received the eBay notification on Thursday morning. He described eBay's decision to remove the listing as "draconian."
He also wondered to Newsweek if this means that other literary works by famed authors could come under similar scrutiny in the future. "I think the reasoning that it 'violates an offensive material policy' is ludicrous when you consider whatever other material is available online," he wrote. "Does Huck Finn contain offensive material? Does To Kill A Mockingbird? Where is the line?"