Officials Warn Ebola Outbreak Is Morphing Into a Humanitarian Crisis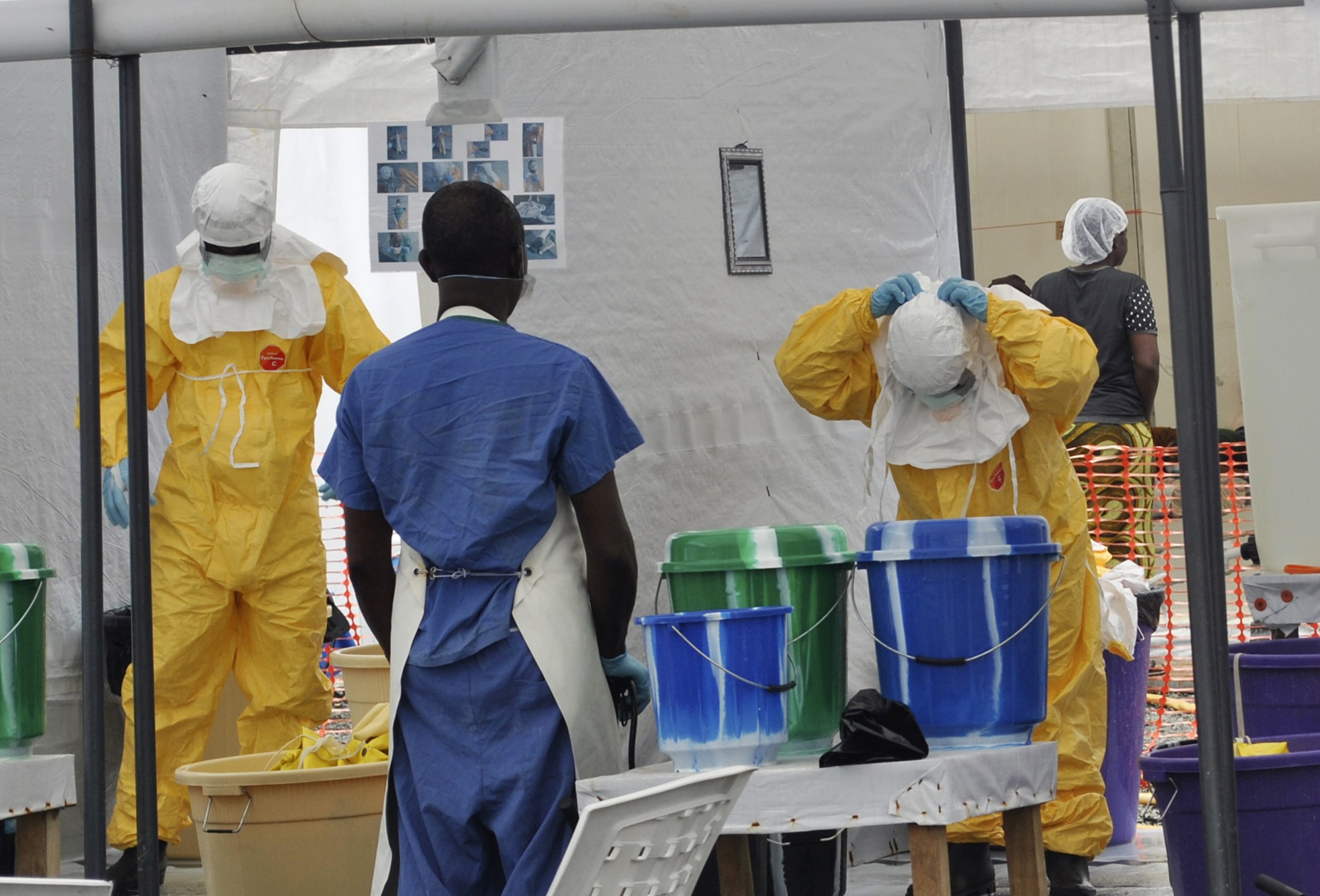 A few hours before news broke of the first Ebola diagnosis in the United States, health officials said the global response to the virus has so far failed to slow the outbreak in West Africa.
The outbreak, if not controlled soon, has wide-ranging security and humanitarian consequences, health experts warn.
"The current deployment is not enough to respond to the crisis," said Sophie Delaunay, executive director of Médecins Sans Frontières (MSF), during a Kaiser Family Foundation press briefing on the Ebola outbreak on Tuesday.
"It's at this point impossible for us to do too much. There's so much that needs to be done," said Steve Monroe, deputy director of the National Center for Emerging and Zoonotic Infectious Diseases at the Centers for Disease Control and Prevention (CDC). "The sooner we can get a more effective response, the larger number of people that will be affected."
Worst-case scenario estimates by the CDC project that between 550,000 and 1.4 million could be infected by January 2015 if a major intervention is not done to stop the virus from spreading. The World Health Organization (WHO) said as many as 20,000 people could be infected in the coming weeks.
The death toll from the outbreak has now surpassed 3,000 in West Africa, according to the latest figures from the WHO, with more than 6,500 infected.
Until a vaccine is produced for the incurable disease, isolating the infected is the safest way to prevent more deaths, health officials said, and this effort will require more resources than what has already been committed.
The countries most affected by the outbreak—Sierra Leone, Guinea and Liberia—have been ill-equipped to deal with the rapid and deadly pace of the outbreak, which began earlier this year.
Since then, Ebola cases have doubled every 30 days in Liberia and every 24 days in Sierra Leone, said Joshua Michaud, associate director of global health policy at the Kaiser Foundation. Liberia has had more than 260 deaths a week since the start of August, and the situation may be underreported, Michaud said, possibly affecting up to one in 500 Liberians.
"Every week or day or month of delay has a significant impact on the projected number of cases," said the CDC's Monroe. "We need to do as much as we can as quickly as we can. Every delay results in increasing numbers of people who are infected by this disease."
Delaunay said that by June this year it was already clear the outbreak was "out of control." MSF (Doctors Without Borders), the French aid organization working on the ground in West Africa, has so far deployed 3,000 staff members to the most affected countries, with more sent to neighboring countries to help with preparation efforts in case of an outbreak. Delaunay said MSF needs $120 million for operations on the ground but has received only half of that in private donations.
The United States has so far committed $175 million and a team of military personnel to help with on-the-ground efforts. President Barack Obama has urged other countries to commit more resources before the outbreak poses a regional and global security threat.
USAID, the lead American agency in the U.S. response to Ebola, has a 28-member team on the ground, and the CDC has more than 100 people in the region. Approximately 200 people from the U.S. Department of Defense are in West Africa.
"A big focus of the efforts on the U.S. government side and the international community is to increase the number and location of treatment units so we can get cases into isolation and break this chain of transmission," said Monroe.
The main concerns in West Africa are adequate staffing—12,000 local health staffers are needed, according to the WHO—making beds available for the infected, and treating them in isolation.
Meanwhile, officials are trying to quell fears that the virus may spread in the U.S. after news that the first patient diagnosed in the U.S. is being treated in Dallas and one of his "associates" is under close monitoring, according to reports.
Dr. Tom Frieden, the CDC's director, has been at pains to reassure Americans that the disease will not spread here at home.
It's "not impossible" that more people will contract Ebola in the U.S., Frieden told ABC News, but the disease will likely be "stopped in its tracks."
"We saw it coming. We have great infection control officers in our hospitals who have been watching the outbreak unfold from afar. Our hospitals are trained better than ever," Tara C. Smith writes in The Guardian on the inevitable panic over the news of Ebola in the U.S. "Your cousin from Dallas is not going to turn your town into a scene from 28 Days Later."
"You are not going to get Ebola. Donald Trump is not going to get Ebola. You are more likely to be killed by Batman, the ride," Olga Khazan wrote in an article for The Atlantic on how well prepared the U.S. health care system is to deal with an outbreak, but not before assuring readers.
Officials say the situation in West Africa is fast becoming a humanitarian crisis as well. Around 3,700 children have lost at least one parent from the virus and risk being "shunned" by their communities, according to UNICEF. The organization has asked for $200 million for assistance to children and families.
"These children urgently need special attention and support, yet many of them feel unwanted and even abandoned. Orphans are usually taken in by a member of the extended family, but in some communities the fear surrounding Ebola is becoming stronger than family ties," said Manuel Fontaine, UNICEF regional director for West and Central Africa, in a statement.
Food insecurity also threatens communities in Liberia, as Ebola has affected agriculture output and resulting income, officials from the Food and Agriculture Organization of the United Nations said on Tuesday.
Once the death toll starts to decline, whenever that may be, making sure Ebola is fully eradicated and doesn't linger within communities is a top priority, said Michaud.
But that won't be soon, according to Delauney. "Ebola will remain a threat in the region for some time," she said.