Ebrahim Raisi Is A Monster. His Entry Into The U.S. Was Inexcusable | Opinion
Ebrahim Raisi, the president of the Islamic Republic of Iran handpicked by Ayatollah Ali Khamenei, touched down in the United States this week for the United Nations General Assembly in New York.
Raisi should never have been allowed to enter our country. The president is prohibited by Congress from granting entry visas for the UN to leaders who have committed terrorist activities, including threatening assassination, and who pose a risk to our national security.
In January, Raisi threatened to assassinate former president Donald Trump, former secretary of state Mike Pompeo, and other officials. Last month, the Department of Justice unsealed charges against a member of Iran's terrorist Islamic Revolutionary Guard Corps who plotted to assassinate former national security advisor John Bolton.
The United States hosts the UN headquarters in New York. We have always retained the sovereign right to deny entry to any individual who poses a threat. The Biden administration should have exercised that right and denied Raisi a visa due to his terrorist activities. Instead, it looked the other way and allowed him entry.
We introduced legislation in the Senate and House of Representatives—the Strengthening Entry Visa Enforcement and Restrictions Act of 2022 (SEVER Act)—that would have barred Raisi from entering the United States and would do so in the future. Our bill prohibits Iranian officials who have been sanctioned for being the closest of close advisors to the Ayatollah from being granted entry. It would prevent a future president from using the loopholes the Biden administration did.
Unfortunately, Raisi is already here. While in the United States, he has predictably used the opportunity to propagandize. When regime minions like Raisi visit the West, their chief objective is to obscure the Islamic Republic's brutality and atrocities, and to attack the United States. Reporters in the mainstream media and far too many in think tanks amplify that propaganda.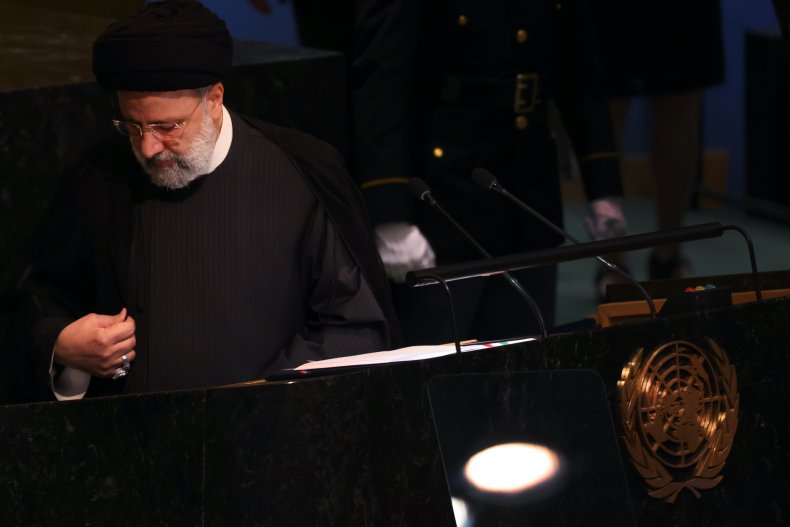 For instance, 60 Minutes recently aired an interview with Raisi. The CBS interviewer meekly donned a head scarf at Tehran's request. Meanwhile in Iran, brave dissidents marched in the streets in outrage, in response to the regime murdering 22-year-old Mahsa Amini for not wearing a head scarf. The host simply sat there as Raisi piled on shameful comments, including questioning whether the Holocaust happened. It was utterly disgraceful.
No amount of whitewashing can conceal the fact that Raisi is a uniquely despicable individual. A mass murderer and a terrorist. The "butcher of Tehran."
In 1988, Raisi was a member of the Islamic Republic's "death commission," a kangaroo court that sought to identify and eliminate political opposition in the earlier days of the Islamic Republic. The trials were a sham and executions were often carried out in a matter of days or weeks.
Raisi went on to be a prosecutor and eventually was picked to be head of the Islamic Republic's judiciary. Under his direction, Iran executed juveniles, routinely employed torture, targeted human rights lawyers, and brutally silenced peaceful protesters. Raisi oversaw violent crackdowns on protests in 2009 and more recently in 2019, when the regime savagely murdered 1,500 people. Then Ayatollah Khamenei picked him to be president.
There should be consequences when rogue regimes target American citizens. Raisi is a monster whose entry into the United States was completely unwarranted. As the Islamic Republic of Iran actively plots to kill American citizens on our own soil, it is obvious that its president should never have been allowed to freely walk the streets of New York.
That is why we introduced the SEVER Act, a bill that would make sure that no future advocate of terrorism does again.
Ted Cruz is the junior U.S. senator for Texas. Claudia Tenney is the U.S. representative for New York's 22nd district.
The views expressed in this article are the writers' own.