The Congressional Budget Office (CBO) upgraded its U.S. economic outlook on Monday, saying that the economy will return to its pre-pandemic size by the middle of this year—even if there is not another federal relief package.
The nonpartisan agency projects economic growth of 4.6 percent in 2021, compared with a 3.5 percent contraction in 2020. Real gross domestic product is expected to grow 3.7 percent in 2021 and average 2.6 percent growth over the next five years.
"CBO currently projects a stronger economy than it did in July 2020, in large part because the downturn was not as severe as expected and because the first stage of the recovery took place sooner and was stronger than expected," the report said.
The rosier outlook could bolster Republican opposition to President Joe Biden's proposed $1.9 trillion coronavirus relief plan. Conservative members of Congress have generally argued that lawmakers should wait to see how the economy responds to the aid package passed in December before approving more funds. On Monday, 10 Republicans met with Biden to pitch their scaled-back $618 billion proposal.
The nonpartisan Committee for a Responsible Federal Budget said the new projections make the case for more targeted COVID-19 relief. President Maya MacGuineas said that while Biden's "American Rescue Plan" includes important elements, "many of his proposals are larger than necessary."
But economists told Newsweek that significantly more aid is necessary to assist unemployed Americans and struggling families, despite the CBO's forecast.
Martin Neil Baily, a senior fellow at the Brookings Institution and chairman of the Council of Economic Advisers under President Bill Clinton, said that the economy would "benefit enormously" from Biden's plan and that there's little danger the result would be "overheating" or inflation—a concern expressed by several Republican lawmakers.
"This support from the federal government must be large and sustained until the pandemic is under control and Americans can resume normal work," he said. "The priority is to get money into the hands of the people that need it and not to worry about whether the design of the package is perfect."
Baily also noted that while the CBO's projections may be correct, a high level of uncertainty still surrounds the economy because no one knows how quickly the coronavirus will be brought under control.
Mark Hamrick, Bankrate's senior economic analyst, shares the view that the consequences of the federal government doing too little to save the economy far outweigh the danger of doing too much.
"I don't think there's any question in my mind that the risk to the economy, in the short term and intermediate term, is greater from failing to address the crisis," he said.
Hamrick also noted that anyone trying to "associate gross domestic product with the financial fortunes of many Americans is misguided."
A more important aspect of the CBO report, he argued, is the agency's expectations for unemployment. The agency said it expects the average unemployment rate to fall to 5.7 percent in 2021 from 8.1 percent in 2020, but ultimately the number of people employed would not recover to pre-pandemic levels until 2024.
"When you look at the December employment situation, there are plenty of categories in there where the number of jobs that are below pre-pandemic levels are in the hundreds of thousands," Hamrick said. "The economic damage from all this is much more thorough than I think many people understand."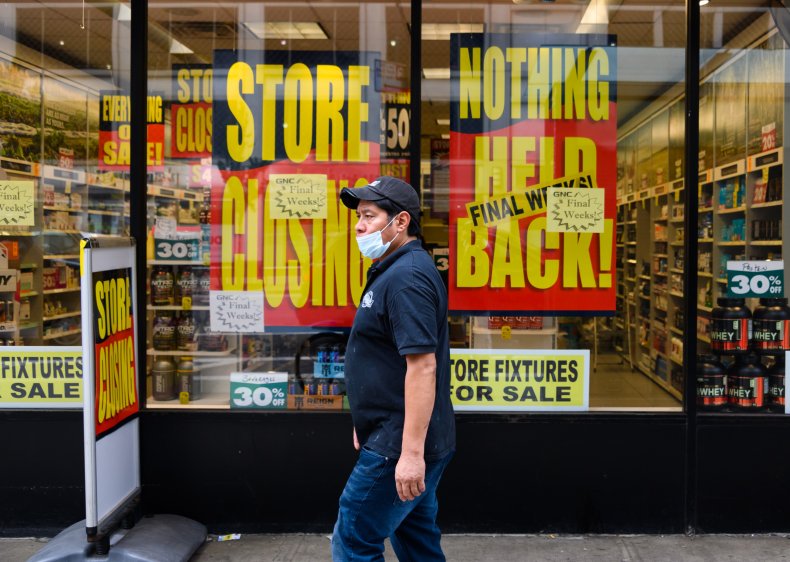 Biden's "American Rescue Plan" includes $1,400 stimulus checks, a $15 minimum wage for federal workers, $350 billion in aid for state and local governments, $160 billion for coronavirus vaccine development and distribution and $25 billion in rental assistance, among other measures.
Asked about the CBO's improved economic outlook, White House press secretary Jen Psaki told reporters Monday that Biden's plan was designed to "achieve certain basic goals" like getting a coronavirus vaccine to Americans and assisting the millions of people facing eviction or food insecurity.
"The CBO projections for next year's growth isn't a measure of all of these things, right?" Psaki said. "It's not a measure of how each American family is doing, and whether the American people are getting the assistance they need or whether we're able to get vaccines in the shots of people."
Following Biden's two-hour meeting with Republican members of Congress on Monday, Psaki reiterated that the president would "not settle for a package that fails to meet the moment."
Democrats, meanwhile, are preparing to move forward on the $1.9 trillion plan with or without Republican support. House Speaker Nancy Pelosi and Senate Majority Leader Chuck Schumer filed a joint budget resolution that could set the stage for Congress to swiftly approve Biden's relief package with a simple majority.
"America has the resources to help its citizens through this period when joblessness is not their fault," Baily, Clinton's former economic adviser, told Newsweek. "We do not know the future, but let's err on the side of supporting American families."