Top Trump Fundraiser Helped Congressman's Wife Land State Department Job
Updated | A top fundraiser for President Donald Trump helped the wife of an influential Republican congressman obtain a State Department job, according to emails reviewed by Newsweek.
Elliott Broidy — a fundraising machine for Trump and Republicans — does not have a formal position within the Trump administration. But the new emails further illustrate Broidy's power as a Washington broker, often tapped by other political insiders to reach deep into Trump's administration and use his outsize influence to get them results. Broidy's connections have emerged amid a growing focus into his efforts to advance the interests of the United Arab Emirates in the White House. Special Counsel Robert Mueller's probe has reportedly broadened to look at Emirati contacts with the Trump administration, facilitated by Lebanese-American businessman George Nader. Nader, now a cooperating witness in the probe, gave Broidy $2.5 million to advocate for Emirati interests at the White House, the Associated Press reported.
Marie Royce, the wife of Republican Representative Ed Royce of California and a longtime corporate executive, wrote several emails to Broidy last year that made clear her "number one position of interest" was assistant secretary of state for educational and cultural affairs. Trump nominated her for that role in January, and she was confirmed by the U.S. Senate last week.
Royce's husband is a 13-term congressman who also chairs the powerful House Foreign Affairs Committee. When asked about the emails, neither Broidy nor Marie Royce contested their accuracy.
"Dear Elliott, Thank you for your support for a role in the Administration," Marie Royce wrote in a February 2017 email to Broidy. "I would like to be considered in the following roles…." She then ranked positions she sought, with assistant secretary of state for education and cultural affairs slotted at the very top. Next up on Marie Royce's list were two posts at the Commerce Department.
She followed up with Broidy a week later. In March, she also told him that she talked with Vice President Mike Pence about openings in the administration after her husband spoke at a dinner for the American Israel Public Affairs Committee. But Marie Royce said she could not remember the name of the administration official Pence had told her to follow up with, according to the emails, and again asked Broidy for help.
"Thus, would love to see if we can follow-up with members on his team or with WH Personnel regarding the Assistant Secretary for Education and Cultural Affairs position at the US Department of State," Marie Royce told Broidy. "Thank you again for your assistance!"
After Trump nominated Marie Royce, Broidy described the position as a "nothing cultural affairs job" to a friend, according to the emails. The last person to hold the role under former President Barack Obama made $160,300.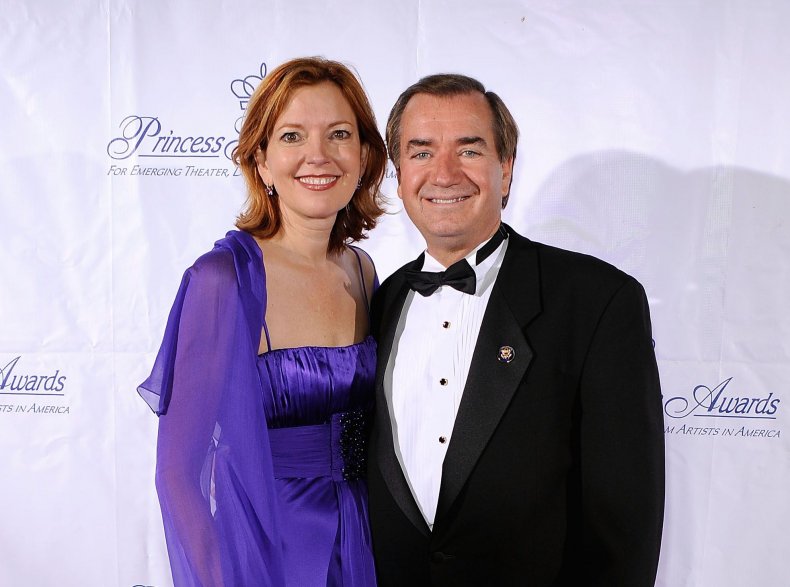 Broidy downplayed his role in Marie Royce attaining the position and said he believed she had also contacted "dozens" of other people. "Mrs. Royce worked on her own to obtain this nomination and to my understanding, followed every appropriate protocol to apply," Broidy said in a statement to Newsweek. "As a longtime friend, I was happy to serve as a reference, as I'm sure dozens of other people were as well, but given her background and qualifications she didn't need our help."
The conversations about the State Department job took place while the congressman was raising money for his re-election, according to the emails. Five days before she emailed Broidy, Marie Royce reached out to Robin Broidy, Elliott's wife, about a potential fundraiser in June at a private residence. Later that year, Elliott Broidy gave $5,400 to Royce's re-election campaign.
"Broidy is a fellow Californian and a Republican contributor the chairman has known for years," Cory Fritz, a spokesperson for Congressman Royce, told Newsweek.
A spokesperson for Marie Royce cited her experience in the private sector and in academia as qualifications for her new position and emphasized the rigors involved in earning confirmation from the Senate. She owns her own business consulting firm and previously worked for such major corporations as Nokia, Marriott International and Procter & Gamble. Marie Royce was also a full-time business professor at California State Polytechnic University in Pomona.
"Mrs. Royce reiterated her qualifications, which made her the leading candidate for the job she was hired to do. After a long vetting process that included a background check, exhaustive review of her personal finances, and in-person interviews, Mrs. Royce's nomination resulted in a unanimous Senate confirmation," said spokesperson Ken Spain in a statement to Newsweek.
Pence's office also pushed back, claiming he's often handed resumes and follows normal procedure. "The VP receives personnel recommendations regularly. When he does, he gives them to staff who pass them along to Office of Presidential Personnel for consideration," a Pence official told Newsweek.
The State Department said Royce spoke with "many people in her professional and personal networks," and dismissed the notion that Broidy helped her earn the nomination from Trump. "The President of the United States nominated Mrs. Royce," Heather Nauert, the department spokesperson, told Newsweek. The White House did not respond to requests for comment.
This is the second revelation about Broidy's ties to Ed Royce this week. On Monday, Newsweek, McClatchy and other outlets reported that Broidy asked the congressman to speak with Romanian officials to help him win a defense contract. Emails shared with Newsweek showed Broidy and members of his space and defense firm, Circinus, had drafted letters in Royce's name to top Romanian officials endorsing his company. Royce was in Romania in August of last year, and received Broidy's campaign donation less than two weeks before the trip.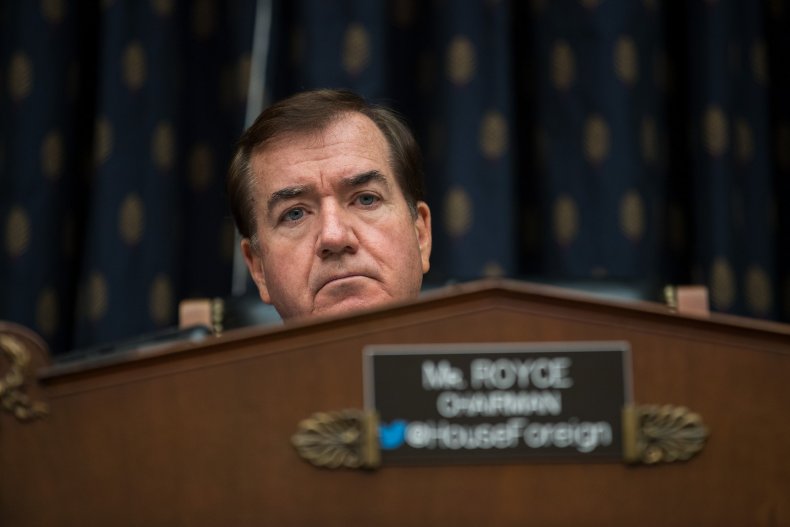 Royce denied sending any letters about Circinus to the Romanians. Royce announced in January that he would not be seeking another term for California's 39th district. He stated he wanted to focus his efforts on chairing the House Foreign Relations Committee instead of on another campaign.
The most recent emails, like the initial batch about Romanian contracts, were sent to Newsweek from an anonymous ProtonMail account. A source close to Broidy was able to confirm emails pertaining to Marie Royce's nomination for the State Department position. Newsweek also shared the emails with Broidy, and he did not deny them.
After pleading guilty in a pay-to-play scandal nine years ago, Broidy re-emerged as a major fundraiser for Trump during the 2016 election. The former top Republican National Committee finance chair was the national vice chairman to the Trump Victory campaign. The Victory campaign raised more than $108.4 million during the 2016 election cycle, of which $13.5 million went Trump's campaign. Broidy held the same position for Trump's presidential inaugural committee.
Months after the inauguration, Broidy turned to the Middle East. He reportedly helped the UAE in its bitter fight against rival Qatar, alongside Nader. In April of last year, Nader transferred about $2.5 million to Broidy to help pass legislation targeting Qatar for alleged ties to terrorism, according to the AP. Royce announced he would introduce legislation naming Qatar a state sponsor of terrorism at a conference hosted by Broidy after receiving Nader's money.
Nader is now cooperating with Mueller's investigation, which has broadened to include the Trump administration's contacts with the UAE.
Broidy has said his emails and documents were hacked by Qatar in an effort to disparage him. He filed a lawsuit Monday in California for unspecified damages against Qatar. The Gulf kingdom has denied Broidy's accusations of hacking. His suit pits a private U.S. citizen against a foreign government, and a lawyer for Broidy claimed to The New York Times that it was the first of its kind.
This story has been updated to clarify the relationship between Elliott Broidy and George Nader.