Who Could Replace Ed Sheeran on 'Saturday Night Live'?
Fans are speculating over who could replace Ed Sheeran on Saturday Night Live after the singer revealed his COVID-19 diagnosis.
Sheeran was set to make his third appearance as musical guest on the November 6 show with Succession's Kieran Culkin hosting, but shortly after that announcement, he confirmed he'd tested positive for coronavirus.
His departure from the episode in question hasn't been confirmed yet but his isolation leading up to the air date has put serious question marks over his involvement.
Fans have been speculating online as to who could replace him, while one band have pitched directly to Lorne Michaels offering up their services.
The latest on Ed's appearance on SNL?
On Sunday October 24, Sheeran posted a statement via an image to his Instagram account. He said: "Hey guys. Quick note to tell you that I've sadly tested positive for Covid, so I'm now self-isolating and following government guidelines.
"I'm now unable to plough ahead with any in person commitments for now, so I'll be doing as many of my planned interviews/performances I can from my house."
He finished his statement by saying, "Apologies to anyone I've let down. Be safe everyone x."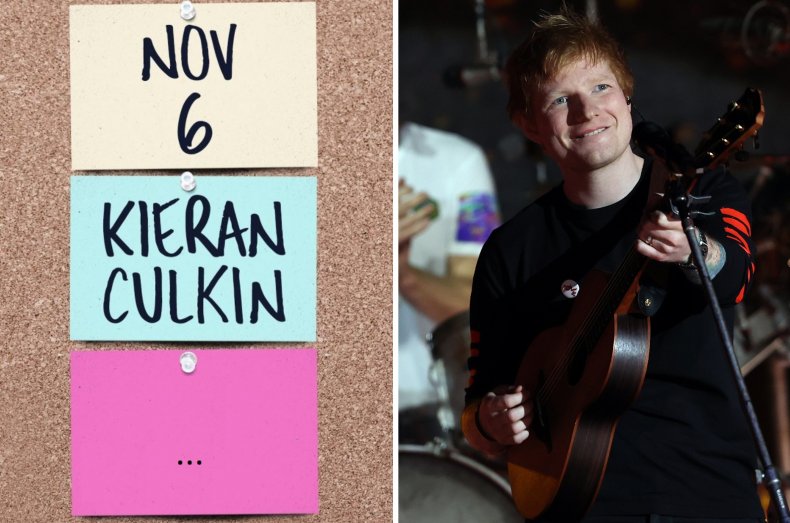 The UK government recommends those who test positive for COVID-19 self-isolate for 10 days which, from the date of Sheeran's post, will take his up to Wednesday, November 3, meaning he could theoretically be out of quarantine in time to take part in the show. However, it would complicate his appearance and could eat into valuable rehearsal time.
Sheeran's new album = (pronounced Equals) is still set for release on Friday, October 29.
NBC, Saturday Night Live, nor Sheeran himself have yet confirmed whether or not he'll take part in the show on November 6, 2021.
Who could replace Ed Sheeran on SNL?
After Sheeran revealed he'd be isolating, Taylor Swift fans flooded social media with suggestions that she should replace him. Knowing Sheeran and Swift are friends, and that Tay Tay has new music coming soon, her fans thought their idol was the perfect choice.
Twitter users @SwiftieThingss, @BWJohnsonMusic and @norakmccarthy all pitched the idea to the "Red" hitmaker.
While Swift's fans campaigned on her behalf, one act put themselves forwards and made a public pitch to Lorne Michaels himself.
Californian band The Mountain Goats retweeted the news that Sheeran's appearance was in doubt, and suggested they could take his place. The band said: "Lorne M please be advised that the Mountain Goats are in NY right now and are well loved by the TikTok Dancing Massive. Get well soon Ed & holler at me Lorne."
The TikTok song they're referring to is "No Children," which is being used in videos for its upbeat tempo but downbeat lyrics.
Replying to The Mountain Goats' suggestion, some of their fans, @HHillsBeer and @muddyinindy, produced mock images of what the band would look like on SNL.
Kieran Culkin will host the next episode of Saturday Night Live on November 6 on NBC. At the time of writing, Ed Sheeran is scheduled to be the musical guest but that could change in the week leading up to the show.