WrestleMania 37: 10 Years After Retirement, Edge Returns and Resurrects the Rated R Superstar
WrestleMania is the culmination of months' worth of storylines in WWE. It's where feuds end, new stars are born and legends return. One of those returning legends is Adam Copeland, better known as Edge.
Following a surprise and near-miraculous return at last year's Royal Rumble, Edge will enter the weekend challenging for the Universal Championship, his first title match in a decade.
"I'm trying to make sure I soak all of this in and really sit in the pocket of this, because I didn't think this would happen again," Copeland told Newsweek recently. "I don't want to look past it, I don't want to get caught up in the locomotive that is WrestleMania season, and sometimes when that happens you lose track of just how amazing this job is—let alone the fact that I had it ripped away for nine years and I got it back. I'm really just trying to savor it all."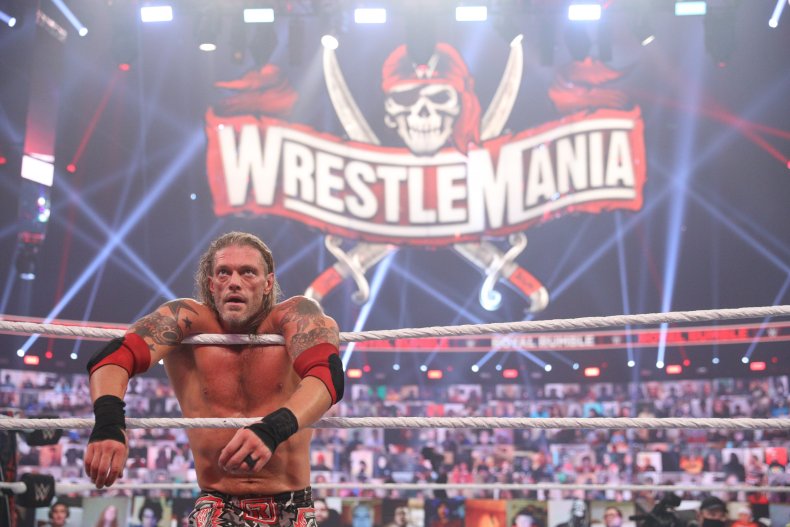 Ten years ago, Copeland had his wrestling career come to an abrupt end. After successfully defending the World Heavyweight Championship against Alberto Del Rio at WrestleMania 27, Copeland, who had a history of neck injuries and previously had surgery, suffered another during the match. It eventually required a second surgery.
Just 24 hours after sustaining the injury, Copeland appeared on the April 11, 2011 episode of Monday Night RAW to relinquish the title and announce his retirement.
"It was a strange time because it wasn't by choice. I was told I had no choice and this was it," Copeland recalled to Newsweek. "So that forces you pretty quickly to come to some kind of conclusion. Like, 'OK, there's no choice in this matter. I'd better wrap my mind around this, otherwise, emotionally, this is not going to be a healthy thing.'"
Copeland explained that having the option of wrestling again taken away from him actually made it easier to cope with the fact that he wouldn't be able to do what he's known his entire adult life.
The then-37-year-old didn't have to think about whether he could still wrestle. Now, he said he can look back at that time of his life and find comfort in knowing that he tried and left it all out there in the ring. And while he admits there were some rough patches of trying to figure out how to navigate the "emotional roller coaster" of his situation—he says that he didn't consume wrestling for three or four years after his retirement—it led to some interesting acting opportunities.
Copeland's RAW retirement speech caught the attention of producers on the supernatural Syfy series Haven, and they decided to bring him on for one episode. It went well enough to actually turn into a total of 41 episodes. That role also catapulted the former champion to other acting roles, on series like Vikings and The Flash.
"Acting fell in my lap and that really opened up a creative doorway for me that had been closed, and that really helped me kind of turn the corner and go, 'OK, that aspect of my life is done, and now I'm moving into this new chapter,'" Copeland said.
Of course, the career change didn't mean that Copeland's love for the wrestling business simply disappeared. He just needed time away.
Copeland credits Jay Reso, a longtime friend and former tag team partner better known to wrestling fans as Christian, for his return to the ring. Years ago, WWE's Executive Producer Kevin Dunn offered the duo a chance to create an original show for the WWE Network streaming service. Copeland said they were given "carte blanche," which resulted in a wrestling sketch-comedy show called The Edge and Christian Show That Totally Reeks of Awesomeness.
"Jay was still watching [wrestling], but I realized I got to get caught up now, because I don't know the current product, so I need to see some of these current characters and see how we can fit them into skits," Copeland said. "In doing that, I'm seeing matches between The Usos and The Wyatt Family and going, 'Wow.'"
Once the sketch comedy show and E&C's Pod of Awesomeness—a podcast in which the duo spoke about wrestling, music and other topics—were up and running, so was Copeland's path back to WWE television.
It's not uncommon for legends to appear in various roles on WWE's weekly television shows after they retire. WWE finds ways for its legends to be involved, whether it's in an authoritative role, like on-air commissioner or general manager or via a backstage segment, but Copeland wasn't interested at first. He was adamant about staying away from the business; but, once he finally became open to it, he wanted to be used sparingly and with purpose.
"I didn't want to be that guy that showed up every week and was just in backstage skits," Copeland explained. "I had to get away. I just had to get away from it."
Copeland appeared in various segments throughout the years, but it wasn't until the summer of 2019 that everything changed. SummerSlam 2019 took place in Toronto, near Copeland's hometown of Orangeville. The Rated R Superstar interrupted a live performance by Elias and, to the shock of everyone in attendance and watching from home, Edge "Speared" the troubadour. It was Copeland's first in-ring "bump" since he retired.
"That Spear to Elias was a visual audible. We caught eyes and I was like, 'We gotta do this. This crowd wants this,'" Copeland recalled. "Thank God for Elias because you know to be the performer that he is, to pick up on a visual cue like that, it says a lot about him and it really kickstarted this whole thing."
Months earlier, Copeland was on a bike ride near his home in Asheville, North Carolina, with current WWE superstar Sheamus. Copeland crashed his bike during the ride, but he got on his feet and felt fine. For someone with past neck issues, it was a surprising development.
A doctor confirmed to Copeland that the "hardware" in his neck was doing well, but when he asked about wrestling again, his doctor couldn't answer. Copeland then got a second opinion, which cleared him to resume wrestling. He wouldn't be able to do the 220 shows a year that WWE superstars normally do, but he got the green light to re-enter the ring.
"I had a six-hour drive home back to Asheville and I went and found a donut place, and I bought half a dozen donuts and I cranked Foo Fighters and ate donuts on the six-hour drive home and I called [my wife, ex-wrestler Beth Phoenix] and was like, 'Honey, I'm cleared,'" Copeland said. "The windows were down, the music was cranked. I'm stuffing my face and I'm just like, 'What is happening right now?'"
What happened next was the return of Edge. After his appearance at SummerSlam 2019, Copeland didn't get back into the ring until January 2020, just before the COVID-19 pandemic put the whole world on hold and forced the WWE to do shows without fans present. That didn't stop Edge, though, from taking on his former rival, Randy Orton, over the summer of 2020. The feud culminated at the Backlash pay-per-view in June, which was promoted as the "greatest wrestling match ever." Orton came away as the victor, but the real lasting impact from the match was Edge tearing a tricep that put him on the shelf for months. But despite that injury disrupting his comeback run, Copeland took it in stride.
"That [injury] was almost like water off the duck's back," Copeland said. "It sounds like it should have affected me more. I haven't done this for nine years and I just wrestled for 48 minutes against a guy who is at the absolute tip-top of this industry. Okay, there was some fallout. I tore my triceps, that sucks, but man, I've had way worse than a torn tricep."
Copeland can list off the injuries he's accumulated while in a wrestling ring. A torn achilles, torn pectoral muscles, no labrum and the triple fusion neck surgery that put a rubber disc in his spine—he's had plenty. He drew on those past experiences to put himself in the mentality of rehabbing and getting back in shape for his return. At 47 years old, Copeland not only made it back in time for the 2021 Royal Rumble in January, but he actually won the 30-man battle royale. It was the second such victory of his career, stamping his ticket to this year's WrestleMania to wrestle for the Universal Championship.
The man looking to stop Edge's pursuit of his first championship in 10 years is the Universal Champion, Roman Reigns.
Reigns, a second generation WWE superstar, has held the title since August 2020. With a new attitude and persona, Reigns—once the company's biggest babyface even though fans refused to cheer for him like one—is now the WWE's biggest heel and the mountain to climb at WrestleMania.
"This is the Roman that I knew was always there," Copeland said. "As a performer, when you see a guy and feel like they got the handcuffs on him, that's what I always thought when I saw him. Just in terms of his promo and his character and things like that, because I'd see him in the ring and I'm like, 'Man, this guy gets it.'"
The pairing of Reigns with advocate Paul Heyman, whom Copeland says has been instrumental in bringing out the strengths in wrestlers dating back to his days in ECW, has been key for Reigns. "It's really, really great to see a talent just connect and fire on all cylinders like that," Copeland said.
When Edge won the Rumble and challenged Reigns for his title at WrestleMania, it was originally scheduled to be a one-on-one affair. However, the months leading up to the Showcase of the Immortals has seen the Universal Championship match change to include former champion Daniel Bryan in a triple-threat bout.
Despite Edge feeling that Bryan is stealing his chance to become champion, the man behind the character has nothing but wonderful things to say about the performer. Copeland calls Bryan a technician's handbook and likens him to WWE Hall of Famer Bret "The Hitman" Hart, because he makes the most out of everything in front of him while also making the story being told relatable and believable.
For about two months, Bryan has challenged Reigns for the Universal Championship, and he's come close to winning on multiple occasions—Edge cost him at the Fastlane pay-per-view in March. This has given Bryan leverage to get inserted into the match at WrestleMania. And it's also helped Copeland realize that he needed to resurrect a familiar part of Edge's character.
"I was just playing the grizzled veteran. I'm Logan. I'm Rocky Balboa. I'm trying to get through and show that I still got that fighting spirit, but I don't know. It was the addition of Bryan into this that made me realize I can't do that. That's not gonna work now," Copeland explained.
"Now I have to flip the switch and find the Rated R Superstar again. I gotta find the character that's dangerous. I gotta find a different side to this three-man match because Bryan is the perennial underdog. He's that guy who is always fighting from underneath and won't stop fighting, so I can't take that lane now," Copeland continued. "And because nobody's going to do that lane better than him, I had to pivot and figure something out. I just got to dip into that guy again. That guy who's only motivation is the title; not just happy to be back and try and hang, or try and go toe-to-toe with this era."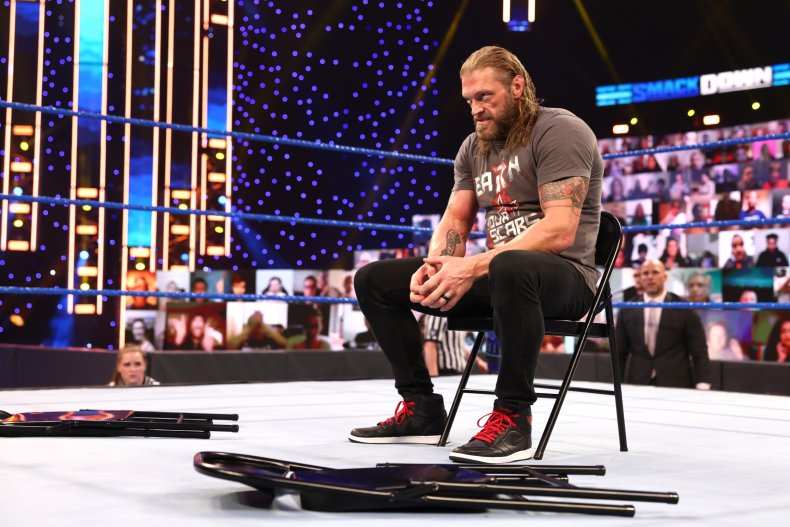 In the past, the "Rated R Superstar" was brash, cruel and the ultimate opportunist. This iteration has "higher stakes," according to Copeland. Bringing some elements of truth into his character and promos, something he's done since his return, this Rated R Superstar is more dangerous.
"Before [retiring], I knew there was gonna be another match. Now there's that added layer of every match could be it. That adds a whole new twist of desperation for the Rated R Superstar," Copeland said. "That character was desperate before, but now it's to a completely different level and that makes it really fun."
Just don't call him a heel—he's just Edge, according to Copeland. There's a grey area with this version of the character, where the only thing that matters to him is the championship and it doesn't matter who is in his way. The multi-time champion calls Edge a complex character closer to Walter White of Breaking Bad, rather than a clear-cut good guy or bad guy.
Other circumstances around Edge have changed, too. WWE looks different compared to when Copeland was working full-time a decade ago. There are now pay-per-views every month, and two shows to be promoted between the Royal Rumble and WrestleMania. NBC Universal purchasing the rights to the WWE Network for its Peacock streaming service also changed WWE's sensibilities as to who would be featured on its shows, especially Fastlane, the first pay-per-view on the service.
"You probably want Roman Reigns on your show, but you don't want him facing the guy he's gonna face at WrestleMania, so how do you fill that time?" Copeland said, explaining why Daniel Bryan was added. "And sometimes, in doing that, you realize something's catching fire and maybe we need to go a different direction here and figure this out now. That's just the nature of the current beast. Having a pay-per-view every month, things are in such transition at all times. Everything's fluid, so there is truly a chance to change an entire direction of the storyline because something's feeling this way and that way."
With the WrestleMania 37 match set for this Sunday, April 11, Copeland has a chance to leave Raymond James Stadium in Tampa as the new Universal Champion. He'd become the focal point of Friday Night SmackDown, and when WWE starts traveling again and welcoming back fans, they'll be coming to see him. But Copeland was quick to reiterate that his focus is on WrestleMania.
"When I say I want to be in the pocket of this thing, I want to enjoy it, so if I start going too far ahead, I'm not enjoying it, I'm not savoring it. You know, there's a Pearl Jam song called 'Present Tense' and it just talks about living in the present tense and that's really what I'm doing with this this whole thing, so I don't want to get ahead of myself."
And who could blame him? A new chapter is about to be written in a career that everybody thought was already complete exactly 10 years ago.
"I don't know if it will fully dawn on me. The gravity of it, or the specialness of the fact that it's 10 years to the day, you can't write stuff like that," Copeland said. "That's just one of those happy accidents, and I don't know if it will fully dawn on me until I'm in the ring and the intros are happening and we're in front of a crowd again. Maybe that's when it will all come crashing down on me again."
WrestleMania 37 is scheduled for Saturday, April 10 and Sunday, April 11 starting at 7 p.m. EDT exclusively on Peacock.