Education Secretary Betsy DeVos Sued Over 455 Times, Most Ever in Department's History, Study Says
U.S. Department of Education (DOE) Secretary Betsy DeVos has been sued more than 455 times throughout her tenure, the most ever in the department's 41-year history, a recent analysis found.
The analysis, conducted by nonpartisan news site The 74, examined lawsuits naming either DeVos or the DOE as plaintiffs from the beginning of President Donald Trump's administration in 2017 until the end of September.
DeVos' tenure has been marred by controversy ever since Trump nominated her in November 2016, shortly after his election. The Senate confirmed DeVos in February 2017 by a 51–50 margin, with Vice President Mike Pence having to break the tie. It was the first time in U.S. history that a member of the president's Cabinet was decided by a tie-breaking vote, NPR reported.
While DeVos has held the position for less than four years, either she or her department have been the target of more than 455 lawsuits. This amounts to being sued once every three days of her tenure, according to The 74. During President Barack Obama's eight years in office, his two education secretaries were the target of 356 lawsuits, The 74 found.
Phil Catanzano, an education attorney with Holland and Knight, served in the DOE's Office for Civil Rights under Presidents George W. Bush and Obama. His firm has 18 active cases against the department.
"I've never seen or read about anything like this in my career," Catanzano told The 74 of the lawsuits against DeVos.
Jason Botel, a high-ranking administrator for DeVos until 2018, told The 74 that he remembered how staff meetings would frequently begin with "a list of the latest lawsuits that had been filed against the department."
The bulk of the lawsuits concern matters like student loan disputes, civil rights, the Freedom of Information Act or Title IX. Many of them have since been terminated, according to The 74's database.
Loan disputes have historically formed the majority of lawsuits against the department, although in fall 2019, DeVos became the first education secretary to be held in contempt of court and forced to pay a $100,000 fine. The dispute concerned the DOE's failure to stop collective student loans on a now-defunct group of for-profit colleges, a federal judge ruled.
In an emailed statement to Newsweek, DOE press secretary Angela Morabito wrote: "The radical left and education establishment have done everything they could think of to try and stop Secretary DeVos' student-first agenda, which threatens their grip of power. They also haven't successfully stopped the Department from putting students first, returning power to local educators and families, and shrinking Washington's control over education in America."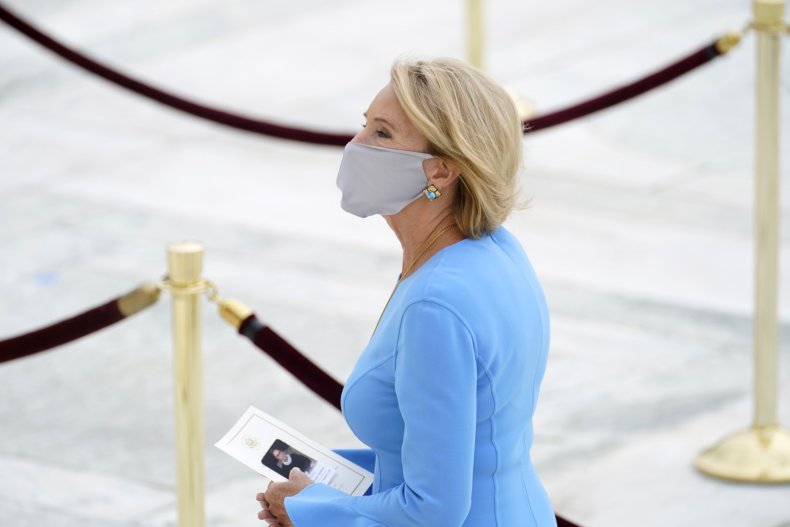 Similar to several of Trump's stated goals while in office, DeVos has focused much of her time as education secretary on undoing Obama-era legislation.
Under the former Democratic president's administration, the DOE bypassed Congress and expanded civil rights protections for minorities and students with disabilities, according to The 74.
In 2018, the DOE under DeVos removed Obama-era discipline guidance that attempted to reduce racial disparities in suspensions and expulsions, The 74 reported. DeVos claimed the legislation was another example of the federal government overstepping its boundaries.
The DOE also lost more employees than any other agency during Trump's first year in office—550, or roughly 13 percent of the department's staff, Inside Higher Ed reported. The offices within the department that lost the most employees were the Office for Civil Rights and the Office of Federal Student Aid—the ones at the center of the majority of lawsuits against DeVos.
Among DeVos' other initiatives include advocating for school choice and overhauling Title IX, adding new provisions aimed increasing protections for those accused of sexual assault on college campuses, The Detroit News reported.
While speaking during an education roundtable at Hillsdale College in Michigan on October 19, DeVos said that a new education secretary would have trouble reversing policy changes made by her administration.
"We have been very methodical about our rule-making and regulatory moves to do everything according to law, so that if there are changes, they have to be done by law as well," DeVos said.
Update (10/28/20, 6:47 p.m.): This article has been updated to include a comment from the Department of Education.