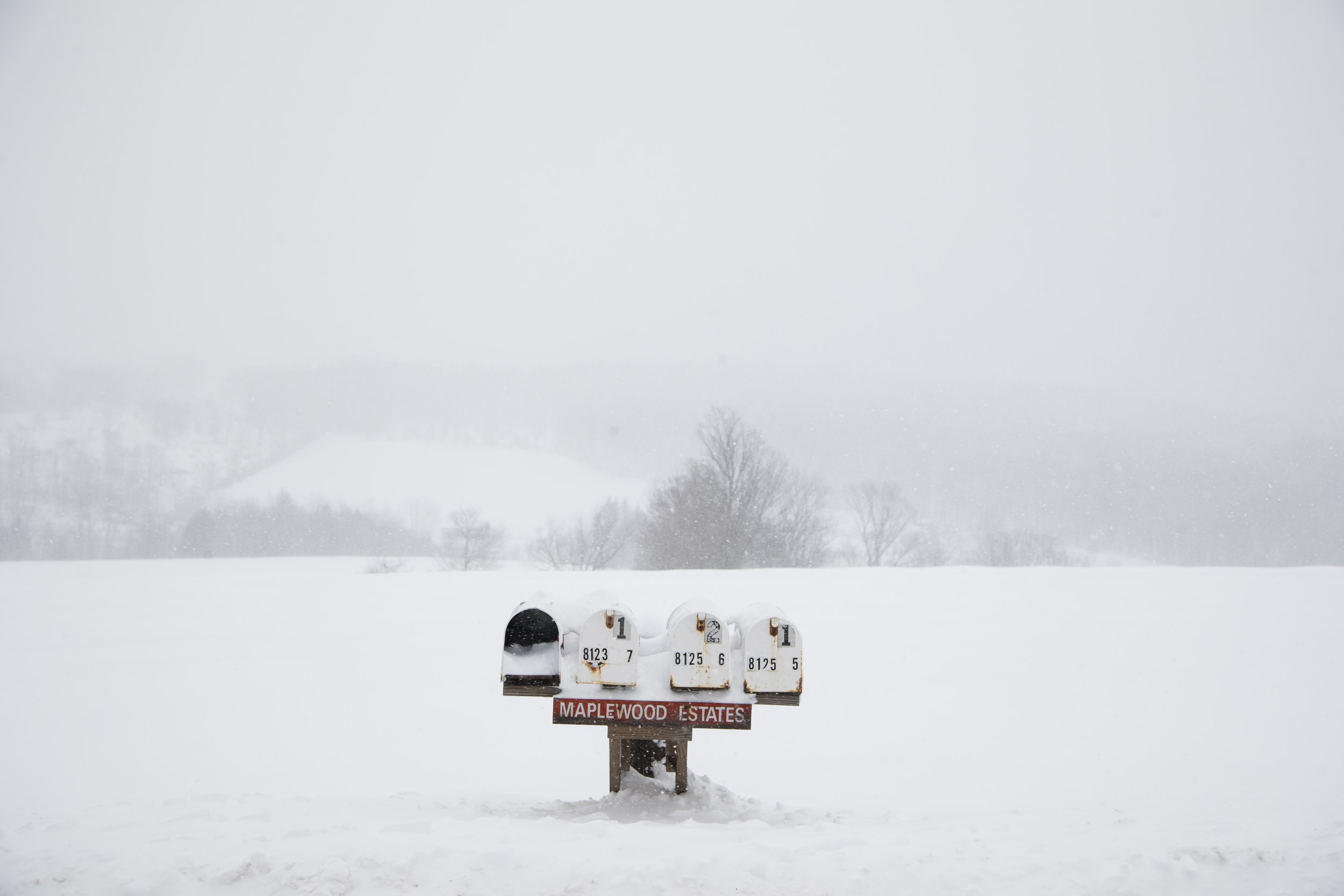 A record-breaking 53 inches of snow fell in Erie, Pennsylvania, in 48 hours, and the four-day total reached an unprecedented 62.9 inches Tuesday night, smashing state snowfall records, according to the National Weather Service.
The storm is expected to continue Wednesday and into Thursday. On Tuesday night, Pennsylvania Governor Tom Wolf deployed 21 members of the Pennsylvania National Guard with high-clearance all-terrain vehicles to assist those buried by the storm.
Pictures shared by local Twitter users show how the snow has turned Erie into a winter wonderland since it began falling Saturday. The 62.9 inches of accumulation smashed Erie's previous record of 52.8 inches in 13 days.
"No parking," read one caption on a photo of a person with snow up to the shoulders standing in a parking lot facing a baseball field in Erie. The lake-effect storm, which gains power as cold pockets of dry air gather moisture from the Great Lakes, is expected to move toward New England over the weekend. It could drop snow in New York, Boston and Portland, Maine.
Twitter user and meteorologist Aubrey Urbanowicz shared a short video from a snow-buried Erie porch, tweeting, "My Uncle's house off of Peach St in Erie, south of the lake—monstrous lake effect snow event. Holy lake effect batman."
Another photo taken from a porch shows snow creeping up the side and almost covering a picket fence, with tree limbs drooping under the weight of the snowfall. "I've spent a couple hours just getting close to being able to get out, with more snow falling," said Doug Oathout in a Tuesday evening tweet.
"Our National Guard members are trained to assist the citizens of our commonwealth during severe winter storms like Erie is experiencing right now," said Wolf in a Tuesday release. "We are very fortunate that they live and work in our communities and are able to mobilize on short notice in order to provide the manpower and equipment needed in northwestern PA."
On Christmas Day alone, 34 inches fell on the Pennsylvania city, and an additional 24 inches fell on Tuesday, according to the National Weather Service. With transportation services delayed indefinitely due to the storm, and local police asking residents to move cars into driveways so the roads can be cleared, some residents have chosen to play in the snow.
"We're having a heat wave in Erie PA," said one user, who posted a video of himself diving into the snow as if it were a swimming pool on Christmas Day.