Egypt Gunmen Kill 26 Coptic Christians as They Drove to Monastery
Updated | Masked gunmen have killed at least 26 Coptic Christians south of Cairo as they traveled to a monastery on Friday, according to a health ministry spokesman.
The attack also wounded 25 people, Khaled Megahed told state television, according to AFP news agency. The group were traveling in at least one bus to the St. Samuel Monastery in Minya, a place of worship for the Coptic Christians, about 140 miles south of Cairo. The gunmen arrived in three four-wheel drive vehicles, the interior ministry said. No group has claimed responsibility for the attack.
President Abdel Fattah el-Sissi called a meeting of security officials in response to the attack, according to Egypt's state news agency MENA.
Essam al-Bedaiwy, the governor of the southern province of Minya, told state television that the gunmen sprayed the bus with gunfire before escaping. "They used automatic weapons," he said, according to AFP news agency.
The attack comes after two separate suicide bombings in April on Egyptian churches in the Nile Delta town of Tanta and the country's second city of Alexandria on Palm Sunday. The blasts killed 45 people. The Islamic State militant group (ISIS) claimed responsibility for both attacks.
Following the attacks, ISIS released a statement from its purported leader in Egypt, who remains unidentified, in its weekly Al Naba magazine, calling for Muslims to avoid Christian gatherings. The warning suggested that the group plans target Christians in further attacks.
"We are warning you to stay away from Christian gatherings, as well as the gatherings of the army and the police, and the areas that have political government facilities," the leader said.
Read more: What does ISIS want in Egypt?
In February, ISIS released a video that said Christians were its "favorite prey." It has claimed responsibility for the assassination of Coptic Christian priests in Egypt's Sinai Peninsula, where the majority of the members of ISIS's affiliate in the country, known as the Sinai Province, are located.
The affiliate claimed responsibility for one of the group's deadliest-ever attacks, the downing of the Russian Metrojet airliner with an explosive device in October 2015, killing all 224 people on board.
The increase in militant activity against Christians did not deter Pope Francis from visiting the country's Christian community last month. Speaking at Cairo's Al-Azhar University, he called on Christians to participate in a "fanaticism of charity" to those who carry out evil acts in the name of religion and called on Muslims to promote co-existence with Christians.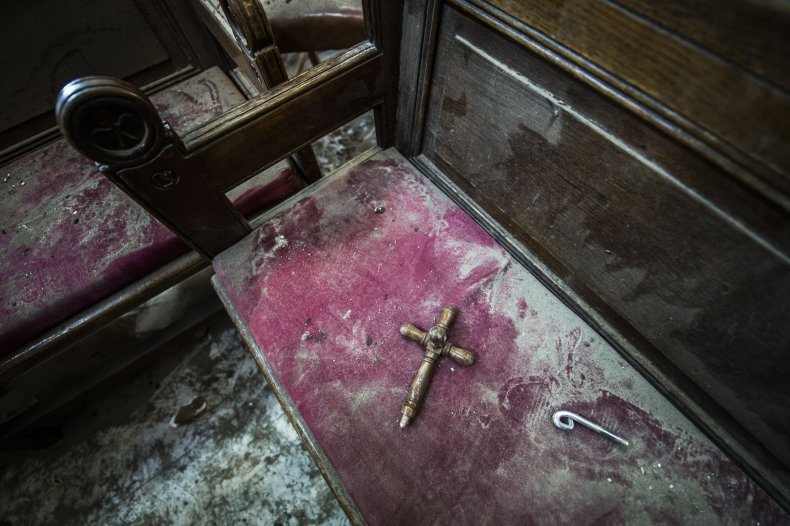 Many in the country's Christian community, who make up around 10 percent of Egypt's 92 million people, have remained defiant. Marcos, an Egyptian monk from the Coptic Orthodox Patriarchate in Jerusalem, who declined to provide his last name for security reasons, told Newsweek on April 10 that Coptic Christians have always stayed in the country despite attacks.
"No matter what happened in Egypt, we never left our land, we never left our home," he said. "We were sure then that we will stay, and we are sure now that we will stay. Nothing will force us to leave."