Egyptian Minister's Euro 2016 Jolly With Israel's Netanyahu Draws Ire at Home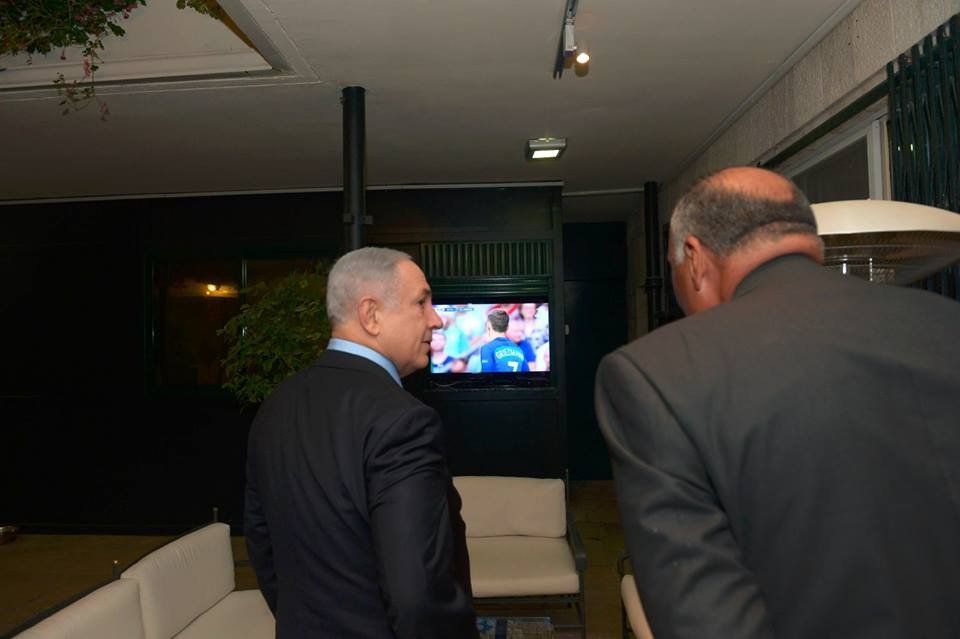 The Egyptian foreign ministry was forced to deny that its top official watched the Euro 2016 final between Portugal and France with Israeli Prime Minister Benjamin Netanyahu on Sunday after public anger about the pair appearing to be enjoying the game on television with one another.
Egyptian Foreign Minister Sameh Shoukry was on an official visit to Israel, the first by a top Egyptian government official for a decade, to boost hopes of renewed Israeli-Palestinian negotiations.
The visit coincided with the conclusion of the football tournament and the Israeli leader made no secret of his and Shoukry's moment together watching sport, as he and his team attempt to boost his profile on social media outlets.
Netanyahu, alongside a photograph of him and Shoukry watching the game, wrote on his official Twitter account: "Tonight Sara & I hosted Egyptian FM Sameh Shoukry in our Jerusalem home. We made time to watch the #Euro2016Final ."
But the Egyptian ministry denied that the pair watched the game, saying that they had only stumbled across the match being played on a television screen in Netanyahu's house.
"They did not watch the game together. They simply walked by a TV and Netanyahu wanted to see the score," said Ahmed Aby Zayed, a spokesman for the Egyptian Foreign Ministry, according to The Times of Israel .
"Netanyahu brought a cameraman to record everything that was happening. The Egyptian foreign minister doesn't watch soccer games during a formal and important visit such as this," he added.
The Egyptian climbdown over the shared viewing of the tournament final came after anger at the recorded image at home. Egyptian public opinion is mostly anti-Israel, despite the two countries discreetly cooperating more closely on security issues, particularly the Gaza Strip and the fight against the Islamic State militant group (ISIS).
Imad ad-Din Hussein, an editor from the Egyptian daily newspaper Al-Shorouk, condemned the shared moment between Netanyahu and Shoukry. He described his feelings upon seeing the photograph as "shame, sorrow and a sense of defeatism and everything that could be used to describe frustration and pain."
He continued: "I would understand if the our foreign minister would watch a game, a movie or a play with with an Arab official, who is a friend. But not an Israeli official. This dastardly country is the main reason for most disasters in Egypt."