Egypt Foreign Minister Meets Netanyahu in Rare Visit as Relations Warm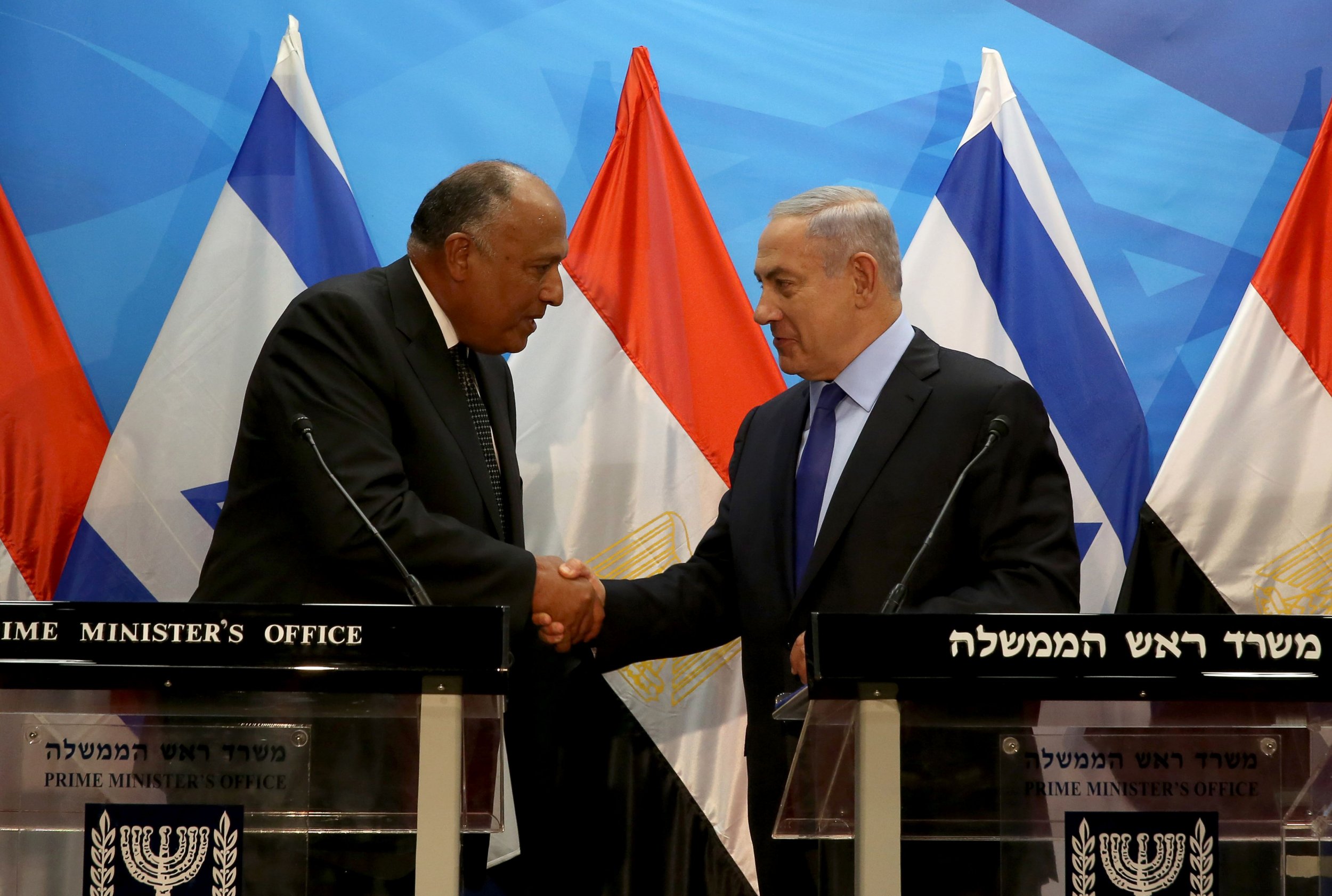 Egypt's foreign minister met with Israeli Prime Minister Benjamin Netanyahu on Sunday in a rare visit for talks on relaunching the peace process with the Palestinians.
The visit is another sign of warming relations between the countries as they continue to cooperate more closely on regional issues, such as the battle against the Islamic State militant group (ISIS) and militant groups in the Gaza Strip, the coastal enclave that shares a border with both countries.
Sameh Shoukry, speaking at a press conference with Netanyahu on Sunday, spoke of a "crucial and challenging juncture for the Middle East," and that a resolution to the diplomatic freeze between the Israelis and Palestinians would have a "far-reaching and dramatic and positive impact on the overall conditions of the Middle East region."
"Egypt remains ready to contribute toward achieving this goal," he added, saying that "the vision of the two-state solution is not far-fetched," requiring "steps to build confidence."
He said that Cairo was a "steadfast and unwavering" supporter of a peace accord between the two sides but warned that the situation was deteriorating and required urgent diplomatic action.
"The plight of the Palestinian people becomes more arduous every day," Shoukry said. "And the dream of peace and security moves further out of the Israeli people's reach as long as the conflict continues."
He continued: "My visit to Israel today is a continuation of Egypt's longstanding sense of responsibility towards peace for itself and all the peoples of the region, particularly the Palestinian and Israeli peoples, who have suffered many decades due to the perpetuation of the conflict between them."
Shoukry's visit was the first official visit by a top Egyptian figure for almost a decade. Israel and Egypt cooperate closely on security issues but often these ties are not revealed publicly, but kept under wraps as much as is possible because of anti-Israel public opinion in Egypt.
The conflict between the Israelis and Palestinians has completely stalled since April 2014 when the last peace talks collapsed. The Israeli government continues to build settlements considered illegal by the majority of the international community on lands the Palestinians desire for a future, independent state and maintains a military occupation over the Palestinian population of East Jerusalem and the West Bank.
Israel accuses the Palestinian leadership of continuing to incite violent attacks against Israelis. Stabbings, shootings and car-ramming attacks by Palestinians against Israelis have so far killed 33 Israelis and two U.S. nationals.