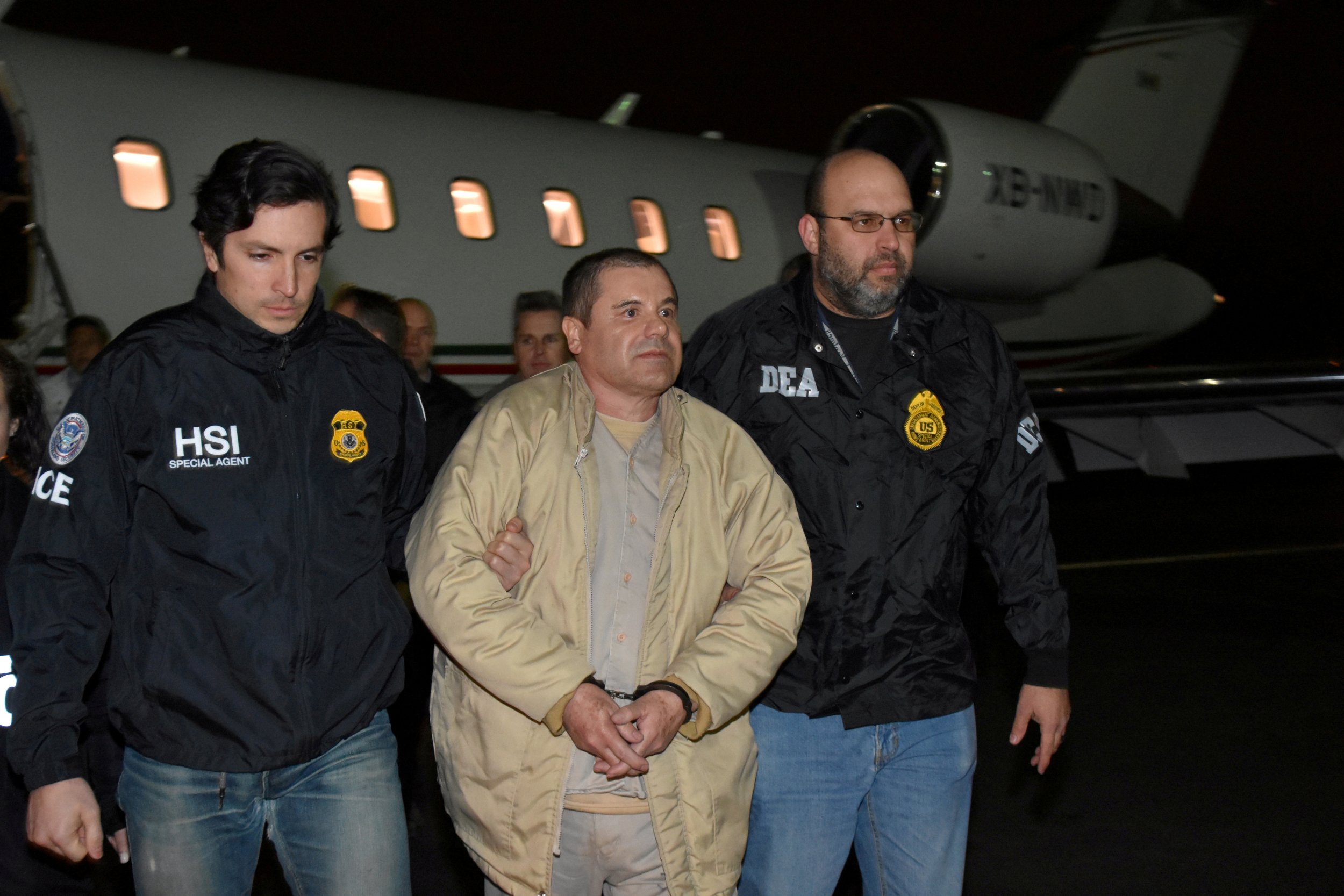 Who could forget about the multi-millionaire drug lord who escaped from a maximum-security prison in a laundry cart, and once granted the actor Sean Penn the first and only exclusive interview of him ever?
On Friday, El Chapo, or Joaquín Guzman by birth, is coming back––via the second season of the Netflix series El Chapo, chronicling the Mexican drug lord's tumultuous and dramatic life, kicking off with his first (of two) dramatic escape from prison.
The series will "show how his quest to become the leader of the Sinaloa Cartel, the most powerful criminal organization in the world, impacts the lives of those closest to him–including his family," Netflix wrote in a press release. Part of this season will focus on "the critical role corrupt government officials play in aiding El Chapo's rise over his rival cartel bosses," the streaming company added.
It stars Marco de la O as El Chapo; Humberto Busto as Attorney Conrado Sol aka "Don Sol;" and Juan Carlos Olivas as El Güero, among others. The series was created by Silvana Aguirre Zegarra and Carlos Contreras and produced by Daniel Posada.
He's the man the United States Department of the Treasury has called "the world's most powerful drug trafficker"—so it's a good time to brush up on your El Chapo history.
Where is he now?
He's currently in New York City, at the Metropolitan Correctional Center in Manhattan, which he has complained is not nice enough, according to The New York Times. Among his complaints are the tap water and his isolation.
He's only allowed out of his cell for one hour a day, and into a small recreation room, but never allowed outside. He is under stringent security measures, and for good reason: In Mexico, he ran his drug enterprise from inside his cell, and also escaped, twice—once in a laundry cart and once through an underground tunnel. The New York facility is famous for its austerity, and has housed several infamous criminals, including Al-Qaeda operatives and mob members.
His Legacy
Guzman led the Sinaloa Cartel in Mexico, and got involved in the drug business of his hometown from the age of 7. Over the years, he built the largest drug trafficking organization in the world, supplying heroin, cocaine, methamphetamine and marijuana to much of the United States, making billions. His cartel used a network of corrupt police and political contacts, according to an indictment filed in the Eastern District of New York in early 2017.
He is accused of killing thousands of people during his reign, often hiring "sicarios," or hit men, to do the dirty work. He was at the center of a war on drugs in Mexico, spearheaded by former Mexican President Felipe Calderón.
In 2016, El Chapo granted a bizarre and exclusive interview to American actor Sean Penn, which became a 10,000-word cover story in Rolling Stone in which the actor detailed his own flatulence and his struggles with technology, occasionally throwing in a mention of the drug lord he was profiling.
His Trial
Guzman's trial is set for April. He was convicted in Mexico of drug trafficking, homicide and illegal possession and use of firearms. U.S. prosecutors are trying him on similar charges—his lengthy indictment spans almost 30 years, from 1989 to 2014, and focuses on drug distribution and trafficking as well as conspiracy to launder drug money. The government has demanded that Guzman surrender $14 billion they say he earned through illegal drug proceeds, though he is apparently no longer considered a billionaire.
Guzman hired the high-profile New York lawyer Jeffrey Lichtman, who represented John Gotti, Jr., son of a Gambino family crime boss, in 2005. Gotti was acquitted of $25 million securities fraud and three murder conspiracy charges against him were dismissed. Guzman has pleaded not guilty to the 17 charges brought against him, and faces a life sentence.