El Chapo Trial: Wife May Have Secret Line of Communication to Drug Lord While in Court, Documents Reveal
Drug baron Joaquín "El Chapo" Guzmán may have established a line of communication with his spouse thanks to a member of his defense team, according to documents disclosed on Tuesday.
Prosecutors indicated that Emma Coronel Aispuro was allegedly seen using a phone at least twice last week after attorneys' visits with the kingpin. However, the heavily redacted motion does not specifically mention the lawyer who allowed Coronel Aispuro to use a cellphone in the Brooklyn courthouse, The New York Post reported. The use of mobile devices is prohibited, as stipulated by the court's rules.
"[Redacted] appears to have used a cellular telephone in concert with an attorney visit to the defendant following two trial days last week to facilitate unauthorized and, under the SAMS, impermissible contact between the defendant and Ms. Coronel," the Post cited the filing's measures.
Moreover, defense team member Mariel Colón said that another defense lawyer named Michael Lambert had used Google Translate to speak with Coronel Aispuro in Spanish, according to the transcripts. Nevertheless, such conversation did not include any reports of communication between Guzman and Coronel.
In a separate article, the Post reported that Coronel Aispuro was kicked out of the courtroom and asked to go through security again after she was caught with a mobile device. This occurred before a secret witness took the stand on Monday afternoon.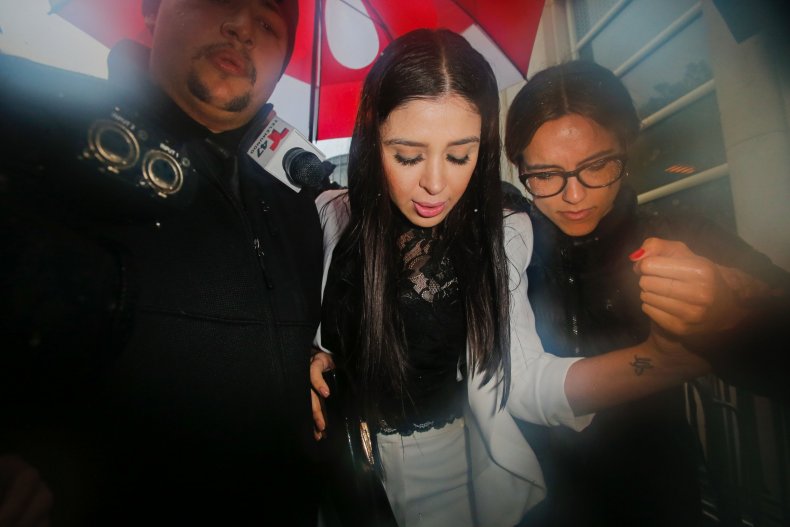 The trial, which started on November 5, has been conducted under strict, unprecedented security measures. New York City authorities consider Guzman's case the "most high risk" since the trial two decades ago of the two suspects accused of perpetrating the World Trade City bombings in 1993, The Independent reported.
Another example of tight measures was Guzmán's denied petition to hug his wife earlier this month due to "security problems," Mexican newspaper El Universal reported early this month, citing Judge Brian Cogan. The couple had not seen each other since he was extradited to the United States in early 2017, but Coronel Aispuro has not missed a day since the trial began.
El Chapo's wife has attracted considerable attention since the beginning of Guzman's trial. A former beauty queen, Coronel Aispuro is known for living a lavish life in Mexico, and is considered a devoted spouse to her 62-year-old husband. Some agents who had tracked down El Chapo for more than 20 years see Coronel Aispuro as the kingpin's "mouthpiece" and a means to generate compassion and support toward Guzmán.
The once powerful drug lord is currently facing drug-trafficking charges. If convicted, he could receive a sentence of a life in prison.