El Chapo's Wife, Emma Coronel Aispuro, Arrested in Virginia on Drug Trafficking Charges
Emma Coronel Aispuro, the wife of notorious Mexican drug trafficker Joaquin "El Chapo" Guzman Loera has been arrested on drug trafficking charges in Virginia.
Coronel Aispuro, a 31-year-old dual citizen of the U.S. and Mexico, was arrested at Dulles International Airport on Monday, according to a release from the Department of Justice. She was charged with conspiracy to unlawfully import and distribute at least one kilogram of heroin, five kilograms of cocaine, 1,000 kilograms of marijuana and at least 500 grams of methamphetamines.
Guzman Loera, the former leader of the Sinaloa drug cartel, was extradited to the U.S. in 2017 and found guilty of multiple charges related to drug trafficking in 2019. He is currently serving a life sentence in a federal prison in Colorado. Authorities allege that Coronel Aispuro helped him escape from a Mexican prison in 2015 and was involved in a plan for a second Mexican prison escape attempt during the following year.
Coronel Aispuro is expected virtually appear in the U.S. District Court for the District of Columbia during an initial court appearance on Tuesday.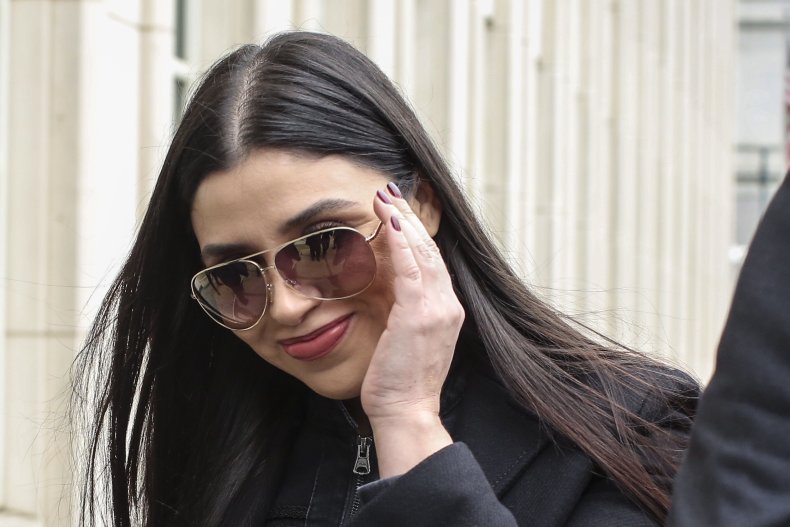 Court documents cite a witness in stating that Coronel Aispuro "knew that GUZMAN was a leader of the Sinaloa Cartel and that GUZMAN coordinated the distribution of heroin, cocaine, methamphetamines, and marijuana for the purpose of unlawfully smuggling those narcotics into the United States for distribution."
The documents also allege that Coronel Aispuro "was aware of multi-ton cocaine shipments, multi-kilo heroin production, multi-ton marijuana shipments, and ton quantity methamphetamine shipments" and had "understood the drug proceeds she controlled during her marriage" came from the same shipments.
Coronel Aispuro met Guzman Loera at the age of 17 through her father Ines Coronel Barreras, who had served as a medium-ranking lieutenant in the Sinaloa cartel. The couple married after she turned 18 in 2007 and have twin daughters.
She was a nearly constant presence during Guzman Loera's trial in New York. Coronel Aispuro was twice reprimanded during the trial, for allegedly illegally communicating with the defendant and for attempting to bring cell phone into the courthouse. She was regularly seen smiling, waving and blowing kisses to her husband during the trial, while also petitioning the judge to allow her to hug the defendant.
"I don't know my husband as the person they are trying to show him as," Coronel Aispuro told The New York Times at the time of the trial. "But rather I admire him as the human being that I met, and the one that I married."
Newsweek reached out to the Coronel Aispuro's attorney and the Justice Department for comment.