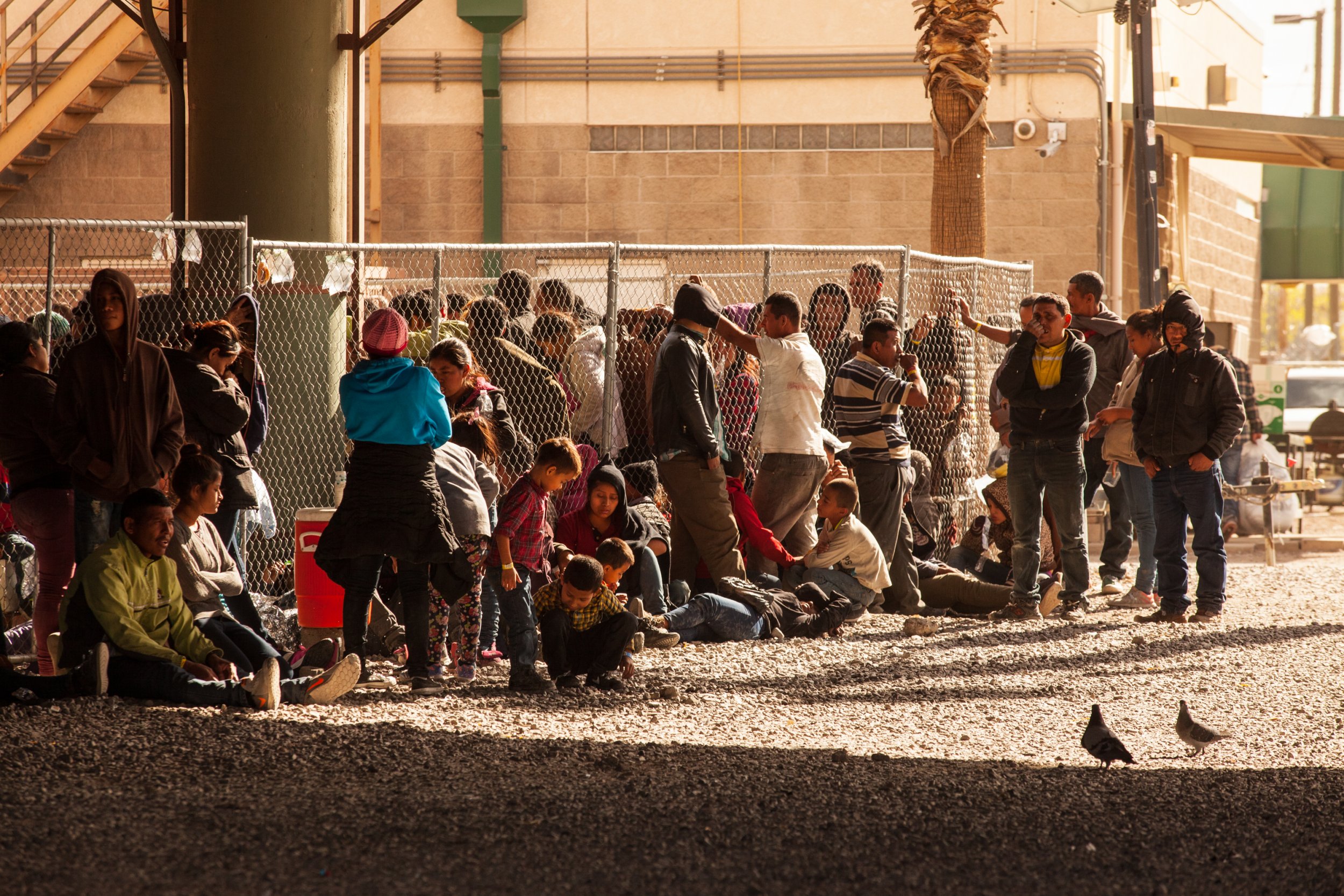 Advocates for the health of migrant children say the Trump administration is putting young people at risk by forcing them to sleep in outdoor enclosures and now, in crowded tents, in El Paso, Texas.
In an interview with Newsweek, Dr. Julie Linton, a pediatrician who co-chairs the American Academy of Pediatrics' Immigrant Health Special Interest Group, said she was alarmed by reports of children being forced to sleep outdoors in temperatures that dropped below the 30s amid overcrowding at an El Paso port of entry.
"This is an excellent example of conditions that are not safe for children and that place them at risk…of becoming ill," Linton said.
"What we really need to focus on here is that children are not little adults. Keeping children outdoors and exposed to the cold can cause them to fall ill quickly…and it's the opposite in the summer, when they are exposed to heat.
"In addition, I think that, just taking a step back and looking at a broad lens, this broader policy is forgetting the fact that it is not illegal to come to our border to seek asylum," Linton said.
The pediatrician's comments come as U.S. immigration officials reportedly moved asylum seekers in El Paso, Texas, from an outdoor holding area beneath a bridge to a series of tents set up in the parking lot of a Border Patrol station on the outskirts of the city.
Customs and Border Protection agency officials began moving asylum seekers, including many families with young children from Central America, into the new tents over the weekend, after immigration officials faced widespread backlash over conditions at the outdoor enclosure, according to local reports.
On Monday, the American Civil Liberties Union of Texas and ACLU Border Rights Center filed a joint complaint to the Department of Homeland Security (DHS) and CBP, demanding an investigation into the treatment of asylum seekers being held at the makeshift facility and calling for "an immediate end to the caging of immigrants in outdoor holding areas."
The complaint detailed a series of alleged abuses reported to ACLU lawyers by former detainees held at the site, with some alleging to have been forced to sleep outside in temperatures that dropped into the 30s, with only Mylar sheets to protect them, in addition to being forced to wake up every three hours and stand.
CBP told Newsweek that the agency can only comment on specific cases and did not provide a response to the ACLU's allegations.
On Tuesday, Vice News published images of three large beige tents set up outside the large Border Patrol facility on the outskirts of northeast El Paso that typically processes large groups of asylum seekers arriving at the border.
One asylum seeker, identified only by his first name, Gustavo, who spoke to Vice about his experience there, said that when he was moved out of the open-air holding area, he "thanked God because I thought I'd be going to a better place."
"I get to this other jail, and they throw us in those tents," he said. "And then more and more and more people kept arriving, until it turned into chaos."
Gustavo, who had since been relocated to a makeshift shelter provided by an El Paso church, told Vice that he believed there were as many as 1,500 people crammed into the tents.
"The kids slept on top of our feet—we were standing up, because we didn't fit. You couldn't see even one part of the floor. Just shoes and more shoes," he said.
Newsweek is awaiting comment from CBP regarding the relocation of migrants to tents. A spokesperson for CBP told CBS 4 News that asylum seekers had been moved to the new temporary location in order to provide more space and better shelter.
However, Linton said, "There are protections that are in place that are there to keep children safe and to allow children and families to have their cases heard. Keeping them in conditions that aren't safe is threatening to both their short- and long-term health."
Linton stressed the fact that migrants are no more likely to be sicker than anyone else, despite claims from President Donald Trump that migrants bring "disease" to the U.S. But holding anyone in overcrowded spaces for prolonged periods, she said, poses potential health risks as "when you place any large group of people in small spaces, it makes it more likely for diseases to spread."
In addition to potential health risks due to environmental exposure, Linton said that detained children also have to contend with the "toxic stress" that comes with being held under unsuitable conditions.
Linton said that with children, "the signs that differentiate a child with mild illness from a child with severe illness are often quite subtle."
"When they get sick, they present with subtle findings and tend to get sick more quickly.... A child can be playing and looking simultaneously okay, but their body systems can be beginning to shut down," she said.
In December, two children from Guatemala died under the Border Patrol agency's watch after their conditions quickly deteriorated.
An autopsy recently found that Felipe Gomez Alonzo, the 8-year-old boy who died while in U.S. Border Patrol custody on Christmas Eve, had suffered from the flu and a bacterial infection, while 7-year-old Jakelin Caal Maquin, who died on December 8, had also suffered from a bacterial infection.
While Linton said that she "can't specifically say that a death could have been prevented without having evaluated the child myself," any child showing signs of illness should be receiving immediate evaluation and should never be returned to a processing or holding center, because "the conditions are not appropriate for healing and recovery."
In El Paso, temporary shelter arrangements come after CBP warned last Wednesday that it had reached its "breaking point" in its ability to keep up with an influx of asylum seekers, including many Central American families, arriving at the U.S. border.
As CBP Commissioner Kevin McAleenan predicted a surge in arrivals at the border, Trump threatened to shut down U.S. ports of entry entirely to deter asylum seekers from making their way north.
The president has also set in motion plans to cut funding to Honduras, Guatemala and El Salvador after accusing the three countries, known collectively as the Northern Triangle, of failing to do enough to curb irregular immigration to the U.S.