El Salvador Promotes Bitcoin; Portland Battles Back After Protests
CryptoCorner
The President of El Salvador has a deal for the nation's citizens: sign up for an e-wallet and receive free Bitcoin valued at $30.
It's part of the Central American nation's effort to become the first to adopt Bitcoin as legal tender.
"What we are doing is encouraging the use of Bitcoin and encouraging the use of this system, which is going to generate the multiplication of money in the economy," Nayib Bukele, El Salvador's president, said Thursday evening during a nationally televised address Thursday evening.
He said citizens who signed up for the Chivo e-wallet using facial recognition will receive the money, a move that so far has raised no objections.
Bukele said El Salvador's Bitcoin law will take effect September 7.
The U.S. dollar is also legal tender in El Salvador. Citizens will have the option to use the greenback or Bitcoin in transactions.
"Both wages and pensions will continue to be paid in dollars," Bukele said according to an English translation. "Dollar bank accounts won't be converted to Bitcoin, as if we got dollarization when our bank accounts in colóns were converted into dollars. In this case it won't be like that. Dollar accounts will continue to be in dollars."
El Salvador's colón is still legal tender, but it's rarely used.
Fractional ownership of Bitcoin is possible through the satoshi, named for Satoshi Nakamoto, the creator of the protocol used in blockchains or the pseudonym for the engineer or group of engineers who developed it.
There are 100 million satoshis in one Bitcoin.
El Salvador's new law requires a business to accept Bitcoin unless it lacks the ability to process the online transaction. Critics note that Bitcoin's volatility makes it unsuitable as a medium of exchange or as a store of value.
Earlier this month, the World Bank rejected El Salvador's request for help in making Bitcoin legal tender.
"We are committed to helping El Salvador in numerous ways including for currency transparency and regulatory processes," a World Bank spokesman told Newsweek at the time. While the government did approach us for assistance on Bitcoin, this is not something the World Bank can support given the environmental and transparency shortcomings."
The International Monetary Fund also raised objections to El Salvador's decision to make Bitcoin legal tender.
It noted that, "Crypto assets can pose significant risks, and effective regulatory measures are very important when dealing with them."
An estimated two million Salvadorans live abroad and send about $4 billion a year to family members remaining in the country. By some estimates, remittances account for 20% of El Salvador's gross domestic product.
El Salvador's action comes amid efforts by other nations to curb the use of Bitcoin.
In mid-morning trading Friday, Bitcoin changed hands at $32,945.56, down 3.10% in the last 24 hours but up 13.28% for the year. The 24-hour range is $32,642.82 to $35,484.42 The all-time high is $64,829.14. The current market cap is $617.46 billion, CoinDesk reported.
MarketPulse
For Portland, Oregon, the bloom is off the rose.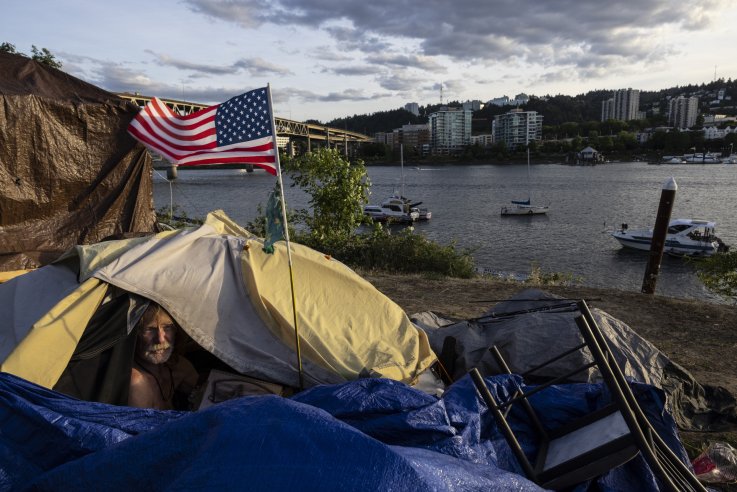 Frank, a homeless man sits in his tent with a river view in Portland, Ore., on Saturday, June 5, 2021. Until a year ago, the city was best known nationally for its ambrosial food scene, craft breweries and "Portlandia" hipsters. Now, months-long protests following the killing of George Floyd, a surge in deadly gun violence, and an increasingly visible homeless population have many questioning whether Oregon's largest city can recover.
Paula Bronstein/AP Photo
Employment in leisure and hospitality increased by 292,000 in May as pandemic lockdown restrictions were eased, the U.S. Labor Department reported.
Nearly two-thirds of the jobs increase – 186,000 – were in restaurants and bars.
Portland, known as the City of Roses, is apparently missing the boom after rioters ravaged its downtown for weeks.
Travel Portland, which bills itself as "a promoter and steward of this evolving city and its progressive values which have the power to transform the travelers who visit us," recently took out an ad in The New York Times to promote tourism.
"Some of what you've heard about Portland is true," the advertisement reads. "Some is not. What's most important is that we're true to ourselves."
The riots were sparked by the murder of George Floyd in Minneapolis in May 2020. Officer
Derek Chauvin, 45, was convicted of murder after he knelt on Floyd's neck for more than nine minutes. Floyd was arrested for suspicion of passing a counterfeit $20 bill.
"We're a place of dualities that are never polarities," Travel Portland's ad said. "Two sides of the same coin that keeps landing right on its edge. Anything can happen. We like it this way."
The ad said some of the "loudest voices on the West Coast" are found in Portland and "passion pushes the volume all the way up."
The advertisement concludes, "We've always been like this. We wouldn't have it any other way. We have faith in the future. We're building it every day the only way we know how, by being Portland. Come see for yourself."
It's signed, "Love, PORTLAND."
The city has a population of about 662,000 and is Oregon's largest. It once was known for food trucks, craft beer, a world-class bookstore and Reed College, the alma mater of Apple co-founder Steve Jobs.
The Portland Business Alliance estimates the riots cost downtown businesses about $23 million, including $18 million in lost revenue and the balance in property damage.