Elderly Russian Woman Blaming Putin for the World 'Hating Us' Goes Viral
A video of an elderly woman saying that it's Russian President Vladimir Putin's fault for the world "hating us" over his invasion of Ukraine has gone viral, amassing more than 210,000 views.
In the video, that as of Monday morning had been shared more than 210,200 times, the Russian woman tells a journalist: "I am 82 years old. But I can't look at what our country is turning into. The whole world hates us now—only because of this ghoul, forgive me. Putin is war. Without a war, he will not stay in power. Putin is total theft, corruption."
She added that she wrote a letter accusing Putin of "lies, stealing, war."
Anton Gerashchenko, adviser to the Minister of Internal Affairs of Ukraine, shared the video online.
With the video, he tweeted: "Tamara Mikhaylovna, from Russia, says that because of Putin the whole world hates them now. I don't think that's just because of Putin. Thousands in Russian army kill, loot, ruin. Millions of Russians remain quiet."
Geraschenko said that the video was from 2017, three years after Putin ordered his army to annex Ukraine's Crimean Peninsula. However, following Russia's full-scale invasion of Ukraine last February 24, the woman's message continues to resonate.
Newsweek reached out to the Russian Foreign Ministry for comment.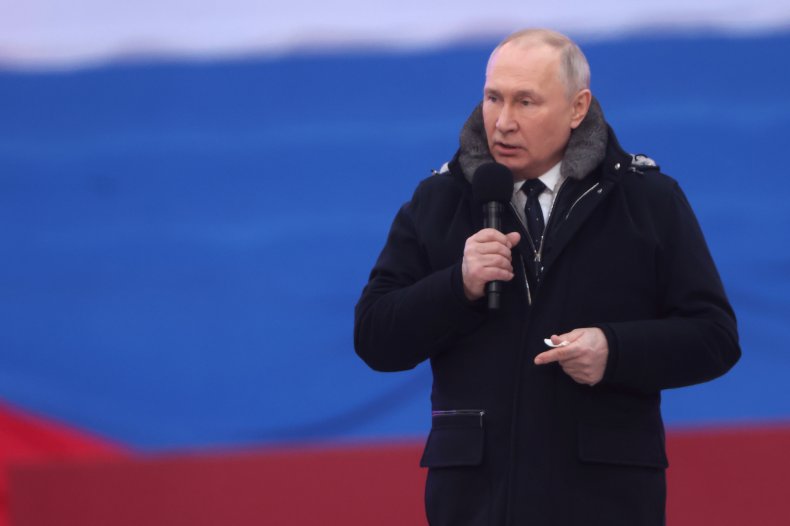 Since Putin launched the invasion, tens of thousands of people have died, including Ukrainian citizens.
Russians critical of Putin and the Ukraine war can face prison time—up to 15 years under legislation brought in early last year. Words like "war" and "invasion" have been banned as ways to describe what Putin calls the "special military operation."
University student Olesya Krivtsova, 20, has been under house arrest for writing anti-war posts on social media, including one that concerned October's explosion on the bridge linking Russia to annexed Crimea. She was charged with justifying terrorism and discrediting the Russian military, and she faces up to 10 years in prison.
Last September, thousands of Russians were detained after protesting Putin's partial mobilization, calling on citizens to join the frontlines.
In March, nearly 13,000 anti-war protesters were detained across Russia, according to the United Nations.
In August, Russian human rights activist Igor Kalyapin was attacked in a stabbing attempt by an individual who claimed to be a police officer, the Russian Human Rights Council said on Telegram.
The same month, television journalist Marina Ovsyannikova was placed under house arrest for two months after she denounced the Ukraine war on a live broadcast, drawing worldwide attention.