Journalist Who Protested Putin's War on Live TV Placed Under House Arrest
A Russian court on Thursday placed former state TV journalist Marina Ovsyannikova—who garnered global attention when she denounced President Vladimir Putin's war on Ukraine during an on-air broadcast—under house arrest for two months pending a trial.
In March, Ovsyannikova protested the invasion of Ukraine by storming the set of a live news program on Channel One, a Russian state-owned station where she was working as an editor. Along with yelling over the anchor attempting to read the news, Ovsyannikova held up a sign that contained written messages such as "Stop the war" and "They are lying to you here."
Ovsyannikova has continued her denunciations of the war since the incident, including during a mid-July demonstration she put on near the Kremlin. During that protest, she held an anti-Putin poster and placed dolls on the ground that were meant to symbolize dead children.
Her house arrest, first reported by Interfax, is punishment for the July protest and followed her Wednesday detention on charges of spreading information about Russia's military deemed false by the government.
If convicted, Ovsyannikova faces up to 10 years in prison under a new law passed after Russia invaded Ukraine that criminalized the distribution of "fake news" about its military.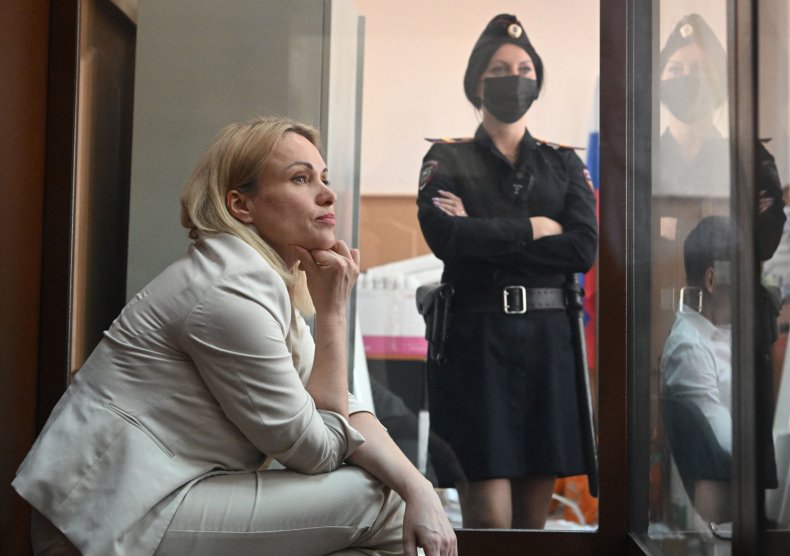 For the on-air incident in March, Ovsyannikova was briefly arrested and fined $527 (30,000 rubles) by a Russian court. On Monday, she was fined again—this time in the amount of $650 (40,000 rubles)—for allegedly discrediting Russian armed forces on Facebook.
After the stir she caused on live television, she left Russia for a short time and worked for the German newspaper Die Welt. She returned to Moscow in early July in order to fight a lawsuit brought by her ex-husband over custody of their two children.
Ovsyannikova posted on Facebook Wednesday about her detention after she was taken into custody.
"At 6:00 in the morning, when I was still sleeping, ten employees from the Investigative Committee and the police broke into my house," she wrote, according to an English translation. "A search warrant has been filed. Gave my little daughter a fright. I am now being taken to the investigative committee."
Ovsyannikova added that a criminal case was filed against her for allegedly spreading fake news.
"More than 350 children died in Ukraine, are they fake?" she wrote. "How many more children must die for you to stop?"
"House arrest for a solitary anti-war picket...I don't even know what to say," Dmitri Zakhvatov, Ovsyannikova's lawyer, wrote in a post on his Telegram channel. He later added that the court's decision was "nauseating," according to a translation.
Newsweek reached out to the Russian Foreign Ministry and Zakhvatov for comment.