Russian Journalist Who Protested War on Live TV Finds New Job
Marina Ovsyannikova, a Russian journalist who protested Russian President Vladimir Putin's war in Ukraine during a live broadcast on state-run television, has found a new job.
Ovsyannikova was hired by German newspaper Die Welt to work as "a freelance correspondent" reporting from Ukraine and Russia, "among other places," the newspaper said in a statement, adding that she will contribute regularly to its television news channel, as well as writing for the paper.
The 43-year-old made headlines when she held up a sign during a March 14 broadcast on Russia's Channel 1, her employer at the time, urging Russians not to believe the propaganda Putin has spread on his invasion of neighboring Ukraine.
"Stop the war. Don't believe the propaganda. They're lying to you here," the journalist's sign read. Ovsyannikova was detained and questioned for 14 hours and fined 30,000 rubles (about $290) for her protest.
She previously described herself as the Kremlin's "enemy No. 1."
The former editor at Russia's state-run television channel "defended the most important journalistic ethics despite the threat of state repression" with her protest, Welt Group editor-in-chief Ulf Poschardt said in a statement.
Poschardt said he is "excited" to be working with Ovsyannikova, praising her "courage at a decisive moment."
Ovsyannikova described the Welt Group as standing for "what is being so vehemently defended by the courageous people of Ukraine on the ground right now: freedom."
"I see it as my duty as a journalist to defend that freedom. And I am delighted to be able to do this now for WELT," she said in a statement.
It comes after the journalist declined an asylum offer from French President Emmanuel Macron on March 17.
"Unfortunately, I won't be able to accept this kind offer because I am a patriot, I want to stay and live in my own country with my family, all my friends are here, and I want to stay in Russia," Ovsyannikova said at the time.
The fine "is not the end of [the] story because I have not yet been fined or prosecuted for my appearance on the TV news broadcast. So I think there may be further prosecutions coming," she told FRANCE24.
She acknowledged last month that she "runs the risk" of a 15-year prison sentence, referring to legislation passed by Russia's parliament on March 4 that prohibits media from calling Putin's invasion a "war" or an "invasion." State-run media outlets adopt the term "special military operation."
Explaining her decision to stage an on-air protest against Putin's invasion of Ukraine, Ovsyannikova told the BBC on March 17 that she wanted to show Russians that they're "zombified by this Kremlin propaganda."
"Stop believing it," she said.
Newsweek has contacted Russian authorities for comment.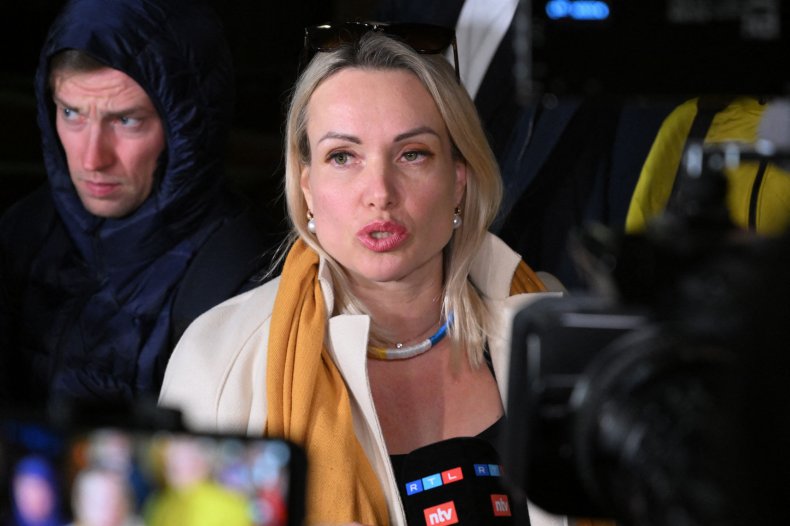 Update: 04/11/22, 7:45 a.m. ET: This article was updated with additional quotes and background information.