Elderly Woman Dies After Stepping Off a Plane in Australia's Capital Due to Smoke From Wildfires
An elderly passenger arriving in Australia's capital city of Canberra died Thursday after going into respiratory distress, allegedly from the airborne smoke from bushfires in the surrounding area. Authorities were called to assist but the woman, whose name has yet to be released, passed away.
Australia Capital Territory (ACT) Policing told The New Daily it was "called to the Canberra Airport following the unsuspicious death of a woman at around 4:15 today. A report will be prepared for the coroner."
Newsweek reached out to the ACT Health System for comment but did not receive a response in time for publication.
Australia has been fighting a spate of wildfires in parts of the country, which have been exacerbated by a lack of rain and high temperatures. Even there are currently no fires in Canberra itself, air quality in the area is poor.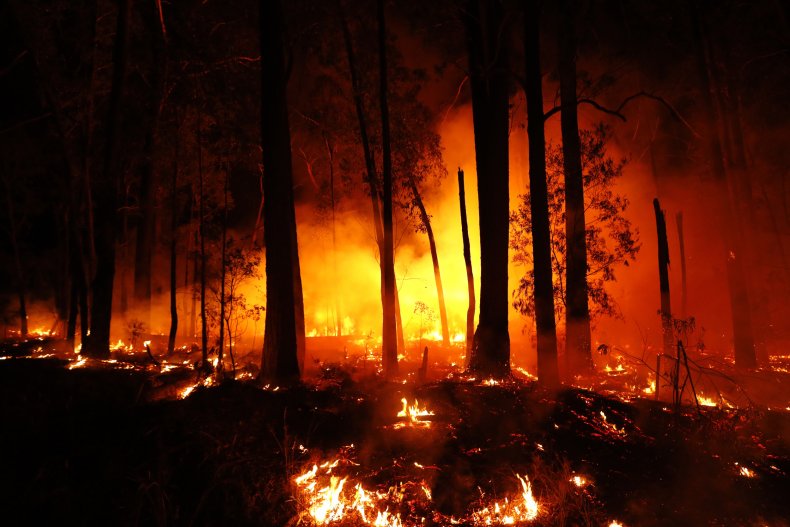 Canberra's air quality was ranked the worst in the world Thursday, placing it above other cities with notable air pollution such as New Delhi, India and Ulaanbaatar, Mongolia. Fires to the west and east of the city are contributing to its hazardous levels of air pollution, as are the high temperatures which are keeping the smoke in the air from moving out. Some air quality measuring stations in the Canberra area have recorded levels up to seven times the amount of air pollution considered to be hazardous.
A state of alert was declared by ACT Health which said in a statement that while healthy individuals "may feel some discomfort at this time, the impact of the smoke is minimal. Exposure to high levels of PM [particulate matter] is unpleasant, but there is no evidence of long-term harm to healthy people from such episodes as we currently have."
As previously reported by Newsweek, more fires have erupted in New South Wales, Queensland and Victoria. The New South Wales Rural Fire Service says 382 homes have been destroyed.
Australia's bushfires have gained worldwide attention with many people connecting the fires to the greater issue of climate change.
"I say to those who are delaying action on climate change: Look at the blood-red sky and unbreathable air in Australia because of raging forest fires," Democratic presidential candidate Senator Bernie Sanders tweeted Thursday. "Our futures are connected. That is why we must bring the world together and enact a Green New Deal."
"12 million acres have burned in Australia," tweeted Greenpeace USA. "9 killed. ~500 million animals are thought dead. At least 18 expert warnings linking carbon emissions to bushfires since 2012, all ignored. Yet their leader @ScottMorrisonMP says climate policy won't change."