On Election Eve, Donald Trump Jr. Urges Americans to 'Make Liberals Cry Again'
In his closing statement on the eve of Election Day, Donald Trump Jr. urged Americans to go out and vote Republican to "make liberals cry again."
Speaking at Trump's rally in Kenosha, Wisconsin, the president's eldest son on Monday evening told the crowd "we need you to get out and bring your friends to vote tomorrow. And when we do, we can not only keep making America great again, but we can make liberals cry again."
President Donald Trump told his supporters that if Democratic Presidential Nominee Joe Biden wins on November 3, it would mean "no school, no graduations, no weddings, no Thanksgiving, no Christmas, no Easter, no Fourth of July and no future."
"Other than that, it's really not a bad way to go," he joked.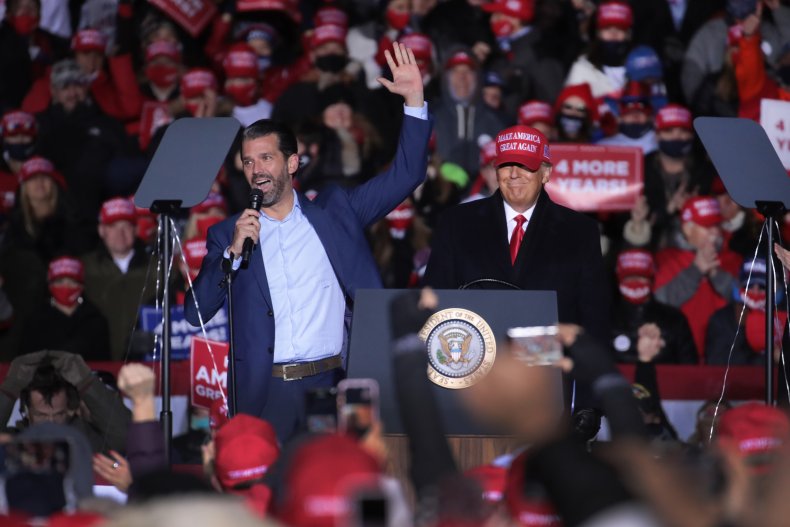 Almost 100 million Americans have already voted as of late Monday night, according to the United States Elections Project. The figure, which includes more than 35 million in person votes and 63 million mail-in ballots, is likely understated as some states did not update their early voting figures by the end of the day.
Biden has held his national lead over Trump in the final stretch of the race but the president has made some gains in swing states since mid-October. Still, Biden leads Trump in six key battleground states according to most polls.
A CNBC/Change Research poll, conducted between Thursday and Sunday, showed Trump trailing his Democratic opponent in Arizona, Florida, Michigan, North Carolina, Pennsylvania and Wisconsin. Biden's advantage in these states ranged from 2 to 8 percent. The survey collected responses from more than 3,300 likely voters. Its margin of error is plus or minus 1.7 percent.
Among the states, Biden held the widest lead in Wisconsin and Michigan. In Wisconsin, 53 percent of respondents backed the Democratic candidate and 45 percent favored Trump. In Michigan, Biden led by 7 percentage points.
The latest YouGov/The Economist poll showed Biden with a national 10-point lead, six points more than the lead that Hillary Clinton had going into Election Day. In the survey, 53 percent of likely voters indicated that they will vote for Biden and 43 percent said Trump. In 2016, the same poll found Clinton with a four-point lead. However, despite the results, Trump went on to win the White House.
Both candidates have been campaigning in battleground states this week. Biden finished his campaign in Pennsylvania on Monday night, while Trump closed with a rally in Kenosha, Wisconsin.
Newsweek reached out to the Biden campaign for comment.