How Many Votes Are Left to Count in Nevada, Arizona, Georgia and Other States?
With a number of states too close to call two days after Election Day, more than one million votes are still estimated to be reported.
In Arizona, where President Donald Trump has started to eat away at Joe Biden's lead, there were more than 470,000 votes still to be counted as of late Wednesday, The Arizona Republic estimates.
The Associated Press states that with 88 percent of the votes reported, Biden is currently ahead by 69,000 votes. However his lead had been cut from around 90,000 earlier on Wednesday.
A number of news outlets have already called Arizona as Biden's, giving him a significant step towards the 270 votes he needs to win the election.
In Nevada, another key state in which Biden has been predicted to win, officials said they will not release any more vote totals until around noon Eastern time on Thursday.
Currently, Biden is ahead of Trump by 8,000 votes, or 0.6 percent, with 25 percent of the votes still to be reported, according to AP.
With around 1.2 million votes already been cast in Nevada, there are still an estimated 300,000 votes left to be declared.
Biden currently has 264 electoral votes, according to the Fox News Decision Desk and The Guardian, meaning he will secure his presidential win if he can hold onto his lead in Nevada based on their forecasts.
In Georgia, where Trump has a narrow 0.4 percent lead with fewer than 20,000 votes between him and Biden, there are reportedly around 50,000 to 60,000 votes left to count, according to Secretary of State Brad Raffensperger. He previously warned that voting could continue in Georgia into Thursday morning.
"It's important to act quickly, but it's more important to get it right," Raffensperger said.
Georgia has had as many as 98 percent of all its votes counted as of Thursday morning.
In North Carolina, there may be as many as 116,000 votes still to be counted, although officials warn that they may not declare a winner in the state which has 15 electoral votes for a number of days.
"With very few exceptions, North Carolina's election results will not change until November 12 or 13, when all mail-in ballots are received and counted by each county," Karen Brinson Bell, executive director of the state elections board told WSOCTV.
Trump is currently leading in North Carolina by nearly 80,000 votes, giving him a 50.1 percent to 48.7 percent lead over Biden.
Another state not expected to declare a winner soon in Pennsylvania, where there were still more than 760,000 mail ballots left to be counted as of Thursday morning, according to Pennsylvania's Department of State.
Trump had a huge lead of at least 700,000 of votes over Biden at one point Election Day, although Biden has cut that down to less than 170,000 by Thursday as the mail-in ballots continue to be counted and 11 percent still to be reported.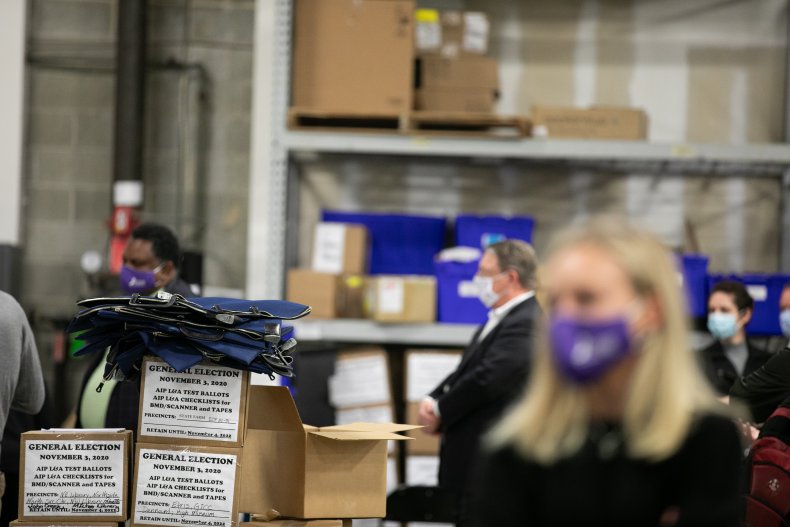 Update 11/5/20, 9:05 a.m. ET. This article was updated with the latest numbers on remaining votes to be counted.