Electoral College Cements Joe Biden's Victory With Zero Faithless Electors
The 538 members of the Electoral College met Monday to cast ballots for president and vice president, officially formalizing Joe Biden and Kamala Harris' victory.
Biden was awarded 306 electoral votes, exceeding the 270 votes needed to clinch victory in the state-by-state Electoral College. He also led in the national popular vote by more than 7 million votes. Trump got 232 electoral votes.
In some states, electors are legally bound to vote for the candidate who won their state—a requirement that the Supreme Court upheld earlier this year. But in other states, so-called faithless electors can stray and vote for someone other than the popular vote winner.
But faithless electors are rare and have never swung an election. In 2016, there were seven faithless electors. Five turned against Democratic nominee Hillary Clinton and two turned against Trump.
This year, there were no faithless electors.
"This has been a moment long time coming," said Democrat Stacey Abrams, a former gubernatorial candidate, who presided over the electors meeting in Georgia. Abrams' organizing efforts are credited with helping flip the traditionally red state blue for Biden.
"We made it," Wisconsin Governor Tony Evers said after reading his state's results. His comment was met with applause.
Biden's success has been evident since November 7, when he was projected the winner of the 2020 election by multiple media organizations. Since then, all 50 states have certified their presidential results and the General Services Administration allowed the presidential transition to begin by giving Biden access to key funding, classified intelligence briefings and agency access.
But Trump has refused to concede the race. His campaign and Republican allies have launched dozens of lawsuits in key battleground states challenging the vote count, nearly all of which have failed.
The post-election litigation reached a peak last week when Texas Attorney General Ken Paxton appealed directly to the Supreme Court to throw out election results in four states—Georgia, Michigan, Pennsylvania and Wisconsin—that went for Biden over Trump. Paxton accused the states of exploiting the COVID-19 pandemic to ignore federal and state election laws, specifically questioning the legality of mail-in ballots.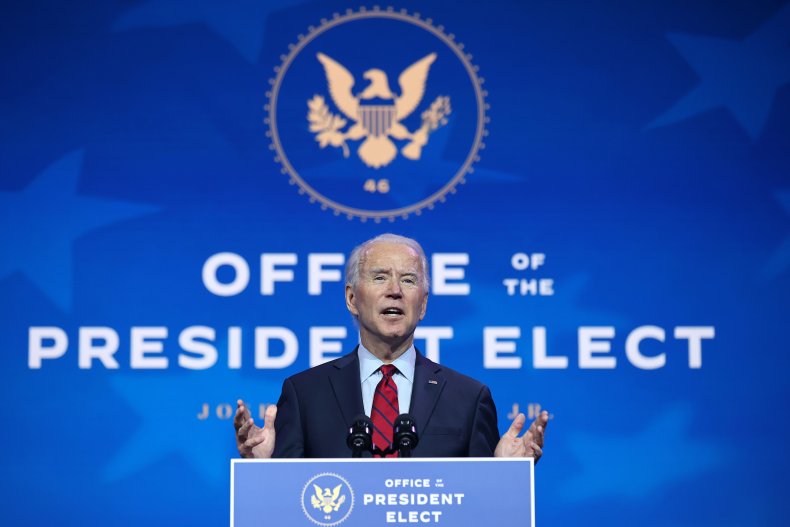 Nineteen states, 126 Republican members of the House of Representatives and Trump himself joined the Texas lawsuit, but the Supreme Court swiftly rejected the attempt to overturn election results in a 7-to-2 decision on December 11.
"Texas has not demonstrated a judicially cognizable interest in the manner in which another State conducts its elections. All other pending motions are dismissed as moot," the court wrote.
Ahead of Monday's certification, state and local officials reported threats. Michigan Senate and House offices had to close because of "credible threats of violence" as electors met at the state capitol. Arizona officials also had to increase security for the Electoral College vote. In Wisconsin, electors were told to enter the building through an "unmarked side door" to avoid protesters.
On Monday morning, Trump aide Stephen Miller told Fox News that "an alternate slate of electors" in key states Trump will also be voting and "we are going to send those results up to Congress."
Miller asserted that doing so would "ensure that all of our legal remedies will remain open" and that either state legislatures or Congress could accept the Trump electors.
The next major step in the electoral process will happen on January 6, when Congress is expected to hold a joint session with the House of Representatives and the Senate to count the electoral votes and officially declare the winner of the election.