Trump Adviser Stephen Miller Says 'Alternate' Electors Will Vote in Key States
President Donald Trump's adviser Stephen Miller said an "alternate" group of electors would be voting in key swing states on Monday as official electors were set to confirm President-elect Joe Biden's victory.
Appearing on Fox News this morning, the administration official said the unofficial slate of electors would vote to confirm Trump the victor of the presidential election, so those results could later be sent to Congress.
Miller also made the oft-repeated and baseless claim that the election results were "fraudulent" and that Trump was the winner of the 2020 contest.
Speaking to Fox & Friends, the senior adviser said: "As we speak, today, an alternate slate of electors in the contested states is going to vote, and we're going to send those results up to Congress. This will ensure that all of our legal remedies will remain open.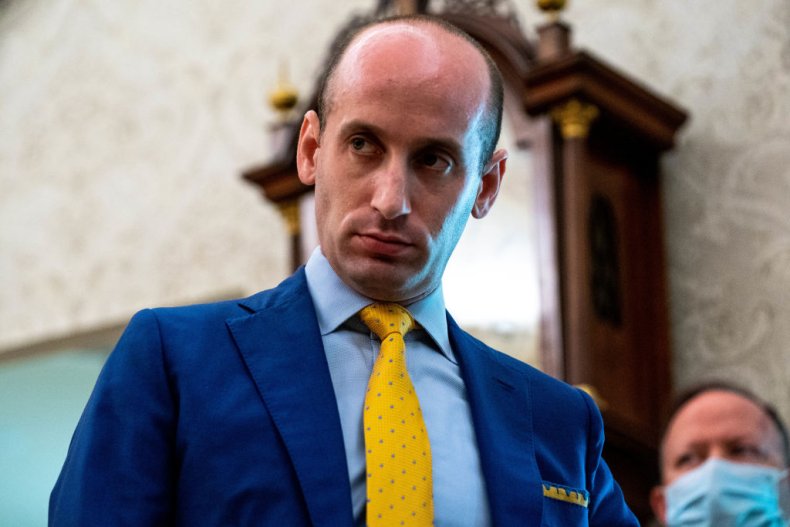 "That means that if we win these cases in the courts, that we can direct that the alternate slate of electors be certified."
Newsweek has contacted the Biden transition team for comment on the stunt. President Trump's re-election campaign has also been approached for further details.
Miller unveiled the plans for alternate electors to stage votes in key swing states that sealed Biden's election victory as presidential electors were set to meet across the U.S. on Monday.
The electors expected to formally confirm Biden as the next president and send their votes off to lawmakers in Washington, D.C. for a tally slated to go ahead at a joint session of Congress on January 6. Historically, the processes have been mainly ceremonial.
President Trump has still refused to concede the election to President-elect Biden, who picked up 306 pledged electoral college votes in the presidential race. A total of 270 electoral college votes are needed to secure the presidency.
Speaking to Fox News host Brian Kilmeade in an interview aired on Sunday, Trump said: "I got more votes than any president in the history of our country. In the history of our country, right? Not even close—75 million far more than Obama, far more than anybody. And they say we lost an election. We didn't lose. If I got 10 million fewer votes, they say I couldn't have lost."
Trump also said he did not want to discuss whether he would be attending his successor's inauguration, as has been historical custom for outgoing presidents.
The Supreme Court dealt a major blow to the commander-in-chief's attempts to overturn the 2020 election results based on claims of mass election fraud. The court rejected a lawsuit that sought to throw out the election results in four battleground states on Friday.