How 2016 Electoral College Map Final Results Looked, and How It Could Change This Election
Following the 2016 presidential election between Donald Trump and Hillary Clinton, the electoral college map turned red in key swing states as the Republican won the overall U.S. electoral college vote that handed him the White House.
However, the electoral college map of the 2020 election could look very different. According to projections by pollsters at FiveThirtyEight, this year's Democratic presidential candidate Joe Biden could win key swing states back from Trump.
Any candidate will need to secure at least 270, out of 538, electoral college votes to win the presidential election. Here Newsweek looks at the 2016 map and how it is predicted to change this time around...
Electoral College Map 2016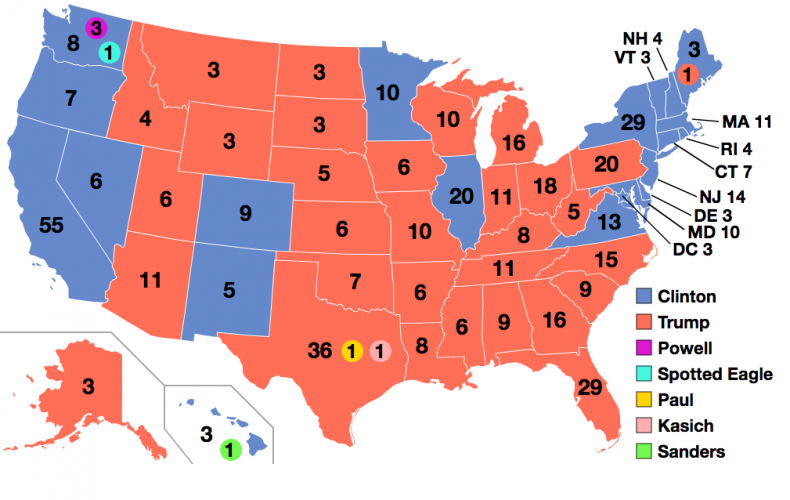 Ahead of the 2016 presidential election were eight key states to watch: Florida, Pennsylvania, Ohio, Michigan, North Carolina, Virginia, Arizona, and Wisconsin.
In that race, all of these states except Virginia were won by Trump.
In the 2020 presidential election race, there are six swing states to watch: Arizona, Florida, Michigan, North Carolina, Pennsylvania, and Wisconsin.
Each of these states voted for Trump in 2016. However, according to the FiveThirtyEight forecast, Biden could be on course to win them all in 2020.
Electoral College Map 2020 Projection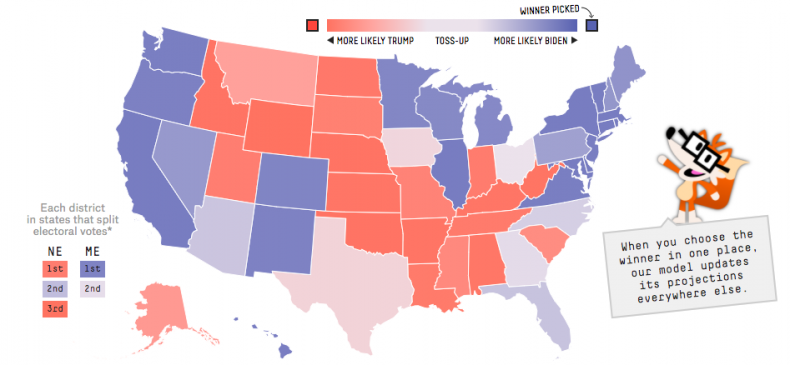 The electoral college map 2020 projection by FiveThirtyEight forecasts that no states that voted for the Democrats in 2016 will flip for the Republicans this year. However, eight states that voted for Trump in 2016 may flip and back Biden, based on FiveThirtyEight data.
States Unlikely to Flip
There are 22 states that voted Republican in 2016 that are likely to do so again today, according to FiveThirtyEight.
They are: Alabama, Alaska, Arkansas, Idaho, Indiana, Iowa, Kansas, Kentucky, Louisiana, Mississippi, Missouri, Montana, Nebraska, North Dakota, Oklahoma, South Carolina, South Dakota, Tennessee, Texas, Utah, West Virginia, and Wyoming.
Twenty states that voted Democrat in 2016 are likely to vote for Biden in 2020.
They are: California, Colorado, Connecticut, Delaware, Hawaii, Illinois, Maine, Maryland, Massachusetts, Minnesota, Nevada, New Hampshire, New Jersey, New Mexico, New York, Oregon, Rhode Island, Vermont, Virginia, and Washington.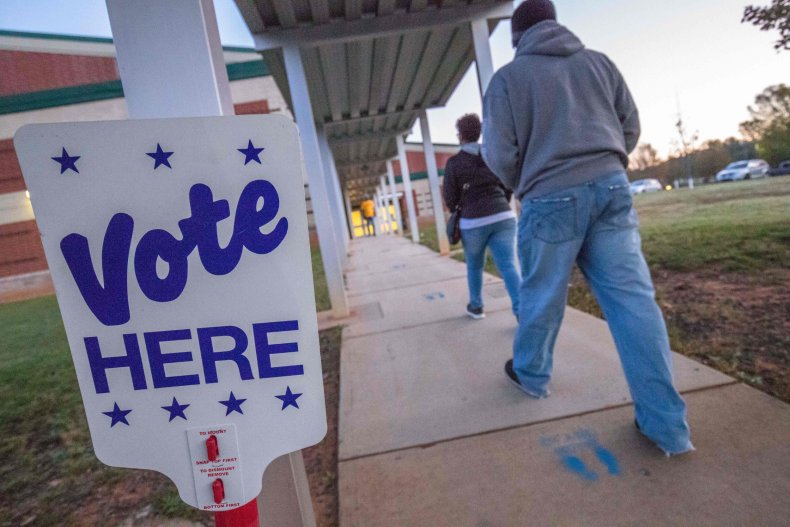 States That Could Potentially Flip for Biden
There are eight states that voted Republican in 2016 that might vote Democrat in 2020, according to FiveThirtyEight's presidential forecast.
Michigan, Pennsylvania, and Wisconsin could potentially flip to Biden, it predicted.
Michigan has 16 electoral college votes up for grabs. Pennsylvania has 20, and Wisconsin 10.
Meanwhile, FiveThirtyEight forecasts that another five states—Arizona, Florida, Georgia, North Carolina and Ohio—could flip and support Biden, but are less likely to do so.
Arizona has 11 electoral college votes, Florida has 29, Georgia 16, North Carolina 15, and Ohio 18.
According to a New York Times/Siena College poll conducted between October 26 and 31, Biden is ahead by 11 points in Wisconsin, ahead by six points in Arizona and Pennsylvania, and ahead by three points in Florida. The margin of error is 3 points in Arizona, 2.4 points in Pennsylvania, and 3.2 points in Florida and Wisconsin.