Electric Chevrolet Corvette Coming As Early As Next Year
A sports car that has built its reputation on flashy styling and powerful engines is getting a makeover for the future. Today General Motors president Mark Reuss confirmed in a post on LinkedIn that a battery electric version of the Chevrolet Corvette is in development.
Ruess expanded on the plans in an interview with CNBC's Phil LaBeau saying that the electric Vette will be sold alongside other gas-powered variants, in electrified and fully electric versions.
The all-electric Corvette, Reuss said, will possibly be able to reserve as early as next year. Additional details regarding the electric vehicle's (EV) specifications, features and name will be revealed at a later date.
General Motors engineers are working on the new model at the company's EV space in Warren, Michigan. The future electric car is expected to feature General Motors' Ultium battery cells.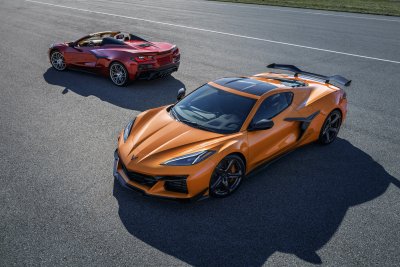 The cells already power GMC's new Hummer EV truck and the future Hummer EV SUV. GM's battery-electric-ready platform will serve as the architecture for the upcoming Chevrolet Silverado EV. That truck is expected to go into production after the upcoming Chevrolet Blazer EV and Equinox EV come to market.
Further down the road, General Motors will co-build Honda's future electric vehicles.
"The Corvette has long served as Chevrolet's halo car and represents the pinnacle of GM performance," Paul Waatti, manager of industry analytics at AutoPacfic told Newsweek.
"GMC's Hummer EV has already proven the Ultium toolkit is capable of high levels of EV performance in a truck format and bringing those attributes to the iconic Corvette nameplate is pivotal to GM's transition to a full portfolio of EVs. It builds on the excitement the Hummer EV has already stirred up and also demonstrates the modular capabilities of Ultium - from performance sports cars to full-size pickups and SUVs, and plenty of mainstream and luxury products in between.
Despite the company's commitment to an electrified future, they recently launched the new high-horsepower Corvette Z06. The car has a 670-horsepower 5.5-liter V8 as its heart. It was tested at the Circuit of the Americas in the United States and the Nürburgring in Germany.
The rights to the first retail 2023 Chevrolet Corvette Z06, a 70th Anniversary special edition model, were auctioned for charity at the annual Barrett-Jackson Auction in Scottsdale, Arizona in January. NASCAR race team owner Rick Hendrick placed the winning bid of $3.6 million.
Chevrolet also recently introduced the Silverado 1500 ZR2, a high-powered, fuel inefficient, off-roading-focused pickup truck.