Elementary School Blasted for Sale of Pro-Trump, Confederate Flags at Fair
A woman was shocked when she recently showed up to a school-sponsored PTO fair in Mississippi to reportedly discover Confederate and Donald Trump flags being sold by a vendor.
"I need someone to explain why this was a booth at my daughter's school Woolmarket Elementary at a spring PTO meeting?" said the woman, Alexis Weathersby, in a Facebook post published April 7 that has now been shared over 200 times.
The Sun Herald reported that the fair took place April 2, at Woolmarket Elementary in Biloxi. Multiple vendors attended, including one local known as the "Flag Lady." She was the vendor selling the flags that have drawn widespread attention across the community.
Weathersby, whose daughter attends Woolmarket, photographed that vendor's booth. The picture she took showed multiple Confederate flags as well as a "Mississippi For Trump" flag.
"(Confederate flags) don't belong in our schools," Weathersby, who has two children, told the Sun Herald. "It is a symbol of hatred and pain and slavery and trauma...if this was a Nazi flag, it would be a no-brainer."
Newsweek reached out to Weathersby for comment.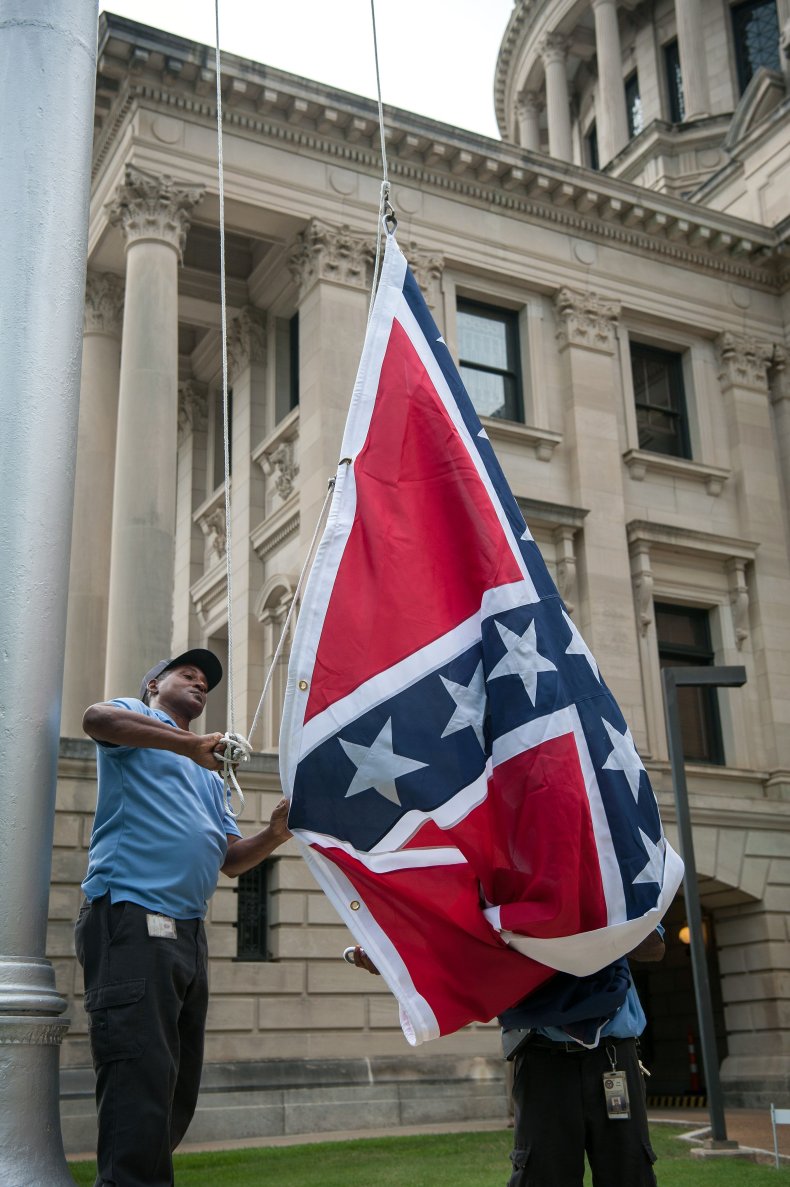 In June 2020 Mississippi Governor Tate Reeves signed a bill into law that mandated the state's flag be replaced with one that does not incorporate the Confederate flag. The bill to permanently retire the flag that was originally adopted in 1984 was approved by the state's legislature.
This month is Confederate Heritage Month—a state tradition that began 29 years ago. The last Monday of April is Confederate Memorial Day in Mississippi.
"April is the month when, in 1861, the American Civil War began between the Confederate and Union armies, reportedly the costliest and deadliest war ever fought on American soil," the proclamation said.
On April 3 Weathersby screenshot a Facebook response from the elementary school, which read, "The event was sponsored by the PTO. Neither should have been on display. Policies have been put into place to prevent it from happening again." It was posted in the same thread with her original picture.
Weathersby, who in another comment said her children have allegedly experienced racism while attending the school, said the school later deleted the aforementioned Facebook comment.
Back-and-forth discourse between Weathersby and Kevin Roberts, principal of Woolmarket Elementary, occurred in the comments section underneath her post of the vendor. She said she was supposed to meet with him to discuss the situation.
"It had no place there and when the school was made aware of it we acted," Roberts said in a Facebook comment. "Personally I agree with the district policy. It shouldn't have been there, and neither should any of the political material. The school has done what it can to cut ties with this because we understand that it is divisive and hurtful to many."
Newsweek reached out to Roberts for comment.
Woolmarket Elementary is part of the Harrison County School District.
"The Harrison County School District does not allow political statements of any kind at school events," school district spokesperson Trang Pham-Bui told Newsweek. "We were not aware at the time that the flags were on display at Woolmarket Elementary. The issue was addressed as soon as it was brought to the principal's attention."
The "Flag Lady," whose name is Pamela Smith, allegedly received messages from some Facebook users regarding the flags.
"Anyone that has ever met me at an event, go see what a certain group are saying in recommendations," she wrote in an April 7 Facebook post. "Shows their own ignorance at the rallying of a staff member at Woolmarket Elementary and it don't stop there. They have called my phone, blocking out their number, leaving nasty voicemails, they have messaged my business page."
She later told Newsweek that the principal, Roberts, allegedly lied to parents about the items at her booth.
"The principal himself saw what I had," Smith said. "He was at the spring fest. The group starting their baby s**t wasn't even at their kids' event to raise money for their school."
When asked if she thought bringing such flags to a PTO fair was appropriate, Smith said she is just running a business and "some love me, some hate me."