Elephant That Carried Tourists for 25 Years Now Lives With Caved-In Spine
Years of giving rides to tourists in Thailand have considerably damaged the back of an old elephant, photos show.
For 25 years, Pai Lin, now around 71 years old, was forced to carry as many as six tourists at a time, according to the Wildlife Friends Foundation Thailand (WFFT), which warns against the "exploitative practices" of the wildlife entertainment industry.
"Pai Lin had a long, hard life," Amy Jones, a spokesperson for the WFFT, the foundation that now cares for Pai Lin, told Newsweek. "She was used for elephant trekking, as a street begging prop, and in the logging industry for many years. She was forced to carry a heavy howdah—[a type of] seat—with up to six tourists in it. Because of this, her spine is visibly deformed, and she has many scars caused by pressure sores."

Pai Lin was rescued by the Wildlife Friends Foundation Thailand in 2007. "When she arrived at WFFT, she was terrified, underweight, dehydrated, and suffering from nasal and eye discharge caused by a respiratory infection," Jones said. "She also had many pressure point sores."
The photos provided by the WFFT show that Pai Lin's back is sunken compared to a healthy elephant's typical dome-shaped spine.
Across Southeast Asia, it is common to find elephant-riding experiences in tourist hotspots and #elephantride has over 7 million views on TikTok. The elephants used in this industry often spend full days with no break carrying the weight of their handler, up to six tourists and the weight of the heavy howdah seat. This constant pressure on their bodies can cause their bones and tissues to deteriorate, causing irreversible damage to their spines.
"It is very common to see a dipped spine in older elephants who have worked in the logging, street begging, or tourism industries all their lives," Jones said. "At WFFT, we see it in many of the old elephants who have spent years being used for these practices."
As well as physical deformities, these elephants are often subject to years of cruelty and overworking, the conservation group Animals Asia has also reported.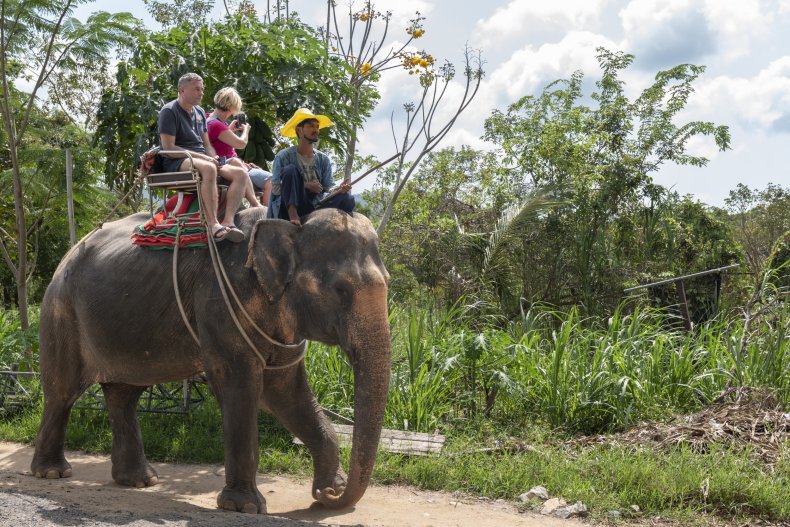 Pai Lin now lives freely at the WFFT elephant sanctuary and is provided with 24-hour veterinary care, specialized supplements and nutrient-dense food. However, her spinal deformity is irreversible and will last for the rest of her life. "Thankfully, as there is no longer any weight or pressure on Pai Lin's spine, the damage is not getting any worse," Jones said.
"For a very old lady, she is still very playful with a zest for life," Jones said. "Her fear has gone—although she is still afraid of elephants, cows, and various other animals—and she lives her life chain-free on her own terms [...However,] she [sometimes] has mood swings and can be very sassy."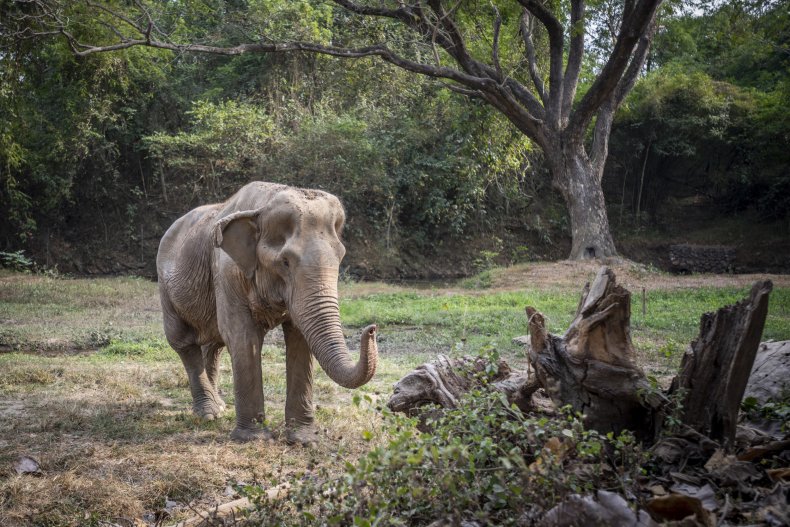 The WFFT hope that sharing Pai Lin's story will encourage tourists to think twice before supporting elephant rides and other exploitative practices.
Do you have an animal or nature story to share with Newsweek? Do you have a question about elephants? Let us know via science@newsweek.com.