Congressman Elijah Cummings Threatens Jail Time, Fines if Former White House Official Limits Testimony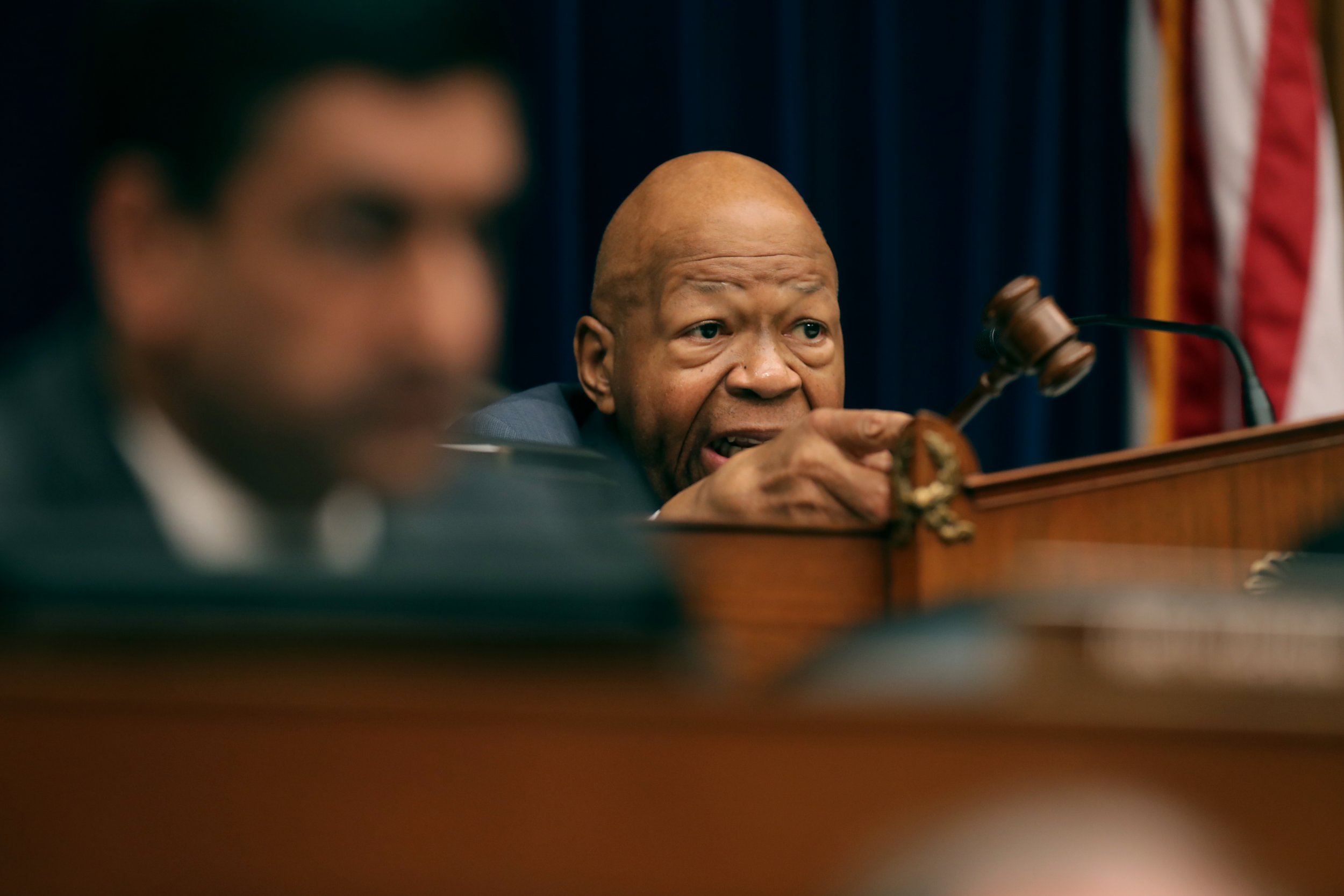 Congressman Elijah Cummings, chairman of the House Oversight Committee, is threatening to hold a former White House official in contempt of Congress, punishable by fines and jail time, if he fails to comply with a subpoena and appear before the panel Wednesday.
Should the official, Carl Kline, who once handled White House security clearances and who now works for the Defense Department, provide a limited scope testimony and refuse to answer certain questions, Cummings warned that would also be grounds for contempt.
"We'll do whatever we have to do. We simply cannot have a situation in the Oversight Committee—or any of our committees—where we are being blocked with regard to information," the Maryland Democrat told reporters Tuesday. "It may be we just want to go with fines. But it's either fines and/or prison."
Current law states that any person summoned to give testimony to Congress and who either fails to appear or "refuses to answer any question pertinent to the question under inquiry, shall be deemed guilty of a misdemeanor, punishable by a fine of not more than [$100,000] nor less than $100 and imprisonment in a common jail for not less than one month nor more than 12 months."
As part of President Donald Trump's escalating efforts to counter House Democrats' investigations, Kline was instructed by the White House to defy Cummings' subpoena to testify about his former role in issuing controversial security clearances. Kline was allegedly instructed by the White House during his tenure to improperly overrule career officials' oppositions to grant security clearances to at least two dozen officials, according to whistleblower and longtime security specialist Tricia Newbold, who came forward to the Oversight Committee.
Newbold said that among these officials, which reportedly included senior advisers Ivanka Trump and Jared Kushner, the most "serious disqualifying issues" included "foreign influence, conflicts of interest, concerning personal conduct, financial problems, drug use, and criminal conduct."
She also told the committee that after she raised concerns of overruling the security clearance denials to her superior, Kline, he retaliated against her. Kline is alleged to have repeatedly placed files out of Newbold's reach, who suffers from a form of dwarfism, and suspended Newbold for two weeks without pay for defying him, less than a week after she spoke with NBC News.
Circumventing Cummings and his Democratic colleagues on the committee, top Republican Jim Jordan struck a deal with White House Counsel Pat Cipollone for Kline to limit his testimony to White House "personnel security policies and practices"—excluding retaliatory allegations against Newbold—and to have an attorney beside him. Both of those stipulations were previously rejected by Cummings, who said he has the authority to subpoena and ask wide-ranging questions involving the entire security clearance matter.
The White House declined to answer Newsweek's questions on the record regarding Kline's testimony set for Wednesday.
"I'm going to make it clear," Cummings said. "If he comes in there tomorrow, and if all he wants to talk about is process, which we already know, and does not want to talk about his actions with regards to retaliation and what happened in [overturning] these cases, then we will move forward to take whatever action we have to take to enforce our subpoena."
That action includes, the chairman reiterated, contempt, which could include a fine and possibly jail time.
"Immediately after [Kline] comes in, we will determine whether we then have to go the next step," Cummings said. "We're not going to be waiting around—we don't have time."