House Republicans Sidestep Democrats to Arrange Limited Interview with Key Former White House Staffer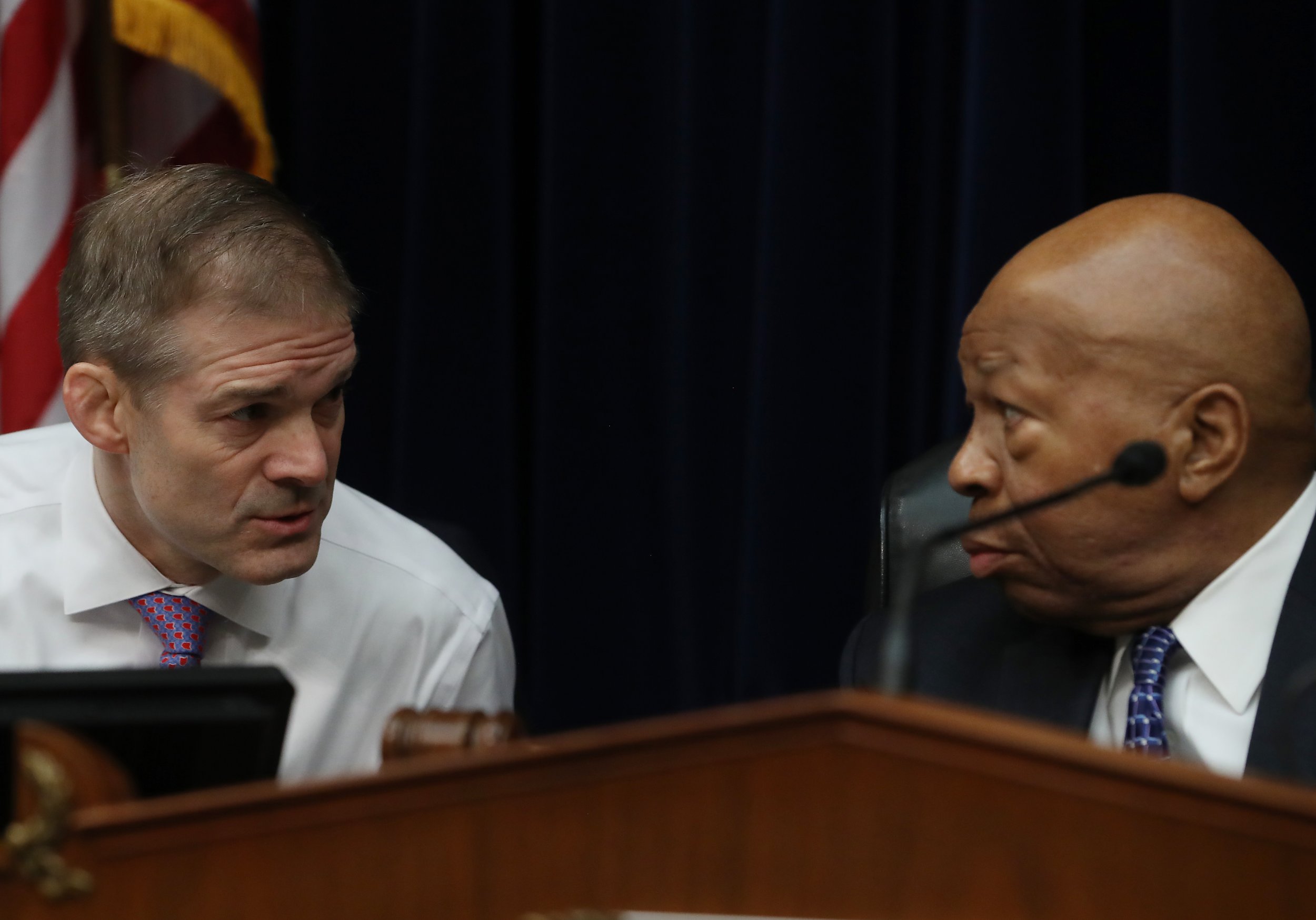 Republicans on the House Oversight Committee have circumvented the committee's Democratic leadership to arrange a limited interview with a former White House staffer who violated a subpoena from the committee to testify, according to letters obtained by Newsweek Friday evening.
Congressman Jim Jordan, the top Republican and Ranking Member on the Oversight Committee, sent a letter to White House Counsel Pat Cipollone on Friday extending an offer for former White House official Carl Kline, who handled security clearances, to voluntarily testify before the Committee staff next week.
The White House recently stonewalled House Democrats' efforts to interview several Trump administration officials, including Kline, creating a separation of powers battle between the Executive and Legislative branches of the federal government.
President Donald Trump has vowed to "[fight] all the subpoenas," a promise he has stayed true to by directing former White House counsel Don McGahn and Kline to reject subpoenas to testify. Attorney General William Barr directed a Justice Department official to do the same.
"I anticipate that Chairman Cummings will initiate contempt proceedings against Mr. Kline as soon as next Tuesday," Jordan wrote in his letter to Cipollone, which can be read in full at the bottom of this story.
The Ohio Republican then extended an offer for an interview of Kline with a limited scope "to avoid unnecessary conflict between Congress and the Executive Branch and de-escalate Chairman [Elijah] Cumming's orchestrated inter-branch confrontation."
Kline, who now works at the Defense Department, was previously instructed by the White House to ignore a subpoena to testify about some of the controversial security clearances issued during his tenure. The administration objected to the inability of Kline to have a lawyer in the room with him and the wide-ranging topics of discussion he could face.
But in response to Jordan's offer to testify, Cipollone accepted, saying that Kline and his personal attorney agreed to meet with Committee staffers on Wednesday to discuss "White House personnel security policies and practices," a limited scope that previously failed to satisfy Democratic Chairman Elijah Cummings.
A whistleblower who worked in the security clearance department under Kline and came forward to the Committee has alleged that Kline granted some two dozen security clearances for officials who were previously denied access to top-secret information, reportedly overruling national security concerns. One of those officials was Jared Kushner, Trump's son-in-law and senior adviser who is married to one of his daughters, Ivanka Trump who is also an adviser to the president.
"As you note in your letter, despite all of the information already provided, and the additional accommodation offer made over three weeks ago for Mr. Kline to appear voluntarily, the Committee nevertheless chose to issue an unnecessary subpoena to Mr. Kline," Cipollone wrote in response to Jordan's offer. "We understand the scope of the interview will be limited to White House personnel security policies and practices, consistent with our prior offers for Mr. Kline's voluntary cooperation with the Committee."
Cummings responded with a letter of his own to Kline Saturday evening, agreeing to meet with him Wednesday for a transcribed interview. However, the chairman did not agree to the limited scope, saying that the Committee "sets the scope of its interviews and depositions—not Rep. Jordan and the President's other defense counsels."
"You will be expected to answer all of the Committee's questions, including questions about specific White House officials and allegations of retaliation against the whistleblower," Cummings told Kline. "If you answer all of these questions, there would be no need for the Committee to pursue contempt against you in the future."
Cummings further warned Kline that his "refusal to participate" in a deposition last week after being subpoenaed "places you in significant legal jeopardy." He said the White House directing Kline not to cooperate was "not a valid legal reason to defy a congressional subpoena."
"I am confident that the Committee could move forward with contempt against you immediately, particularly since your defiance of the Committee's subpoena was so flagrant," Cummings wrote. "However, I have always endeavored to be as fair as possible in the pursuit of truth, particularly with witnesses who are willing to come before the Committee."
This story has been updated to provide information from a letter that Cummings sent to Kline Saturday evening.