Eliot Spitzer Accused of Threatening to Stab Man 'in the Cock' at Manhattan Restaurant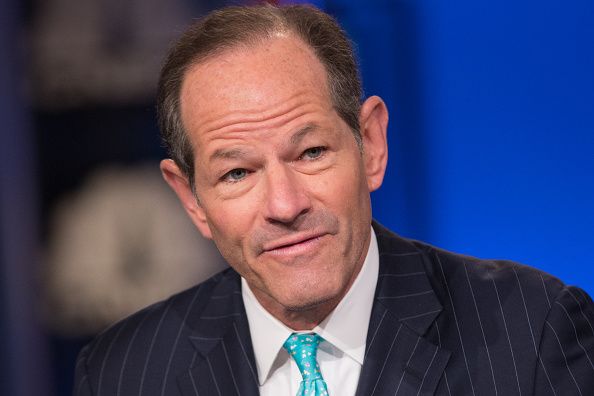 UPDATED I Former New York Governor Eliot Spitzer allegedly threatened to stab a man in the genitals at a restaurant in Manhattan after a patron taunted him.
Jamie Antolini said he was with his business partners at the Avra Madison Estiatorio on last Tuesday when he saw Spitzer. Antolini, 48, said the disgraced ex-governor was walking past his table and overheard the group praising philanthropist and Home Depot founder Ken Langone, Spitzer's longtime foe.
Antolini told the New York Daily News that he said Langone would "be the best president ever" before Spitzer turned around and lashed out at him,.
"I'm going to fucking stab you with a fucking knife in the cock," Spitzer told Antolini, according to Antolini.
Antolini said the argument lasted about 20 minutes before Spitzer was escorted out of the Greek restaurant. He said he did not see Spitzer carrying a knife and will not file a police report with the NYPD.
"This guy's got issues, real problems," Antolini said.
A spokeswoman for Spitzer said the former governor was at the restaurant to celebrate his mother's 90th birthday, and that Antolini was to blame for the outburst.
"There was an argument started and provoked by an Avra patron," Lisa Linden told Newsweek in a statement.
"The patron persisted in making aggressive remarks, which Mr. Spitzer initially ignored. An argument ensued, but at no time did he make any threats."
Newsweek has reached out to the restaurant for comment.
This is not the first time Spitzer has been accused of threatening others. The former governor was accused of threatening and attacking Svetlana Travis Zakharova, a 27-year-old Russian escort, in her Plaza hotel room last year after she told him she was returning back home. She was charged with blackmailing Spitzer for nearly $40,000 after threatening to tell his family about their relationship.
Zakharova handed over to NYPD detectives an 18-second recording of Spitzer scolding and threatening her during a phone call in February 2016, her lawyer said.
Spitzer left office in 2008 after his career was tarnished by a prostitution scandal. The former governor was known for taking on Wall Street while serving as New York State attorney general, and he attempted at a comeback by running for New York City comptroller in 2013. When that failed, he briefly co-hosted a political talk show on CNN.
This article has been updated with a new statement by Eliot Spitzer's spokeswoman.