Representative Elise Stefanik will officially take over congresswoman Liz Cheney's job as the Republican Party's conference chair after winning a secret ballot election Friday morning.
Stefanik defeated Representative Chip Roy 134-46 to become the House's No. 3 Republican. The vote took place just two days after the caucus chose to remove Cheney over her repeated criticisms of former President Donald Trump.
Cheney's ouster was proof that Trump's grip on the party remains "ironclad," Republican strategists told Newsweek.
Stefanik said in a statement shortly after the election that she was "truly honored and humbled" to have earned the support of her colleagues.
"House Republicans are united in our focus to fight on behalf of the American people to save our country from the radical Socialist Democrat agenda of President Biden and Nancy Pelosi," she added.
Stefanik also pledged that House Republicans would put forth policies aimed at growing the economy, reopening schools, securing the border and "protecting our Constitution," among others.
Trump—who was one of the first politicians to endorse Stefanik to replace Cheney—celebrated her victory in a statement on Friday morning.
"Congratulations to Elise Stefanik for her Big and Overwhelming victory! The House GOP is united and the Make America Great Again movement is Strong," the former president said.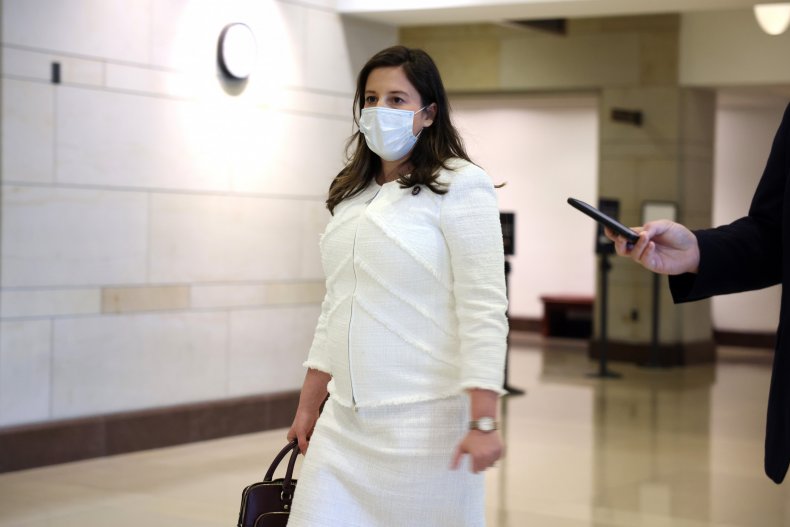 Since the insurrection at the U.S. Capitol on January 6, Cheney has broken with her colleagues to repeatedly condemn Trump's false claims that the 2020 presidential race was "stolen" from him.
The comments earned the ire of her Republican colleagues, who argued that the party needed to be a united front heading into the 2022 midterm election cycle.
But Cheney said she'll continue to push back against baseless allegations about the 2020 election, even after being ousted from GOP leadership.
"I am absolutely committed, as I said last night and as I said just now to my colleagues, that we must go forward based on truth. We cannot both embrace the big lie and embrace the Constitution," Cheney told reporters after Wednesday's vote. "And going forward, the nation needs it. The nation needs a strong Republican Party. The nation needs a party that is based upon fundamental principles of conservatism."
The Wyoming lawmaker also pledged to do everything in her power to make sure Trump "never again gets anywhere near the Oval Office."
Trump celebrated Cheney's removal in a lengthy statement on Wednesday, in which he described Cheney as a "bitter, horrible human" who has "no personality or anything good having to do with politics or our Country."
Correction 05/14/2021, 10:45 p.m. ET: An earlier version of this story referred to Stefanik as the House's No. 3 conference chair, not the House's No. 3 Republican. The story has been corrected.