'Elite' Cast: Who Has Left the Cast of 'Elite' and Where Are They Now?
Elite is the groundbreaking Spanish drama on Netflix, which follows a group of students at the prestigious private school, Las Encinas. The series delves deep into their complicated personal lives dealing with love, heartbreak, sexuality, abuse, social class, and teenage angst, all set against the backdrop of a murder that has rocked the school community.
The series landed on screens in 2018 and has gone from strength to strength over the years, attracting a huge fan base outside of Spain and across the world.
As each season centers around a specific tragedy and the students of Las Encinas grow up and graduate, inevitably fans have had to say goodbye to some of their favorite characters and cast members. Newsweek has everything you need to know about who has left Elite across all four seasons and where your favorite Las Encinas students are now.
Who has left the cast of Elite and where are they now?
Nadia - Mina El Hammani
Mina El Hammani, 27, starred as Nadia in the first three seasons of Elite and made a guest appearance in season 4 of the Spanish drama.
Nadia joined Las Encinas as a quiet and reserved student but later came into her own, as a strong, independent woman.
She also began exploring a romance with Guzmán (played by Miguel Bernardeau) and the pair became one of the show's most loved couples.
At the end of season 3, Nadia accepted a scholarship to study in New York, setting up Hammani's exit from the show.
Hammani did appear in season 4 of Elite in an emotional scene where she and Guzmán broke up during a video call.
Despite Hammani's exit from the show, fans were treated to a 40-minute episode focused solely on her character.
The second installment in Elite: Short Stories followed Guzmán and Nadia's long-distance relationship over the summer before the events of season 4.
Hammani has not yet commented on her decision to leave Elite, but it may have had something to do with scheduling conflicts.
She is now the star of the Spanish Amazon Prime series El Internado: Las Cumbres.
Hammani plays the role of Elvira in the series, which follows the lives of students at a school within a monastery that is isolated from the world.
Instagram: @minaelhammani
Lu - Danna Paola
Mexican actress Danna Paola, 26, has been a part of the Elite family since the show began in 2018.
She played the role of Lu, the daughter of the Mexican ambassador in Spain, and was one of the most popular girls at Las Encinas.
The last time Elite fans saw Lu was when she was on her way to New York City to study at Columbia University alongside Nadia.
In season 3, Lu had been responsible for the death of Polo (Álvaro Rico), after stabbing him with a broken champagne bottle.
Thankfully for Lu, she was able to get away with the killing after her fellow students helped distort the crime scene by placing all of their DNA over the murder weapon and telling the police entirely different accounts.
In the end, Polo's death was ruled as suicide and Lu was able to flee to start a new life in New York City.
Since leaving Elite, Paola has continued to pursue her already successful music career.
At the beginning of the year, Paola released her sixth studio album, K.O. which made it into the Top 10 Latin Pop Albums Chart.
In 2021, she was cast as a mentor in the Spanish singing competition series Top Star. ¿Cuánto vale tu voz? for Telecinco.
Most recently, she released the single "MIA" which you can listen to via Apple Music now.
Instagram: @dannapaola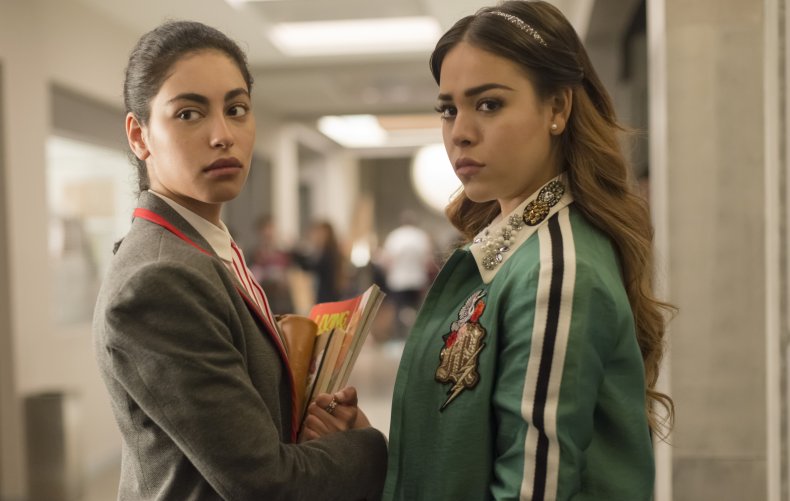 Christian - Miguel Herrán
Spanish actor Miguel Herrán, 25, portrayed Christian Varela in the first two seasons of Elite.
Christian, alongside Nadia and Samuel (Itzan Escamilla), were the three original students at Las Encinas who joined the school on a scholarship after their school, San Esteban, collapsed.
Their arrival immediately caused a rift at Las Encinas, in particular by showcasing the huge class divide between the trio and the rest of the school.
While the majority of students took no notice of him, Christian caught the attention of Carla (Ester Expósito) and her boyfriend Polo (Álvaro Rico).
The three began a polyamorous relationship, quickly becoming one of the show's most famous love triangles.
In season 2, Christian told Carla he was going to confess the truth about Polo's involvement in Marina's (María Pedraza) murder to the police.
On his way home drunk, he hit another car while on his motorcycle and needed life-saving surgery. Carla's father offered to pay for his medical treatment in Switzerland in exchange for keeping the secret about Marina's true killer and leaving his daughter alone.
Christian accepted the offer and was last seen traveling to Switzerland.
Why exactly Herrán left Elite is unclear but it is possible he may have been written out of the show to focus on Netflix's Money Heist.
Herrán has played the role of Aníbal "Río" Cortés in Money Heist since the show began and will return for the show's fifth and final season which is scheduled for release on Friday, September 3.
Outside of Money Heist and Elite, in 2020 Herrán starred in the film Hasta el Cielo/Sky High as Angel.
Instagram: @miguel.g.herran
Carla - Ester Expósito
Ester Expósito, 21, starred in the first three seasons of Elite as Carla, the daughter of a Spanish Marchioness who often used her sexuality to get what she wanted.
Carla was not only in a love triangle with Polo and Christian, but she later found herself caught between Christian and Samuel.
At the end of season 3, Carla left Las Encinas to study in London, marking Expósito's exit from the show.
Thankfully, fans got the closure they needed regarding Carla's romance with Samuel in episode 4 of Elite: Short Stories.
Samuel tried his absolute hardest to get Carla to stay in Spain but ultimately, in the end, she decided to leave the love of her life behind.
Since leaving Elite, Expósito has starred in the Spanish series Veneno and Someone Has to Die.
In Veneno, Expósito played the role of Machús Osinaga and in Someone Has to Die, she plays the character Cayetana Aldama.
She has also become the new face of Bulgari, often posting pictures of her campaign on her Instagram account.
Instagram: @ester_exposito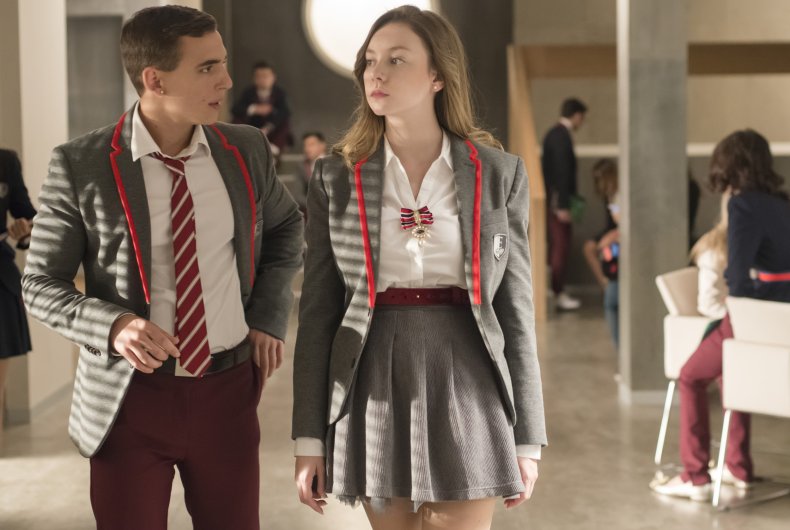 Polo - Álvaro Rico
Álvaro Rico, 24, played the role of Polo in Elite for the first three seasons.
He was first the love interest of Carla before catching the eye of new girl Cayetana (Georgina Amorós) midway through season 2.
Polo was accidentally killed by Lu in season 3 of Elite and his death finally cleared Nano's name, who was wrongly accused of killing Marina in season 1.
Since leaving Elite in 2020, Rico has gone on to star in several television series.
In 2020, he played the role of Nuño in the Amazon Prime series El Cid, starring alongside Jaime Lorente, José Luis García Pérez, Elia Galera and Carlos Bardem.
This year, Rico will appear in the Spanish series La caza. Tramuntana as Miquel and Alba as Jacobo.
Reflecting on his time on Elite in conversation with Vanity Teen, Rico said: "Elite was a groundbreaking event not only in my career but in my life. It was like condensing several years of my career in just one year, which made me achieve some goals and having a global repercussion, those things are hard to get or even, sometimes, you never get to experience them. Elite is an iconic TV show that represents a generation."
He added: "I know many viewers will always remember me as Polo, and that is not a bad thing, it represents the bliss of feeling lucky enough to be part of all that.
Instagram: @alvaroricoladera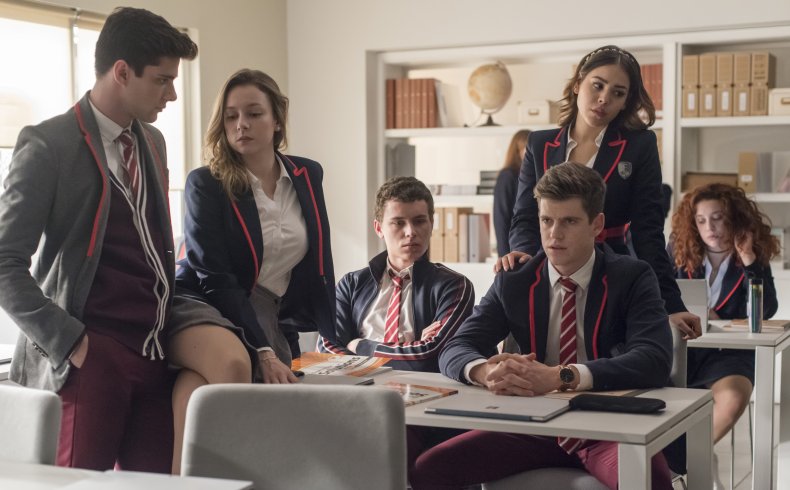 Nano - Jaime Lorente
Jaime Lorente, 29, starred as Nano in the first two seasons of Elite.
Nano was Samuel's older brother who had just gotten out of prison and the love interest of season 1's murder victim Marina.
In season 2, he was falsely accused of Marina's murder and spent the majority of the season in prison before being released on bail.
On bail and not yet cleared for Marina's murder, Nano opted to flee Spain to avoid ever going to prison.
Throughout seasons 3 and 4 of Elite, Nano is referred too but his whereabouts remain unknown.
Like his Elite co-star Miguel Herrán, Lorente most likely left the series due to his commitments to Money Heist.
Lorente has played the role of Daniel "Denver" Ramos in Money Heist since it began in 2017 and will be back for the show's fifth and final series.
He was also recently reunited with his fellow Elite star, Álvaro Rico in the Amazon Prime series El Cid.
In El Cid, Lorente plays the main role of Rodrigo Diaz de Vivar, and will be back for season 2, which premieres July 15 on Amazon Prime.
Since leaving Elite, Lorente has also starred in the films Who Would You Take to a Deserted Island, Bedspread, and Gun City.
Instagram: @jamielorentelo
Valerio - Jorge López
Chilean actor Jorge López, 29, starred as Valerio, Lu's older half-brother in seasons 2 and 3 of Elite.
He enrolled at Las Encinas after a stint at a boarding school and quickly made the wrong impression with fellow students and audiences at home.
Not only was he responsible for exposing Nadia and Guzmán's relationship by filming them having sex, but he also had an incestuous relationship with his half-sister, Lu.
He also began a polyamorous relationship with Cayetana and Polo while returning to drug dealing to fund his lifestyle after he was kicked out of the family home following the exposure of his relationship with Lu.
At the end of season 3, Carla surprisingly asked him to manage the wineries on her behalf while she went abroad to study, allowing him to leave his chequered past behind and start a new life.
Before starring in Elite, López was best known for his role as Ramiro Ponce in the Disney Channel Latin America telenovela series Soy Luna, which ran between 2016 and 2018.
Since leaving Elite, López has reprised his role as Ramiro Ponce for the Disney+ special Soy Luna: El último concierto.
Instagram: @jorgelopez_az
Elite seasons 1 to 4 are streaming on Netflix now
Newsweek has affiliate partnerships. If you make a purchase using our links, we may earn a share of the sale.