Everything the 'Elite' Cast Have Said About the Season 4 Sex Scenes
Elite Season 4 is streaming on Netflix and, once again, the Spanish drama has not been short of steamy sex scenes between the main characters. The hit Netflix show has never backed off from addressing issues surrounding sexuality, consent and relationships.
Season 4 saw three of the show's gay characters—Ander (played by Arón Piper), Omar (Omar Ayuso), and new boy Patrick (Manu Ríos)—engage in numerous threesomes, and it marked the series' first lesbian sex scene between Rebe (Claudia Salas) and Mencía (Martina Cariddi).
The cast of Elite are all in their early 20s but in the show, they play teenagers in their final years at an exclusive Spanish High School called Las Encinas.
The show has been praised over the years for giving a realistic portrayal of sex and relationships. For the first three seasons, two throuples existed in the show, and in Season 4, a three-way sexual relationship featured heavily in the show's storyline, which was well received by fans online.
Luckily, the cast of Elite have been happy to share their feelings on the scenes, the importance of sex to their characters and audiences, alongside all of the behind-the-scenes work that goes into making them so comfortable and realistic.
Everything the 'Elite' Cast Have Said About the Season 4 Sex Scenes
Ander, Omar, and Patrick
Elite couple Ander and Omar were reunited at the end of Elite Season 3 and at the start of Season 4, the couple decided to spice up their relationship.
They invited Patrick, the new kid on the block to have a threesome, changing the path of their relationship forever.
Ander and Patrick had an undeniable sexual attraction between them, posing serious problems for his relationship with Omar.
Their storyline was full of sex and sexual fantasies, including an intense shower scene involving the trio at school.
Speaking to entertainment and film website SensaCine, Ander actor Arón Piper joked: "We are already cured of fright. We are now very used to the sock..."
He also revealed his co-star Manu Ríos had to film a sex scene on his first day on set.
Manu Ríos who plays Ander's new love interest Patrick, in the same interview, described the sex scenes as "a lot of fun."
Ríos also shared that there is an intimacy coordinator on set who plays a massive role in making everybody feel comfortable.
In an interview with @eCartelera, Rios opened up on what it was like to film the shower fantasy scenes.
He said: "Well I was nervous at the beginning, before going in and recording but well we had some rehearsals beforehand. I knew them, I knew the character, a little bit of background, and then it went very well, very calm and in the end, we had a great time recording and I learned a lot in the process."
Rebe and Mencía
Elite fans' prayers for a lesbian relationship were finally answered when new girl Mencía joined Las Encinas.
Mencía immediately set her eyes on cool-girl Rebe and after letting go of her commitment issues, Rebe decided to explore things with Mencía.
In Episode 3, things became heated between the two and Mencía was ready to prove how much she liked Rebe but they were interrupted by the latter's mother and had to put their night of passion on hold.
In Episode 5, one of Elite's hottest chocolate-infused sex scenes took place between Rebe and Mencía.
A montage played out of Rebe and Mencía licking melted chocolate off of each other before the pair stripped down and finally had sex—chocolate included.
Speaking to SensaCine, Salas said: "Before shooting, I was super nervous, I had a really bad time because it was a lot of exposure and because it is a very intimate situation for the character and the actress. But, against all odds, I have to say that today it is the sequence [in which] I have felt the most comfortable in my life."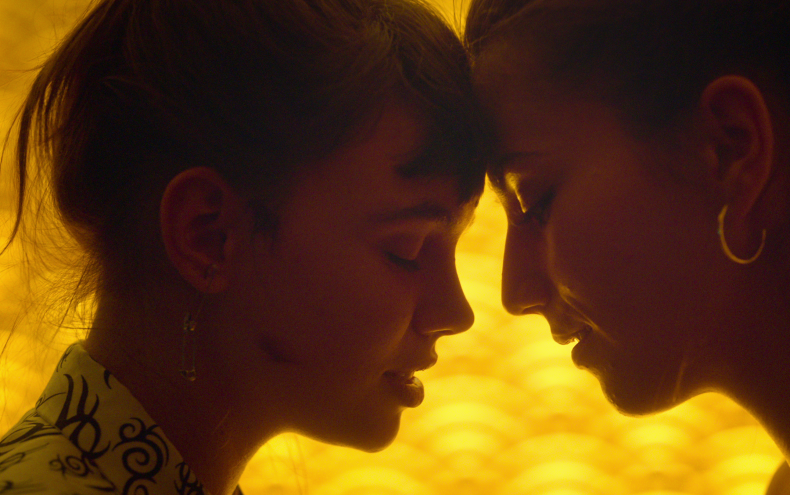 Cayetana and Phillipe
In Season 4, Cayetana (played by Georgina Amorós) has ditched her con-woman past and is now living her true life—working as the school's cleaning lady.
However, her world is turned upside down when she crosses paths, and falls helplessly in love with, French Prince Phillipe Von Triesenberg (Pol Granch).
The pair embark on a whirlwind of a romance and have one of the most heated sex scenes in Elite history on Phillipe's couch.
It is later revealed Phillipe has a chequered past of his own regarding consent when Cayetana finds a video recording of their wild sexual encounter.
Somehow, she forgives Phillipe for filming her without consent but when things heat up between them in a limo ride home from an event, it becomes very clear to Cayetana that Phillipe could be capable of much worse.
Phillipe repeatedly ignored Cayetana's requests for him to stop kissing and undressing her in the back of the limo, leading Cayetana to use significant force to push Phillipe off of her so she could jump out of the car and into the street for safety.
Speaking to SensaCine, Georgina Amorós stressed the importance of having a small team around when filming those intimate scenes.
She said: "These are sequences that require more modesty because we are naked. But it is about having confidence as well in [one's] director, with whom we agree and who does everything to put us at ease, as with [one's] partner. Communication is important. During these scenes, there are only the essential people."
Speaking at a press conference ahead of Elite's release, Granch commented: "It is something mathematical; the important thing is that you are comfortable and comfortable with your partner and that's it."
Elite seasons 1 to 4 are streaming on Netflix now.