After Iowa State Fair, College Democrat Support for Elizabeth Warren Climbs, Bernie Sanders Still on Top
Senators Elizabeth Warren and Bernie Sanders are neck and neck for the Democrat college student vote and the Iowa State Fair seemed to play to their benefit.
The Iowa State Fair gave presidential candidates the opportunity to connect with voters in a state that can be key to winning the election. They gave speeches, ventured onto amusement rides and ate corn dogs, ice cream and turkey legs.
After the attractions were taken down and the vendors packed up their things, Warren was one of four candidates to see an increase in support among Democrat college students.
On a weekly basis, College Pulse, a survey and data analytics company, and Chegg, an education technology company, poll college students that identify as Democrats to find where their support lies. On Tuesday, days after the state fair ended, 23 percent of students polled picked Warren as their candidate. This was a one percent increase from the previous week.
Other than Warren, entrepreneur Andrew Yang, Senator Cory Booker and Governor Jay Inslee were the only Democratic candidates to see an increase. However, Inslee's support rose from zero percent to one percent and on Wednesday, he dropped out of the race.
"It's become clear that I'm not going to be carrying the ball. I'm not going to be the president, so I'm withdrawing tonight from the race," Inslee said on MSNBC's The Rachel Maddow Show.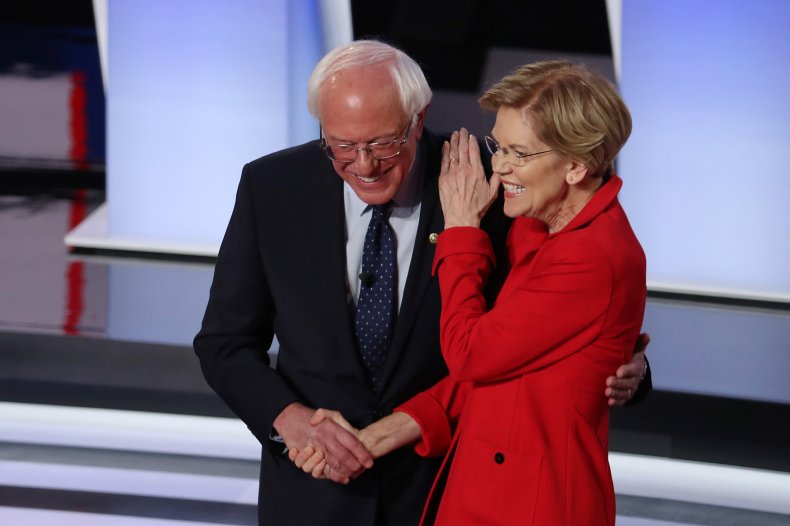 Yang saw a two percent increase in support, bringing him to seven percent and the fifth most popular candidate, bumping Senator Kamala Harris to sixth. Support for Booker rose one percent, but that still only brought him to two percent.
Warren is considered a top contender for the Democratic nomination, but when it comes to Democrat college students, she falls behind Sanders by six percent.
Support for Warren and Sanders differs when students are broken down by several demographics, including political leaning and whether they went to a public or private high school. While Sanders won over weak democrats and those who were independent but leaned democrat, students who identified as strong democrats preferred Warren.
Warren was also more popular with students who went to private high schools and those who attended public school sided with Sanders.
While in Iowa, Warren reiterated her plans for education. She told voters that as president, she would make technical schools, community college and four-year public college tuition-free for everyone. On top of that, she noted that her plans would also make it possible to cancel student loan debt for 95 percent of people who have it.
Sanders addressed the issue of the cost of higher education as well, telling voters that public colleges and universities needed to be tuition-free. Similarly to Warren, he advocated for canceling student debt, but for everyone, regardless of income.
College-aged voters likely won't be the biggest voting demographic during the 2020 presidential election. However, it will be the first time many in Generation Z, those born after 1995, can vote and polls show they intend to make their voices heard.